This holiday gift guide is something different: it's a celebration of the amazing and unique attributes of RVA, available only here, from our own resources, creators, and artisans.
We hear a lot about supporting small businesses or shopping local this time of year. This holiday gift guide is something different: it's a celebration of all the amazing and unique attributes of RVA, available only here, from our own resources, creators, and artisans. We are lucky to host such a load of holiday loot, and the people on your list are unlucky if you bypass it and head to Target. A local gift has an RVA story, your story, so share it with the people you love. With that celebratory sound in your head, here are a few of our favorite things.
— ∮∮∮ —
For the movie buff
Just in time for this list, one of our favorite movies of 2012 is out on DVD and Blu-ray. Boasting a Richmonder as a producer, an enthusiastic endorsement from each of the leaders of the free world (Obama and Oprah), and overflowing Oscar buzz over it's adorable protagonist, "Hushpuppy," Beasts of the Southern Wild is a must-see movie and a huge moment for RVA Arts. Giving this rich film is an opportunity to really move someone, $18-$25.
Some of the Blu-ray extras are incredible gems as well. Next time you need your game face to take a stage, field, interview, or board room, take inspiration from a five-year-old.
For the art lover
The RVA art explosion is spewing forth all sorts of new talent. One of our favorites is architect, painter, muralist, and community volunteer, Hamilton Glass, aka Ham? Modern Artifacts in Carytown has several of his works for sale, from a framed print on glowing Mylar for only $50, to a hand-painted skateboard deck for $300. Before Ham? added his own art in acrylic and ink, the board was handmade by RVA's Glide Skateboards, which constructs each one exclusively from recycled materials like reclaimed floorboards.
— ∮∮∮ —
If the artist on your list is too young for a fine art collection, engage her mind with a Chihuly Art Kit from the VMFA store, $28. Developed to teach your child about art and the creative process. Eye patch not included.
— ∮∮∮ —
A gift for everyone is a VMFA membership. Membership has many privileges, most significantly, free admission to exhibits like Picasso, Chihuly, and others–it pays for itself almost immediately. $60 individual, $85 family, $10 student.
— ∮∮∮ —
Wine and Design Richmond and Spirited Art in Short Pump both offer painting classes as nights out. They'll fill you with wine and beer and then teach you how to paint. The resulting creation is yours to keep. An inventive outing and gift! $35 per person. Gift card packages available.
— ∮∮∮ —
Out of town guests for the holidays? Take them on a tour of RVA's top notch street art scene. Read more about many of the murals here, then plan a stroll along the Canal Walk and James River. The electric style of the art and the larger-than-life size of the murals will wow unsuspecting minds.
For the music lover
One of the most acclaimed albums of 2012 (see Pitchfork, Paste, Spin, and Stereogum to name a few) is homegrown. Matthew E. White's Big Inner is a soulful throwback that exhibits the talent and unique RVA sound of White and a whole cadre of Richmonders. Available at Steady Sounds, Deep Groove, Plan 9 and others in CD and vinyl, $14-22.
— ∮∮∮ —
Pick up a ticket to The National in RVA's arts district, a one-time turn of the century vaudeville theater and one of the better music venues anywhere. Gift cards available, but make it personal and pick a show to take in with a friend. Good ones on the horizon include: Band of Horses, The XX, Toro Y Moi, and They Might Be Giants. Tickets range from $20-40, including fees.
For the art lover who loves music (or the music lover who loves art)
The Richmond Folk Festival may be RVA's premiere event. If you went to the festival with someone on your list or just want to show off RVA arts, consider a lively Richmond Folk Festival Poster to commemorate the 2012 (or a prior year's) event. With art by local artists like Ed Trask, Matt Lively, and Kelly Alder, they're an absolute steal at $5 each. Available at Plan 9 in Carytown.
For the Designer or Creator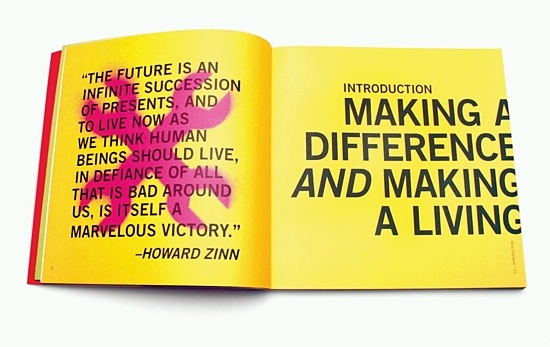 A lot of cities are full of creators. RVA is rapidly distinguishing itself as having a culture of creators with a conscience. Artist, graphic designer, speaker, consultant, and VCU professor, Noah Scalin, has just completed (with Michelle Taute) a handbook for doing good work, while doing good. Although written from a graphic design perspective, The Design Activist's Handbook: How To Change The World (Or At Least Part of It) With Socially Conscious Design is a must read for art students, artists, entrepreneurs, and community activists eager to engage in this RVA movement. Available at bookstores everywhere, including Chop Suey in Carytown, $27.
For the home
We spotted this unique fruit or bread basket, $140, at the VMFA Shop. Woven by women around campfires and conversations in South Africa using repurposed telephone wire, the baskets may emit a hint of genuine campfire smoke to whisper to you it's the real deal.
— ∮∮∮ —
This hand-poured candle is made with a 100% vegetable wax blend from American farmers. Make your kitchen smell like spicy marinara sauce–without having to cut a single tomato, $37. Available at Need Supply.
For the outdoor sports lover
If the outside lover on your list lives in RVA, she lives in the right place. If not, give a gift that requires them to visit you. It bears repeating that Outside Magazine rated Richmond THE BEST River Town in America. Something you, local shopper, already knew. Show it off!
— ∮∮∮ —
Step one: look cool. Richmond-based Nectar Sunglasses is here to help. All about the sweet life, Nectar has over 150,000 combinations of colors on their sweet sunnies. Not only are these smooth shades local and fashionable, they are very inexpensive. Nectar will even replace the pair for free if it breaks, for any reason. Great selection at West Coast Kix in Carytown or personalize your gift here, $15-25.
— ∮∮∮ —
Step two: walk out the door. RVA has some of the most accessible outdoor sports options anywhere. Consider contacting Riverside Outfitters or Black Dog Paddle and plan a spring excursion into the James for a lucky person on your list. Rafting, biking, stand-up paddleboarding, and other adventure sports are more manageable than you might think and a lot more memorable than anything available at the mall.
— ∮∮∮ —
Like a lot of things on this list, an outing you plan doesn't have to cost anything. Give a thoughtful "coupon" redeemable for an afternoon of fishing on the James with your father or son, bird watching at Belle Isle with your grandfather or grandson, or mountain biking the Northbank or Buttermilk Trail (portions for advanced riders only) with a friend or sibling and the memories will be priceless.
For the child with too much stuff that lights up
At some point, toys turned kinda weird–what with all the talking, walking, flashing, buzzing, and beeping. How about a good, old-fashioned race car, airplane, or fire truck? Green Toys at World of Mirth in Carytown. Made from recycled milk bottles, $17-29.
For the Debonair Gentleman
Ledbury , the famous purveyor of Italian shirts, happens to be located in RVA's Shockoe Design District. Any stylish man would love to have one of their finely constructed, colorful, classic dress shirts. If you don't know sizes or the highly personal taste of your GQ guy, Ledbury recently unveiled high-end ties, scarves, and pocket squares. All made in Como, Italy and designed in Richmond, Virginia. Stay basic with a green knit tie that can be dressed up or down or an elegant light blue polka dot, $85 and $95.
— ∮∮∮ —
Another favorite new Ledbury accessory is the Free Union Belt, $165. Handmade in the USA with sturdy English bridle leather, it features a quick release nickel buckle design stolen from the National Fire Service– for those times when you need to, ya know, remove a belt, very quickly.
— ∮∮∮ —
We also love the vintage, handmade ties by new entrant, Richmond Thread Lab. Handcrafted in RVA, RTL uses repurposed materials to create a hipper, skinnier version that is more bohemian, less businessman. Their workshop is so small batch that designs run out quickly, but like Shockoe Denim (who also carries RTL products), if you don't see what you like, tell them what you do like, and they will make it for you, $55-80. Also available at Modern Artifacts.
For the foodie
Local restaurant gift cards are an ideal present for anyone who eats. Several years ago, I spent one afternoon hopping around to all my favorite chic restaurants purchasing gift cards for my seventy-something young parents. While it took a lot of time on the front end to ease them out of their comfort zone ("Baa-lluh-so…"), they loved trying new things, having set dates together, and still talk about it to this day. Here, another opportunity to give a gift plus time with you. Try one of the new spots: Heritage, Saison, Belmont Food Shop, or old favorites with new menus like Rowland and Eat. If the person on your list is a vegetarian, go with Ipanema or Fresca. Carnivore: Station Two or Burger Bach.
For the Fashionista
In March, GQ Magazine named RVA's Need Supply Co. one of the top-25 men's stores in America. The women's collection online and in their Carytown boutique is also top notch. Boasting an all-star roster of cutting edge brands covering everything from A.P.C. to Z, Need frequently sells one-of-a-kind clothes designed for them exclusively. Thus, here you can find unique gifts that are only available from a Richmond merchant, denied from department stores.
Above: (Left) Baltic Half Button by Barbour. Wool, elbow patches, $179, goes with everything. (Right) Versatile woman's light grey wool blend coat by Funktional. Pointed hem and shawl collar add spot-on flair, $148. Exclusive to Need Supply.
— ∮∮∮ —
In addition to ties for men, Richmond Thread Lab also handcrafts reasonably priced bags, $55, with groovy designs for women. Again, in limited, no-factory-here quantities.
— ∮∮∮ —
Just about everyone wears jeans. But if the person on your list is serious about denim and style, equip them with a gift card to Shockoe Denim. Anthony Lupesco and his charming parents have opened in the Shockoe Design District a unique mecca for men and women drawn to handmade clothes. In this case, handmade in RVA. Off the rack jeans run from $185-225. If you really want to be a hero, set your loved one up with a custom pattern, developed exclusively by a Shockoe Denim tailor for his or her body after a complete measurement session ($250, plus the price of the jeans).
— ∮∮∮ —
Other high end Richmond boutiques include Pink, Roan, Phoenix, and Eurotrash, all in Carytown. If you have a good eye and good luck, bargains are available at vintage stores around town, including Rumors on Broad Street, where RVA fashion trendsetters Casey Longyear and Marsh Wyche have created a "thrift boutique" popular with students.
For the Expectant or New Mother
Let's be honest: the Baby Bjorn looks ridiculous. Richmond-based Rockin Baby produces stylish slings in vibrant colors to keep newborns close. The best part: following the TOMS shoes model, for each sling purchased the company donates a sling to a needy mother in Haiti and educates her on the importance of the bond between mother and child. Our reliable sources (US Weekly) tell us Angelina Jolie has one, $80.
For the Gym Rat
Hot House Yoga, with locations in Richmond's West End as well as Norfolk and Virginia Beach, has quickly heated up after only a year in Richmond. For new clients, on December 22nd, 23rd and 24th only, they are selling a package of three hot yoga or hot vinyasa classes a week for four weeks (12 classes total, starting any date), a yoga mat and a water bottle, all for only $49. Given that one class purchased alone costs $20… well, you can do the math.
— ∮∮∮ —
As with outdoor sports, everyone wants to look good at the gym or fitness studio. lululemon athletica in Short Pump offers high tech fabrics with think-of-everything features and wears a heart for the local fitness community on their stretchy sleeves. Price ranges.
— ∮∮∮ —
Born out of CrossFit RVA, local athletic-wear brand, Hopper, sells the basics for hitting the gym in great design. Their super soft T-shirts, $25, are perfect for gym, fitness studio, race, or summer brunch in the Fan on the weekend.
For your host
Don't show up empty-handed. Virginia wines are always a great option with local flavor but for something more original, consider a quality confection handmade in RVA, like exquisite chocolate from Gearharts Fine Chocolates at Libbie and Grove, a delicious cake or pie from WPA Bakery in Church Hill, or a pound of locally roasted Blanchard's Coffee in Manchester.
For the RVA fanatic
Who doesn't love RVA? This collection of RVA-emblazoned gear is perfect for the Richmonder whole loves Richmond. Options range from glassware and koozies to posters and coffee, $5-$40. RVA all day!
In lieu of gifts
New Richmond business, inLieu, a socially conscious crowdfunding platform, is an avenue for people to collect donations for a favorite cause in lieu of gifts to that person. People on your list may have signed up for inLieu so check their social media or the inLieu website for ideas.
For the thank you notes
If and when we put down our phones and engage in the ancient art of letter writing, award-winning local nonprofit, Art 180, has produced these great notecards to send to friends and loved ones. Each includes an inspirational quote from an Art 180 student and a folk art creation by beloved local artist, Chris Milk. Thus, in addition to the gesture of a handwritten note and the words you carefully choose, the outside covers carry a little love. All proceeds benefit Art 180's programming. Ten designs with accompanying envelopes, blank inside, $20. Available at Art 180, Modern Artifacts, and Quirk.
— ∮∮∮ —
There are really too many amazing things available exclusively in RVA to undertake an exhaustive list. We hope this inspires you to seek out something special for the loved ones on your list, right here where we call home.