Oregon Hill resident Chris Hulburt, known as Milk, is one of Richmond's most beloved artists. His love of the community is evident in This River Town–the mural he recently completed at the RVA Street Art Fest.
Editor's note: this article is part of an ongoing series about the incredible artists who participated in the RVA Street Art Fest. Get caught up here!
— ∮∮∮ —
Oregon Hill resident Chris Hulburt, known as Milk, is one of Richmond's most beloved artists. His love of the community is evident in This River Town–the mural he recently completed at the RVA Street Art Fest. This River Town paints a lovely picture of our fair downtown and its mighty river.
The serene cityscape at the Canal Walk was a collective community effort and includes brush strokes by local volunteers from the neighboring Troutman Sanders law firm and the Rutherfoord Insurance Group–plus some touch up work from Ed Trask's artistic children. Milk set up a "paint by numbers" guide for the volunteers and set them free to exercise their inner artist. He then spent a day or so attaching a professional artist's autograph. By involving volunteers, the city was painted by the city. While many hands were on the mural, Milk's signature shines through.
Milk began painting in his twenties while holding down a day job painting houses. From his job sites he collected cast off wood scraps as his canvases and leftover house paint for his medium. These articles became his own, still today painting almost exclusively on wood with enamel.
He sold his first paintings on the streets of Manhattan and eventually returned to Richmond in 2001. With a heavy dose of folk and lore, his paintings are characterized by blue skies, vintage bicycles, eclectic entertainers, warm villages, and winsome winged creatures. Look for all of this charm in This River Town, along with inventive use of real gold leaf.
Search out the train tracks, Belle Isle, the riverfront office buildings, Milk's own take on the river's ospreys, and a friend's house (and her two dogs) on the south side of the river, all brightened by a gilded sun.
Watch Milk's whimsical ospreys cut up in the same sky as mural neighbor El Kamino's representation of the bird and you will gain abundant insight into the two artists' unique styles and fully appreciate the magic of their divergent personalities.
Milk is humbled by his inclusion among this all-star roster of street artists. However, he makes no claims of being a graf writer, recounting a hilarious story about the mess that spewed on the page when he and a few of the other guys were handed a can of spray paint and asked to tag a commemorative canvas. Though as a nod to the roots of graffiti art, the mural's train cars include old-school tags with names of local personalities, including artists, celebrities, and cats.
At the top of his wall was an protrusion jutting from the concrete–the artist saw a ship. At the helm, he placed his God character to steer the sailboat around the clouds. Another recurring actor in his work, Milk managed to craft the father from found wood, a piece of a branch, a pair of arms that had been lying around his house for several years, and a tin can for a hat.
On a visit to the mural, Milk waxed about the peaceful sailor:
"I see him as a humble God, silently sitting in the background, in awe of the natural beauty around him." While talking to Himself. Milk the storyteller sees God the character and creator gushing as he gazes: "Man, those ospreys are cool. Whoa, I MADE them."
Milk also has a passion for puppets, sitting under a stage from time to time in RVA. We asked him how puppeteering compared to directing lawyer muralists. Chris insisted the lawyers were more cooperative and less argumentative.
— ∮∮∮ —
The artist who taught himself to paint is hoping to instruct some deserving young people in his craft this summer. Milk is set to lead a wonderful art education camp with art teacher, Sarah Fought, at Linwood Holton Elementary School in Richmond's Northside. Milk is calling it "Embrace Summer" and exhibits his inner child if you ask him about it. He is genuinely drawn to the kids' energy and excitement and the opportunity to enrich the community where he grew up. He tells us he was raised three blocks from the park where the school is now located. His family still lives there. The neighborhoods served by the school are some of the area's most underprivileged.
"I spent most of my youth, from third grade on, playing and hanging at the current site of the school. Also, Holton has an amazing art teacher in Sarah. It seemed to all make sense that this was a place I should be."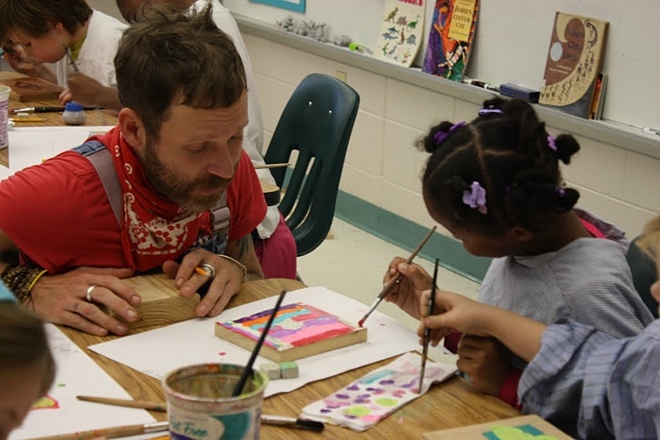 It certainly seems a place we all want him to be if you listen and watch him talk about the art camp. Milk is as animated as his ospreys and about as sky high. I wish I could bottle his energy when I watch him gesture and effuse about "…a little art meets sunshine!!" His only regret: "I just wish it were starting sooner!"
Recognizing the increasingly walled lives of city kids, Milk is determined to see them soak up the outside. Milk paints the things he sees around him and wants to engender that enthusiasm for the natural world in his campers. He already has walking sticks, rocks, and bird-houses-to-be collecting outside his studio. What I couldn't figure out after several visits with Milk is whether the kids or the artist are going to enjoy the camp more.
Each day, there will be drawing and painting workshops where campers will create their own paintings under Milk's guidance and project their positive energy into creativity. The crowning achievement will be a collaborative totem pole, which will grace the school's community garden, with any luck, for years to come. Milk is moved by the chance to groom the next generation of creators.
"This camp is a project very close to my heart."
Milk is currently taking on commissioned projects for lucky art lovers around town. Also look for an installation at Pibby's Bicylcle and Skate on Broad in July and a new line of his charismatic wooden birds at Quirk Gallery. Please contact Chris or comment below to support the camp at Holton Elementary School.