Nick "Not-Afraid-of-an-Open-Flame" Dawson nailed it last week with crispy campfire rockfish and some pretty words that conjured images of bucolic bliss. Tied with Jennifer Carnam overall, will Dawson take the lead this week? Or will Catrow or Bonkovsky start to close the gap? The tension, people, the tension!!
Voting for Supper Punch!!! week 5 is now closed. Congratulations to our winner, Sarah Bonkovsky! Thanks to everyone who voted — and be sure to tune in tomorrow for week 5.
Nick "Not-Afraid-of-an-Open-Flame" Dawson nailed it last week with crispy campfire rockfish and some pretty words that conjured images of bucolic bliss. Tied with Jennifer Carnam overall, will Dawson take the lead this week? Or will Catrow or Bonkovsky start to close the gap? The tension, people, the tension!!
For those of you new to Supper Punch, here's how it works:
Each week, four local food enthusiasts submit two photos and a brief commentary (including helpful tips and prep time) on a recently-completed dish of their choosing. You, our readers, will then declare a winner for the week by voting in the comments. Your vote can be based on whatever you like: creativity, good use of local products, what you want to put in your belly at that exact moment, whatever.
Our competitors:
Sarah Bonkovsky, a gluten-free mother of three who loves to eat food from her own and nearby gardens. She also describes herself as "slightly lazy, distracted, and messy in the kitchen." Don't let her self-deprecating tone fool you — she can BRING IT.
Jennifer Carnam, Vice President of Marketing for the Richmond Metropolitan Convention & Visitors Bureau (RMCVB) with 30+ years of experience. She's a California native, a Boston Red Sox fan (by marriage), wife to Allyn, mother to Lex, and step-mother to Lincoln and Todd. She is also the most fun.
Ross Catrow, co-founder of local web design firm PharrOut, lover of beer, butter, and his family. He's perhaps best-known as the master and commander of the good ship RVANews. Occasionally he takes a picture or two (you can see documentation of his Supper Punch candidates here).
Nick Dawson who recalls early memories of watching PBS cooking shows while home sick from school. By day he works in hospital administration, focusing on improving on the patient experience; by night he is a fan of all things porcine, a curer of meats, a producer of pickles, and a lover of simple foods done very well. He describes himself as "passionate about local, sustainable foods and their producers."
Our current standings are:
Bonkovsky: 0
Carnam: 2 (winning weeks 2 and 3)
Catrow: 0
Dawson: 2 (winning weeks 1 and 4)
Oh snap! Here comes Week 5!
Bonkovsky: Creamy Sweet Potato Soup and Ginger Soup
This spring I decided to plant some sweet potatoes. Apparently, I did not plant them correctly, so I didn't think we'd get any. But, to my surprise, my husband found some hidden in the soil a couple of weeks ago. I began to think of how I could prepare them. Of course they're yummy roasted with butter and brown sugar, but I decided to make them into a soup this time. I peeled, diced and sauteed the potatoes with some other veggies and herbs – onions, garlic, ginger, nutmeg, and cayenne pepper. Then I simmered the veggies in some stock and pureed it all in a blender and added some milk. My husband cooked some pancetta (FROM BELMONT!!!) and sauteed some homemade croutons in the leftover drippings. With those as a garnish and some chives or sour cream (or both), you're in for a nice autumn evening treat.
Time spent
45 minutes
Carnam: Pistachio-Panko Crusted Wild Grouper with Green Beans
In between trips to the driving range and a couple of practice golf rounds before Monday's big Richmond Region Open tournament, this weekend offered only about an hour of free time for me to focus on Supper Punch. The meal had to be simple, quick and healthy, so I opted for grouper and green beans. This light, Sunday afternoon lunch provided just the sustenance our foursome needed before our 3 p.m. tee time.

Grouper is one of my favorite types of fish – it never disappoints. This was fresh, wild grouper from The Fresh Market (where this week I was finally ousted as mayor – no doubt because I was working so hard to earn the mayorship at the golf course instead). I pulverized some pistachios, mixed them with some panko bread crumbs, fresh chopped basil and finely minced shallots, salt and pepper, and just enough melted butter to stick everything together. Meanwhile, I browned the flour-dusted grouper filets in a little olive oil (about 3 minutes per side – not cooked through). Then transferred them to a shallow roasting pan, coated them with the pistachio-panko crust, and broiled for about 5 minutes. (I covered them with some foil for the last couple of minutes to keep them from browning too much).

Before I started on the fish, I put some French green beans on the stove in a pot of water with some sea salt and a few drops of olive oil. After about 40 minutes, they were al-dente perfect and made a great accompaniment to the grouper.

Ingredients: Fresh, wild grouper filets, pistachios, panko bread crumbs, fresh basil, shallots, butter, sea salt, pepper, French green beans
Time spent
About 45 minutes
Catrow: Eggplant Parmesan Lasagna, Roasted Potatoes and Onions, and Cornbread
This is my annual usage of an eggplant. I know, I know, the eggplant is a wonderful thing filled with many wonders. I just don't enjoy it unless it is fried and hidden beneath either garlic, cheese, or both. Plus, lasagnas are wonderful because you just fill a pan with layers of whatever is sitting in your fridge about to go bad. For us, that meant: fresh mozzarella, lasagna noodles, eggplant, basil, arugula, and parmesan cheese. Bake at whatever for however. Presto!

The roasted potatoes and onions were kind of incredible. I decided to roast a couple of jalapenos in there along with the potatoes and onions which totally spiced it up. It was like spicing by osmosis. Also if you look closely you can see a couple cloves of garlic in there, which I promptly ate. Like I said last week: NEVER MISS AN OPPORTUNITY TO ROAST GARLIC.

Finally, the cornbread. Why would you ever buy a cornbread mix? WHY? Seriously, it's just 1c. flour, 1c. corn meal, 1c. sugar, 1t. salt, 3.5t baking powder, 1c. milk, 1 egg, and 1/3c. oil. It takes like five seconds and will be as good as anything out of a box. Plus melt some butter and cream it with some honey, drizzle that jam on top. BOOM.

The cornbread was so dang good I had to eat it for dessert too. Luckily I had some peaches in the freezer, to which I added some butter and brown sugar. Topped with ice cream and DANG GINA.
Time spent
1.5 hours
Dawson: Zucchini, Leek, and Goat Cheese Ravioli
Reputations are a tricky thing; sometimes I feel a certain kindred empathy with the fictional Abe Froman, the sausage king of Chicago. Granted, I may have spent part of my weekend stuffing 10 lbs of pork into casings to become dry cured salami. But you might be surprised to learn that I only eat meat in one meal a day, if at all. These pillows of greatness came together while we were daydreaming about the end of summer and beginning of fall. We wanted something that was hearty and still had some green veggies. This week I decided to submit a vegetarian meal – zucchini, leek and goat cheese ravioli.

Susan hollowed out the center of a mound of flour, making enough room for 4 large eggs to go get cozy. While she kneaded that into a classic pasta dough, I melted some leeks in a pan with butter. Once they were soft, I added some garlic, chili flakes, and two zucchini, cut into julienne. Once the veggies were soft but still toothsome, a dash of white wine stopped the cooking. The veggie mix was set aside to cool. After the pasta dough had rested, it was rolled out into ethereally thin sheets. Next we set about tucking little piles of our zucchini sauté into bed with a cloud of Virginia goat cheese between sheets of dough.

The ravioli cooked in salted boiling water for about three minutes. That was all it took to brown some butter, along with some garlic and more chili flakes in a large pan. Some asparagus "coins" got tossed in just before the ravioli joined the pan. A ladle of the pasta cooking water and some white wine rounded out the sauce.

Just prior to serving, the ravioli were anointed with olive oil, a snowfall of parmigiano reggiano, some toasted walnuts, and a fried sage leaf.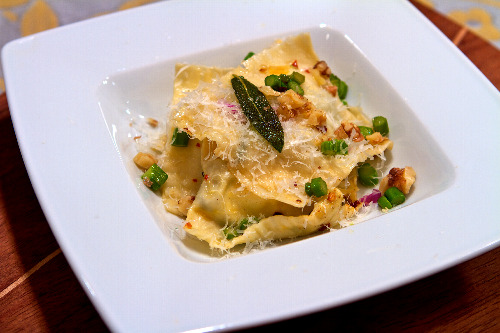 Time spent
45 minutes
That's a wrap for this week! Quit watering at the mouth long enough to vote, vote, vote!