She's done it again! Jennifer Carnam claimed her second consecutive victory last week with her fancy-schmancy-filet-and-asparagus-Julia-Child-love-fest. Will she do it again? Have the other chefs stepped up their respective games?
Voting for Supper Punch!!! week 4 is now closed. Congratulations to our winner, Nick Dawson! Thanks to everyone who voted — and be sure to tune in tomorrow for week 5.
She's done it again! Jennifer Carnam claimed her second consecutive victory last week with her fancy-schmancy-filet-and-asparagus-Julia-Child-love-fest. Those other chefs better step up their games… or at least their social media campaigns.
For those of you new to Supper Punch, here's how it works:
Each week, for local food enthusiast submit two photos and a brief commentary (including helpful tips and prep time) on a recently-completed dish of their choosing. You, our readers, will then declare a winner for the week by voting in the comments. Your vote can be based on whatever you like: creativity, good use of local products, what you want to put in your belly at that exact moment, whatever.
Our competitors:
Sarah Bonkovsky, a gluten-free mother of three who loves to eat food from her own and nearby gardens. She also describes herself as "slightly lazy, distracted, and messy in the kitchen." Don't let her self-deprecating tone fool you — she can BRING IT.
Jennifer Carnam, Vice President of Marketing for the Richmond Metropolitan Convention & Visitors Bureau (RMCVB) with 30+ years of experience. She's a California native, a Boston Red Sox fan (by marriage), wife to Allyn, mother to Lex, and step-mother to Lincoln and Todd. She is also the most fun.
Ross Catrow, co-founder of local web design firm PharrOut, lover of beer, butter, and his family. He's perhaps best-known as the master and commander of the good ship RVANews. Occasionally he takes a picture or two (you can see documentation of his Supper Punch candidates here).
Nick Dawson who recalls early memories of watching PBS cooking shows while home sick from school. By day he works in hospital administration, focusing on improving on the patient experience; by night he is a fan of all things porcine, a curer of meats, a producer of pickles, and a lover of simple foods done very well. He describes himself as "passionate about local, sustainable foods and their producers."
Our current standings are:
Bonkovsky: 0
Carnam: 2 (winning weeks 2 and 3)
Catrow: 0
Dawson: 1 (winning week 1)
We declare week 4 BEGUN!
Bonkovsky: Hummus Platter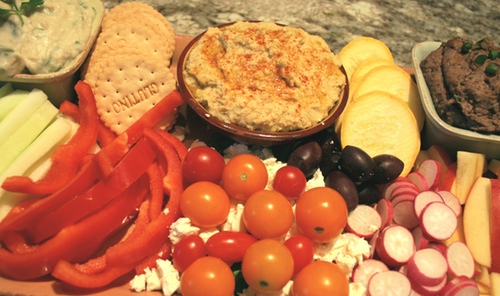 I love to order hummus when I go out to restaurants. Couscous, NY Delicatessen, Kitchen 64, Joe's Inn, and Star-lite are only a few of the places I can think of right now where I've ordered this yumminess. This meal is light, fresh and full of healthy goodness. I also love to make hummus at home. It's a great gluten-free snack to have around and my kids have eaten it since they started on solid foods. It has so much protein, I am happy to serve it to them.

On those nights where I want a light dinner, I can just grab things out of my fridge to go with it. Carbs, veggies, cheese, olives, cured meats, and even fruit (I love to dip apples in hummus). Tonight I ate from the platter while I made wraps for my gluten-eating husband and kids. I spread hummus on a tortilla and put on feta, grilled chicken and choice of veggies. My son asked if he could pay me $10 for 10 more of them. I think that means he liked it.

The above platter has a trio of hummuses (hummi?). From l-r: white bean with parsley, chick pea with cayenne pepper and black bean with cumin and spring onions.
Time spent
30 minutes
Carnam: Heirloom Caprese Salad with Pomegranate Vinaigrette, and Baked, Stuffed Artichokes
It's rare that I visit the grocery store without a list, but that's exactly what I did after a stressful and brain-taxing work week. I trusted that inspiration would find me –- and it did, in the form of beautiful, colorful Heirloom tomatoes and a mountain of fresh artichokes. The tomatoes were the first things I saw in the produce department at The Fresh Market (where I am mayor on Foursquare, BTW). After selecting two particularly colorful and perfectly ripe ones, I rounded the corner and came across some gorgeous artichokes from my home state of California. I grabbed some fresh, hand-rolled mozzarella and some fresh Parmesan cheese and I was good to go.

The Caprese salad was so simple. I layered alternating slices of mozzarella and tomatoes, sprinkled on some fresh slivers of homegrown basil, and drizzled a light Pomegranate vinaigrette over the top. The artichokes were easy too. I chopped off the stems and sliced the top quarter off, spread out the leaves and scooped the interior leaves and fuzzy fibers out with a grapefruit spoon. Then combined Panko breadcrumbs, minced shallots (I usually substitute shallots for garlic because I have an awful garlic sensitivity -– and no, I am not a vampire), chopped sweet onion, fresh parsley and oregano, grated Parmesan, and extra virgin olive oil. Once the stuffing was inside and between the leaves, the artichokes went into a 350 degree oven with 2 cups boiling water in the bottom of the covered baking dish for 40 minutes.

The resulting light, colorful, vegetarian meal really hit the spot –- especially with a chilled glass of flinty, minerally Loire Valley Sancerre.
Time spent
About an hour
Catrow: Meatloaf, Mashed potatoes, and Squash/Radish/Mint Salad
The fall has fallen, FINALLY. You know how, in the context of makeup, people are seasons? Like, "Oh, I'm a Summer." I feel like that's true for cooking too. I absolutely hate summer meals. I hate grilling (unless it is tailgating) and I'm pretty terrible at using fresh vegetables in a creative / fresh / summery way. So now that Fall is here (kind of), I am totally stoked.

This bad boy was a half-pound flank steak from, of course, the Butcher which I hand ground. To that I added a handful of chopped mushrooms, some panko, parmesan cheese, a chopped & carmelized onion, an egg, salt & pepper, and my secret ingredient: soy sauce. Topped with a couple strips of bacon COULD YOU ASK FOR ANYTHING MORE?

Oh yeah, you could ask for the amazing sauce: ketchup, honey, more soy sauce, and mustard powder.

The salad is a squash, radish, and mint salad because … sometimes that's all you have in the fridge?

The mashed potatoes are pretty standard: boiled, mixed with a half a stick of butter and enough milk to make them whippy-delicious.

Oh also! Roasted garlic. Roasted garlic cloves are just about my favorite thing ever. Any time I'm going to have a thing in the oven for a while I toss a couple cloves in there so I can eat them with dinner. AUGH SO GOOD.
Time spent
1.5 hours
Dawson: Campfire Rockfish, Blue Cheese Potatoes and Local Arugula Salad
With the apparent change of seasons upon us, Susan and I decided to head for the woods for some fall camping. We loaded up our old Land Rover to the hilt, leaving just enough room for Ippa the dog and headed down 64 towards Nelson county. The Dawson safari was off! We set up camp a few miles in to the George Washington National forest. This was Susan's first time camping – ever! She discovered sleeping in the woods doesn't mean eating nuts and twigs.

After building a fire, we made some foil packets with sliced new potatoes (again from my father's garden), white wine, onion and some amazing French fourme d'ambert blue cheese. They went into the hot embers on the edge of the fire. Meanwhile I set to work on some line caught Virginia rockfish that I liberally doused in olive oil, and then coated with sea salt and pepper. The fillets went on to a hot hibachi grate along with some fennel and onion. When the skin side was nice and crispy, I poured some white wine over the fennel and onion and leaned the flesh side of the fish against the make-shift steamier. While the fish rested, I whisked together (ok, vigioursly poured between two plastic cups – even I don't camp with a whisk) some lemon juice, olive oil and sea salt for a dressing to coat the salad. Simply put, the arugula (from my dad's garden) was the best we'd ever tasted – spicy, peppery with a snappy fresh bite. If I was to do it again, I would have served the greens with nothing more than salt and olive oil. This time however we tossed in some tomatoes (guess which garden they came from?) and called it a salad.

So here we found ourselves, bundled in fleeces with wishful thoughts of autumn; the head waters of the Piney river on one side and a lush green hill yielding to a not-so-stary night on the other. No electricity, no internet, no people for miles…. Just us, the dog, and a meal that would have been welcomed in a fancy restaurant made even better by the great outdoors.
Time spent
In the kitchen: 0
On the tail gate and camp fire: 30 minutes
There you have it. Commence with the voting and the determining of a winner…