For a week in November, some of Richmond's finest jazz musicians performed at a jazz festival in Turkey, where VCU alumnus Emre Kartari founded the country's first jazz educational institution. For Kartari and musicians like Doug Richards, Skip Gailes, and Howard Curtis, it was a reunion of sorts. For VCU Jazz students Ben Heemstra, Andrew Randazzo, and Lucas Fritz, it was the trip of a lifetime.
all photos by Lucas Fritz except where noted otherwise
Emre Kartari is living everyone's dream: having your own dream come true. He's a graduate of VCU's Jazz Studies Program whilst under the direction of Doug Richards. He went on to get his Master's degree from New York University. Yet even with all the contacts and networks he had created here in the states, Emre decided to move back to his homeland to do for the kids there what had been done for him here: educate them in jazz.
With the help of Skip Gailes who was named a Fulbright Specialist, Emre started the first ever Turkish Jazz Program at Hacettepe Conservatory in September. Hacettepe (pronounced "Ha-jet-teh-pay") Conservatory is located in the heart of Ankara, the governmental and financial capital of Turkey. Students begin their studies at the conservatory as early as age 10 and can continue until they turn 24. Not only is the duration of one's education different from here in the states, but everyone attending Hacettepe is on a full scholarship. (When I tried to explain partial scholarships and still having to pay for things back home, the students just did not seem to understand.)
Skip and Emre spend all day with the ten knowledge-hungry students in the program, teaching them everything from theory, to jazz history, to improvisation. To celebrate the beginning of this wonderful program and Emre's great accomplishments, the university funded the Hacettepe Jazz Festival to be held from November 22-27 ending with a commissioned piece by Doug Richards titled "Ben Seni Variations" for symphony orchestra, jazz octet, and kanun. (Ben Seni is a traditional Turkish folk song.) I was fortunate enough to be asked to accompany and assist Doug in his rehearsing and performance of the piece.
photo: Emre Kartari performing at one of the many gigs through the week, this one at Tenedos. By Emre Topak
There were seven musicians flown into Turkey to help perform Doug's piece and give workshops throughout the week. Rex Richardson, VCU Professor of Trumpet and Jazz Trumpet flew in from a one week stint he was finishing up in Germany. Skip Gailes — as already mentioned — was already in Ankara and had been working with the students all semester. VCU Guitar and Jazz Guitar teacher Adam Larrabee flew in with Bob Hallahan who now teaches Jazz Piano and Jazz Improv at James Madison University. Howard Curtis, Emre's teacher while he attended VCU, flew in from his home in Austria where he teaches at the University of Graz. Tim Collins, a vibist-drummer-pianist flew from his home in Munich and Mike Richmond, bassist and one of Emre's teachers at NYU flew from New York City. Emre, one of the most genuinely nice and caring people I have ever met, was constantly stating his overwhelming gratitude for the ability to have his mentors and friends in Ankara and as a part of such a wonderful event.
Each day was structured almost exactly the same: workshops at the conservatory from 10-1, lunch break, rehearsal with the orchestra from 3-6, and then dinner at the club where the gig was. The workshops varied as much as the faculty's backgrounds. Bob Hallahan spoke about phrasing and how lines can swing or not swing with a misplaced accent. Howard followed suit with a drum clinic on various swing patterns to be played on the ride cymbal. He played trio with two students also on drum set, forcing them out of their comfort zone and to try new things. Tim Collins (one of the best musicians I have ever had the privilege to meet or work with) gave some wonderful insight into composition through ear training. Doug talked about (what else but) Duke Ellington and the enormous impact Duke's music had on the future evolution of jazz. Adam Larrabee talked about different approaches to practicing, which followed a similar workshop with Mike Richmond about playing in front of, behind, or right on the beat.
Adam Larrabee plays duo with student Onur Mulayim during a masterclass.
Each workshop offered new insights to not only the students of Hacettepe* but to myself and the two other VCU Students, trumpet player Ben Heemstra and bassist Andrew Randazzo, that gave up their Thanksgiving to have turkey in Turkey (yeah I know, had to put that joke in here somewhere). The best part about having the talented faculty in residence the entire week was that after their lecture brought up new questions or insights, they were available to hang and explain/discuss concepts in more detail with the students.
Watching and helping Doug rehearse an orchestra full of non-English speaking musicians that have never met him before was a sight to be seen. Many musicians in Richmond and even in other parts of America know Doug, his mannerisms, and the way he expects people to act in his presence. These students had no idea what to expect. The first rehearsal on Tuesday afternoon, to put it nicely, could have gone better. The language barrier (which we experienced all week) was a huge part of it. Doug would say things and without a response from the orchestra, assumed they understood. It is also hard to get an entire symphony orchestra to swing, let alone a Turkish symphony orchestra that hasn't grown up with jazz somewhere in their lives.

Doug Richards rehearsing the orchestra. Oh, Baby!!!
In the notation of his piece, Doug was forced to be as literal as possible, notating legato-stacattos, triplets, and stacatto-accents to aide in the jazz phrasing. After a full rehearsal and then some of a many "BAAAAABY!", "Oh, my heavens!!!", and "Aye-yi-yi-yi-yiiiiiii" (a la James Brown), the students began to loosen up and understand Doug's aural way of rehearsing an ensemble. After three full and productive rehearsals, they were ready to perform Doug's monumental piece.
Each night consisted of dinner and a gig at different clubs around town. These ranged from a bar where we had to move tables to find room to play, to a two story music venue in which the bands performed down in the basement, to Fige, an upscale Jazz club with a stage and a piano. Although primarily Skip and Emre's gigs, the faculty and visiting students (myself included) sat in on many tunes creating a wonderful sense of community.
Audiences in Turkey are very different than in America. First, they are there… According to the students I spoke with, people in Turkey don't like to sit at home and watch TV, they would much rather go out and DO things (like hear live music!!!). Secondly, they are attentive and appreciative. Playing for a club full of faces smiling at you, enjoying every note you play is a wonderfully satisfying experience. When you leave the bandstand you are bombarded with people telling you "congratulations" (yeah it's weird, their word for 'good job' translates as congratulations…took some getting used to).
The grand finale of the week was a concert performed at the University's concert hall about three miles from the conservatory.** With a sound check just long enough to figure out you couldn't hear the winds in the hall, the orchestra left the stage so that the vocalists and others could prepare for the evening. Andrew Randazzo and myself, being Doug's ears in the hall, set up microphones throughout the orchestra and virtually ran sound for the entire concert.
photo: Bob Hallahan, Andrew Randazzo, Skip Gailes, Merve Erdal, Howard Curtis, and Adam Larrabee perform at Fige Jazz Restaurant and Bar.
Although not a perfect performance, Hacettepe Conservatory's Symphony Orchestra brought Doug Richard's "Ben Seni Variations" to life with character in front of a sold out crowd. After the performance, people were speechless. Emre spoke with many people who told him they had never heard anything like that before in their lives. Emre himself compared the piece to Ellington's Far East Suite saying that nothing had really blended eastern music and jazz since.
Everyone backstage after the performance of Doug Richard's Ben Seni Variations.
It was an emotional concert and evening. Doug and Howard were able to see one of their students succeeding in making his dreams a reality. Emre was finally realizing that he did it — he brought jazz education to his homeland of Turkey.
The week, as a whole, was a success. Emre was able to bring those that had taught him so much through the years to his school and have them pass their knowledge onto his students. He set the wheels in motion and lit the fire of inspiration that nothing can stop or put out.
*Now is a good time for me to explain that just because there are only 10 enrolled jazz students, doesn't mean that there were only 10 people at each masterclass. The hall, comparable to a small movie theater, was packed for each and every talk. Even the classical students came to see what these great American Jazz musicians had to say.
**Hacettepe Conservatory and Hacettepe University are the same school, but are separated in a similar way to VCU-Monroe Park and VCU-MCV campuses.
Andrew Randazzo and Skip Gailes performing at Tenedos.
Thanksgiving dinner at Fige.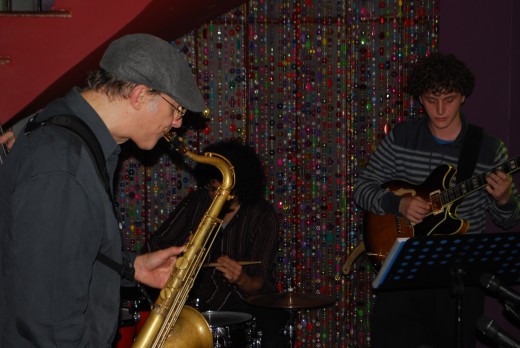 Skip Gailes, Emre Kartari, and student Yunus Muti perform at Fige.
Ankara at night
Andrew Randazzo, Ben Heemstra, and Fritz with Paul Hindemith and Bela Bartok outside of Hacettepe Conservatory