Troy Daniels scored a career high 25 points in 21 minutes as VCU cruised to a 93-56 victory over Longwood.
Troy Daniels scored a career high 25 points in 21 minutes as Virginia Commonwealth University cruised to a 93-56 victory over Longwood. The 37 point win is the Rams' greatest margin of victory all season.
Recap
Treveon Graham and Juvonte Reddic started the game strong scoring the Ram's first 19 points including 3-3 shooting from 3-point range by Graham. He scored 13 of his 16 points in the first five and a half minutes. Reddic finished the night with 20 points on 9-12 shooting. While both players found some of their own looks, it was the duo of Briante Weber and Darius Theus that dominated.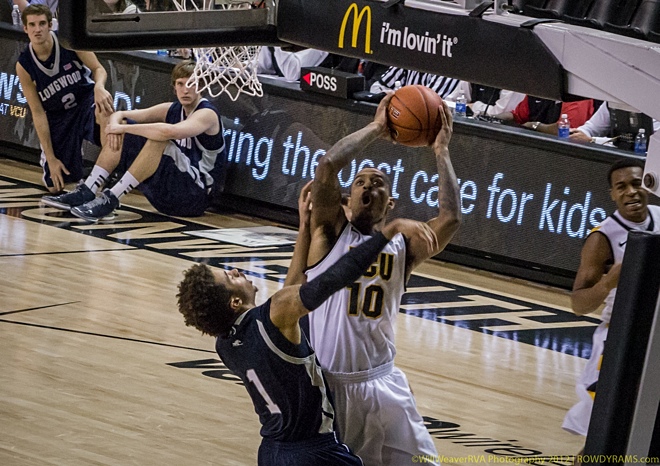 The two combined for 18 assists, 10 steals, and only one turnover as VCU dished out a season high 27 assists while forcing 27 turnovers. Briante Weber has been starting recently in the aftermath of Darius Theus's knee injury but Theus has consistently been VCU's first substitute. After the game, Smart added, "[Theus has] been phenomenal…he's been the best player on our team."
Longwood hit some very difficult shots while scoring 31 points in the first half, the largest amount against VCU all season. VCU entered the locker room with a 50-31 half time lead.
After the break, both teams traded baskets, and the Lancers scored a quick 9 points. VCU responded with a 17-0 run capped off by back to back 3-pointers by Rob Brandenberg. VCU reached 85 points with 7:22 remaining, earning everyone free breakfast sandwiches from McDonalds, and Coach Smart put in the reserves for some player development. Freshman Melvin Johnson did not disappoint. He finished the night with nine points while showing off his diverse scoring abilities.
25 straight sellouts
Friday was VCU's 25th consecutive sellout in the Stuart C. Siegel Center. The occasion was certainly not overlooked by coach Smart, "I'm appreciative of our fans. I've been at a lot of different schools where the game right before Christmas, with most of the students gone, is a half-empty crowd and a quiet arena and that wasn't the case tonight. It's just another reminder of the special following we have at VCU." The last time VCU failed to sell out the Siegel Center was on Thursday, January 27th, 2011 against Hofstra. VCU sold out the four remaining home games that season before going on their memorable run to the NCAA Final Four.
Loudest moment: 106 dB. Coach Smart and Coach Gillian got into a screaming match over a cheap shot by David Robinson on Treveon Graham. The crowd responded with one of the louder moments of the season.
Shaka Smart's jacket: 19:40 in the 1st half.
Top performer:
Troy Daniels may never see so many open looks from 3-point range for the rest of his career. He finished the night 7-13 from 3-point range and 9-15 from the field after earning multiple looks in transition and off of screens as the Lancers simply didn't close out on one of VCU's most prolific 3-point shooters of all time. Daniels set the VCU single season record for 3-pointers made last season at 94 and after twelve games he had connected on 31 3-pointers. After twelve games this season, he has made 41 3-pointers. Daniels now ranks 4th nationally in 3-point field goals.
5 stats
VCU's defense has allowed only 24.9 points per game in the first half.
The Rams finished with a season high 14 3-pointers.
VCU didn't foul for the first 12:29.
After 12 games last season, Briante Weber had 28 steals. This season he has 41.
VCU recorded a season-high seven blocks. Seven different players blocked a shot.
Looking forward
VCU hosts Fairleigh Dickinson on Saturday, December 29th at 4:00 PM. The game will be televised on CBS 6.1.
— ∮∮∮ —
Related
Photos by: Will Weaver
— ∮∮∮ —
To stay up to date on all things VCU Basketball related, follow @rvaRAMnews on Twitter or Facebook and sign up for our email newsletter.