Meet the 2012-13 VCU Rams before they take the court.
Hey! We're giving away tickets to the season opener against VUU. Head over here and find out how.
— ∮∮∮ —
Exactly one year ago, on the heels of an historic Final Four run, VCU boasted the 9th youngest team in the nation after the departures of Ed Nixon, Joey Rodriguez, Brandon Rozzell, Jamie Skeen, and Toby Veal. Fans faced the task of learning new faces after the departure of several all-time favorites. On the eve of the 2012-13 season, fans eagerly anticipate watching the defense of Briante Weber, and Treveon Graham is poised to have a memorable breakout season. Here are your 2012-13 Rams!
— ∮∮∮ —
Troy Daniels — Sr. SG
Shaka Smart says he's the best shooter he's ever coached: Troy Daniels is a scorer. Hot off setting the school record for season 3-pointers at 94, Daniels is poised to have an excellent senior season. Daniels is particularly good off the catch, and he will take shots from well beyond NBA range and still hit them.
Room for improvement
Daniels has proven he can hit threes at a high volume and from anywhere on the court, but it is time for him shoot more efficiently. His 247 attempts from 3-point range set a school record and was 19th overall last season in the NCAA. If he had shot a very doable .420 from range, he would have made 104 3-pointers and scored an additional 30 points for the Rams.
Key stat: Troy Daniels hit five 3-pointers in seven different games during the 2011-12 season.
— ∮∮∮ —
David Hinton — Sr. F
As the Ram's only walkon, David Hinton has never and will never get enough minutes to accumulate significant stats. Despite playing very few minutes, Hinton has always earned praise for his hard work. As a senior, Hinton has an opportunity to be a leader and help the Rams win with intangibles.
Room for improvement
The Ram's boast one of the deepest front courts in the Shaka Smart era, and Hinton will likely see very few minutes. When Hinton enters the game, he needs to use his physical presence to draw fouls and wear out opposing big men.
Key stat: David Hinton drew two key charges from Garrett Stutz, limiting the Shockers best post player to 17 minutes as #12 VCU beat #5 Wichita State in the 2012 NCAA Tournament.
— ∮∮∮ —
Darius Theus — Sr. PG
With Bradford Burgess gone, Coach Smart's saying, "Theus=Team, Team=Theus" has never carried more weight. Darius Theus doesn't always stuff the stat sheet, but his leadership, defense, and ball handling/distribution are paramount to the Rams' success. #10 finished the 2011-12 season with three of his best performances. His 16 point, five steal, five assist game against Drexel earned him MVP of the CAA Tournament; he hit the game winner with 12 seconds remaining against #5 Wichita State in the NCAA Tournament; and he grabbed five steals in the loss against offensive juggernaut #4 Indiana.
Room for improvement
Darius Theus was forced to mature quickly last season and his play consistently improved throughout the season. His biggest room for improvement is shooting efficiency. His 2-point shooting percentage (.517) is a product of his ability to get to the rim, but if he wants to again attempt 62 3-pointers this season, he needs to shoot better than 24.2% from 3-point range.
Key stat: Darius Theus posted 71 steals last season.
— ∮∮∮ —
DJ Haley — Jr. C
DJ Haley's size doesn't fit Shaka Smart's smallball lineups as well as Juvonte Reddic, but that is Haley's greatest asset as a Ram. His size and strength add an entirely different dimension to a team that thrives playing undersized. Against the bigger and more talented front courts of the Atlantic 10, Haley could see his role and importance increase as the Rams face a level of talented big men that rarely existed in the CAA.
Room for improvement
Haley had a block percentage of 4.6% but averaged 5.7 fouls per 40 minutes last season. The Rams need him to alter/block shots more effectively while limiting his fouls, especially in the half court defense. One of the better offensive rebounders in the country, DJ Haley needs to take his defensive rebounding to an elite level if he wants to see an increased role this season.
Key stat: Haley posted his only career double-double against Towson on February 8th, 2012 with 10 points and 11 rebounds. In his junior campaign Haley will look to replicate that performance more frequently.
— ∮∮∮ —
Rob Brandenberg — Jr. SG
After an extremely promising freshman season, Rob Brandenberg experienced a tough sophomore slump. Despite his elite athleticism and slashing ability, Brandenberg attempted 140 of his 308 shots from 3-point range while only shooting 29.3% from downtown. At VCU Media Day, Smart called Brandenberg the Ram's biggest "question mark." If Brandenberg can meet expectations, he will transform the Rams.
Room for improvement:
Rob Brandenberg is capable of being an elite scorer. If he can shoot more efficiently than his freshman season (2-pointers .480, 3-pointers .348), he will earn playing time and stuff the stat sheet.
Key stat: Despite being the shortest player on the Ram's roster, Brandenberg recorded 22 blocks last season.
— ∮∮∮ —
Juvonte Reddic — Jr. F
At the VCU Media Day, Coach Shaka Smart left little doubt that Juvonte Reddic is the Ram's most talented player. Reddic is an impressive athlete with the size to guard big men but the speed to play full court defense and keep up with the Ram's transition offense. His 0.80-1 steal-to-turnover ratio would be impressive for a guard, but it is incredible for a forward. Despite his talents and ability to put up big numbers, Reddic has also disappears at times. In May, Reddic had back surgery on a herniated disk, but he appears to be fully recovered and in better health than the end of last season when he only averaged 5.3 PPG and 3.7 RPG in the final three games.
Room for improvement
After improving in almost every statistical category between his first two seasons, Reddic is poised to have a very successful junior season. The departure of Bradford Burgess should give him more shot attempts and the Ram's improved 3-point shooting should buy him more space to operate in the paint. Averaging 14 PPG and 8 RPG is not out of the question even in the Atlantic 10, but for the Ram's to win a conference title, Reddic needs to prove he can be counted on in every game.
Key stat: In a season that the Rams struggled to shoot, especially in the half-court offense, Juvonte Reddic led the team shooting .514 from the field.
— ∮∮∮ —
Briante Weber — So. G
Briante Weber is HAVOC! Jay Bilas named Weber co-best on-ball defender in the nation last season with Ohio State's Aaron Craft, and Bilas also tweeted, "VCU's Briante Weber will be National Defensive Player of the Year before he is done. Disruptive defender." The praise is well deserved. Darius Theus will be VCU's point guard, but Weber will get minutes as a backup in addition to playing alongside #10. In tandem, the duo from the 757 area code can rattle the nerves of any backcourt in the country. While Weber lacks a consistent outside shot, he has the opportunity to set the VCU single season and career steal records.
Room for improvement
Weber is a talented defender, mature ball handler, and effective distributor, but he lacks an outside shot (.250 from 3-point range) and the pure scoring ability of other players on the VCU roster. When Weber plays alongside Darius Theus, the defense is extremely effective, but the Rams lose offensive fire power. The heir apparent to the coveted VCU PG position, Weber should focus on developing his skills to replace Theus instead of reinventing his game to play alongside him. At 165 pounds, Weber can also afford to gain some weight which will only enhance his play at both ends of the court.
Key stat: Despite playing less than 20 minutes per game, Briante Weber was 11 steals short of Rolando Lamb's VCU single season steals record.
— ∮∮∮ —
Treveon Graham — So. G/F
Playing as an undersized forward, Bradford Burgess was the glue that held HAVOC! together. With Burgess gone, Treveon Graham is poised to fill the void left by the legendary #20 and in many ways even exceed his predecessor. Graham has the physical tools and scoring ability to make his own name. Fans of Burgess can get excited because as a freshman, Graham was a more efficient rebounder, boasted a better steal percentage, and drew more fouls per forty minutes than last year's lone senior.
Room for improvement:
If Treveon Graham develops an outside shot he will elevate his entire game to a new level while spreading the floor for all of VCU's weapons. Imagine 2011's offense with 2012's defense. The sophomore forward also needs to work on his free-throw shooting. He drew six fouls per forty minutes, but his 63-percent rate from the charity stripe left plenty of unfulfilled scoring potential.
Graham turned 18 the week before the 2011-12 season and, despite his youth, improved constantly. After shooting an abysmal 3-of-23 (.131) in his first eight games, Graham finished the season 72-of-170 (.424).
Key stat: In the past thirteen seasons, only two VCU freshmen have scored 250 points. Bradford Burgess scored 253 points in 997 minutes, while Treveon Graham scored 252 points in only 604 minutes.
— ∮∮∮ —
Jarred Guest — So. F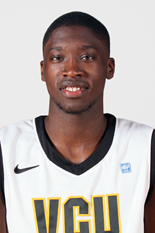 Jarred Guest's role for the Rams is still very unclear. With added strength and a year of experience, the long athletic forward could see his minutes increase during his sophomore campaign. Guest was a perfect 6-6 at the free-throw line last season and has also proven that he has a smooth jumper. Still behind Reddic and Haley in the depth chart, Guest will have serious competition for minutes.
Room for improvement
Playing time. Whether he needs to practice harder, improve his defense, or pray that the Rams blow-out a team by 20-points, Guest needs experience in games.
Key stat: In only 10 minutes, Guest scored six points and grabbed six rebounds against Hofstra last season in his first significant minutes as a Ram. The ability to impact a game in short spurts could earn him minutes as a sophomore.
— ∮∮∮ —
Teddy Okereafor — So. PG
Teddy Okereafor's role for the Rams is still unknown. A solid pass-first point guard, #5 will still be towards the bottom of the depth charts for the Rams. He's extremely quick, a tricky ball handler, and an effective passer, but he hasn't shown the ability to force turnovers like Darius Theus, Briante Weber, or Rob Brandenberg. With that being said, at VCU Media Day Coach Smart said, "Teddy Okereafor is maybe our most improved player on the team."
Room for improvement
Unlike Briante Weber, Okereafor will rarely play alongside another point guard. His shot could improve, but his play making abilities and defense are much more important to his future success in black & gold.
Key stat: Okereafor's 1.29-1 assist-to-turnover ratio was second to only Darius Theus during the 2011-12 season.
— ∮∮∮ —
Melvin Johnson — Fr. SG
The highest ranked recruit to attend VCU, Melvin Johnson is an elite scorer. A true shooting guard, he will immediately be one of the Ram's best 3-point shooters. With Jordan Burgess ineligible, Johnson will likely see even more minutes, but his defense must develop before he can become a consistent contributor.
— ∮∮∮ —
Justin Tuoyo — Fr. F
Justin Tuoyo adds valuable length and speed to the VCU front court. While he can hit his jump shot, Tuoyo's defense will earn him playing time during his career. With Juvonte Reddic all but guaranteed 30+ minutes per basketball game during the 2012-13 season, D.J. Haley, Jarred Guest, and Justin Tuoyo will be left battling for the remaining minutes. Tuoyo's contribution to the Ram's as a freshman will be dictated by how Coach Smart replaces Bradford Burgess, the development of Jarred Guest, and Tuoyo's ability to learn HAVOC! Despite his skill, Justin Tuoyo probably won't see significant minutes until Juvonte Reddic and DJ Haley graduate.
— ∮∮∮ —
To stay up to date on all things VCU Basketball related, follow @rvaRAMnews on twitter or facebook.