After an up-and-down start to the season, VCU picked up a quality win over a ranked and undefeated opponent Saturday night.
It took 50 minutes of basketball, but Virginia Commonwealth University ultimately topped undefeated #23 Northern Iowa 93-87 Saturday night in the Stuart C. Siegel Center.
Recap
A Matt Bohannon 3-pointer gave UNI a 73-71 lead with 54 seconds left in regulation. Treveon Graham responded with a beautiful spin move to tie up the game as the shot-clock turned off. He finished with 21 points and 11 rebounds. On the final possession, VCU sent out a five guard lineup without a rim-protector but picked up a stop when Briante Weber forced a miss-handle as time expired.
Despite not really wreaking HAVOC!, allowing Wes Washpun to have his way on offense, Matt Bohannon getting it going from 3-point range, JeQuan Lewis fouling out, and Briante Weber being riddled with four fouls, VCU forced overtime against a ranked, undefeated team, that made the Rams look lost in Cedar Falls last season. But the game wasn't over.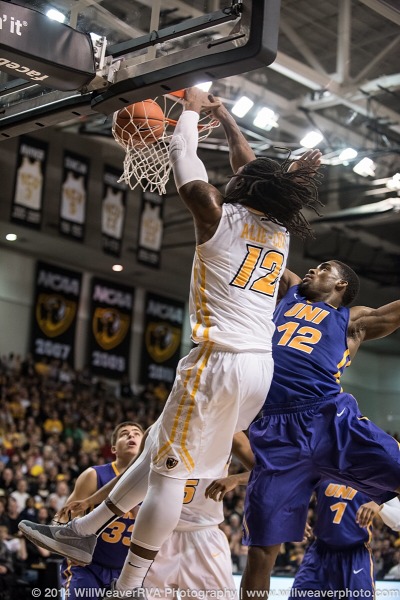 On the first play of extra time, Mo Alie-Cox dunked and got as close to breaking the backboard as ever during his career before cramping up and leaving the game. VCU returned to a guard-only attack of Weber, Melvin Johnson, Doug Brooks, Jordan Burgess, and Graham for almost the entirety of extra time in order to defend Washpun off of ball screens. It ultimately paid off.
With 28.3 seconds remaining in the the first overtime, Matt Bohannon hit another big 3-pointer to tie up the game and send it to double-overtime.
In the second overtime, VCU finally created some separation. A Treveon Graham contested 3-pointer from the top of the arc a la UVA 2k13 gave VCU a four point lead. It was a shot he tried multiple times in the final minutes causing him to joke after the game, "one of them had to fall and one of them did." With 50 seconds remaining and a 4 point lead, Briante Weber drew a charge from Wes Washpun who had 27 points. The play avoided free-throws for Washpun while fouling him out, kept Weber in the game with four fouls, and sealed the victory.
Win or lose, no reason to pack up the bags
I certainly don't think that if we would have lost that we would have cancelled the season, but I think this is a big, big win in terms of it's a ranked team, an undefeated team, and a team that beat us last season.Coach Smart
The Rams offense exceeded their defense in a performance that had more in common with 2011 VCU than 2012 or 2014 VCU. Coach Smart definitively proclaimed, "our bench production was what won us the game." A huge driver of VCU's 42 bench points was JeQuan Lewis. His ability to get others involved, particularly in the paint, is unmatched on the roster and would have earned him more than 14 minutes had he not fouled out. He finished with a career-high six assists.
On a night when the reigning A-10 6th Man of the Year Melvin Johnson couldn't get it going (1-2 2PFG, 2-9 3PFG) 11 different Rams scored including 9 points from Terry Larrier (2-3 3PFG) in only 9 minutes, 8 points from Justin Tillman, 5 points from JeQuan Lewis, and 5 points from an unexpected star: Doug Brooks.
Brooks has always been known for his quick trigger and mixed-bag of offensive genius and mishaps, but his defense earned him eight minutes in overtime. Mike Litos joked about the apocalypse cometh because Brooks only attempted two shots in 20 minutes. He averaged more than 0.5 attempts per minute last season. The Rams have the potential to be incredibly balanced but failed to go beyond Graham and Johnson until Saturday night. Everyone stepped up, but Brooks in particular was huge down the stretch with Lewis fouled out and Mo Alie-Cox sidelined with a right leg cramp.
They're headed back to the top-25. It won't be long and that's where they deserve to be.Coach Jacobson
If the Rams had lost, it wouldn't have been time to pack up the bags and just because they won doesn't mean it's time to to hand them the A-10 title. VCU showed flashes of how their offense is capable of functioning. Pair that with a better defensive performance and this may actually be Smart's best team, but none of that will matter until they turn one good game into three, five, and seven good games in a row.
Top performer: Briante Weber
14 points (3-7 2PFG, 2-3 3PFG), 1 rebound, 3 assists, 2 turnovers, 1 block, 6 steals
"I could just see in his eyes, that he had a level of discipline tonight that he's lacked in other games.Coach Smart
Weber was far from perfect, but his ability to create possessions with steals is unmatched. The block-charge call was important but he also played with plenty of poise. The senior played the final 13:45 with four fouls.
VCU was most effective when he moved off the ball and JeQuan Lewis took over the point guard responsibilities. This put two creators in the game and avoided over-dribbling around the perimeter while keeping Weber on the court to generate extra possessions. When Weber brings Saturday's focus to the court, it's simply transformational for the Rams.
5 stats
Doug Brooks played 19 minutes in the previous five games combined. He played 20 minutes on Saturday.
Graham, Burgess, and Mo Alie-Cox combined for 3 fouls in 107 minutes. Lewis picked up 5 fouls in 14 minutes.
VCU sans Melvin Johnson finished 9-of-19 from 3-point range.
Saturday was only the second time VCU has shot a higher FT% than its opponent. VCU is -21 on FTs made and -5 on FTs attempted this season.
VCU shot 14-24 (.583) and scored 34 points in the 14 minutes (2.57 PPM) JeQuan Lewis played and shot 19-46 (.413) and scored 59 points in the 36 minutes (1.64 PPM) he didn't play.
Looking forward
VCU hosts Belmont (7-3) on Tuesday at 7:00 PM.
— ∮∮∮ —
Related
Photos by: Will Weaver
— ∮∮∮ —
To stay up to date on all things VCU Basketball related, follow @rvaRAMnews on Twitter or Facebook and sign up for our email newsletter.