Treveon Graham drained a contested NBA range 3-pointer with 1.4 seconds remaining to power #14 Virginia Commonwealth University past #24 Virginia in Charlottesville Tuesday night.
Treveon Graham drained a contested NBA-range 3-pointer with 1.4 seconds remaining to power #14 Virginia Commonwealth University past #24 Virginia in Charlottesville, 59-56, Tuesday night.
Recap
It stings to lose, but when you lose to someone you respect, and they're a friend of yours, it's a little easier. They do things the right way. Our program does things the right way. I can stomach it.Coach Bennett
It was almost unbearable for 37 minutes. VCU struggled to score against UVA's stingy defense, the referees called 48 fouls, when the Rams were lucky enough to get to the line they only connected on 40% of their free-throws, and VCU was out-rebounded 41-28. It was the type of game VCU lost to Georgia State and Drexel in 2012. The type of game the Rams lost to Wichita State and Saint Louis last season. This time it was different. Treveon Graham had different plans, and he led the Rams to a quality road win with 22 hard-earned points.
Those first 37 minutes were painful, but the final three minutes are what will be remembered. UVA led 55-49 with 2:43 remaining. Rob Brandenberg missed a layup, but Juvonte Reddic came out of nowhere for an emphatic left handed put-back dunk. Seconds later, Jordan Burgess drew a Joe Harris charge before Treveon Graham found Burgess in the corner for a big time 3-pointer.
Jordan Burgess is different than Bradford Burgess in many ways, but it was tough not to see the resemblance on the shot. Despite his inexperience, J. Burgess played important minutes down the stretch, and Coach Smart spoke confidently of him: "[Jordan Burgess], this was his second college basketball game and he's been waiting to play for a long, long time. He's as ready to play as any first year player I've been around."
Treveon Graham hit a layup with 1:17 remaining. With ten seconds remaining, the refs called a very questionable blocking foul on Jordan Burgess. Malcolm Brogdon missed his first free-throw but tied the game at 56 with the second. Coming out of a timeout, Rob Brandenberg tried to drive on a ball screen and then kicked it to Treveon Graham.
The only Richmond residents that won't try to forget the first 37 minutes of this game are Coach Smart and Company. There's a silver lining to struggling so much for 37 minutes and still winning: VCU has plenty to improve upon in the coming weeks.
Humility and focus have always been strengths of Coach Smart's teams. That's part of the reason why his teams rarely get upset and part of the reason his teams always improve throughout the season. "We just have to stay focused on our goals. We have process goals and we have result goals. The process goals, we have full control over. We certainly need to get better in all of those areas…Whether we won or lost tonight, we were going to need to go back to Richmond and get better."
Top performer: Treveon Graham
22 points, 8-15 shooting (2-5 3-point shooting), 3 rebounds, 2 steals
With Coach Smart struggling to put lineups on the floor that could score because of foul trouble, Treveon Graham answered the call scoring 13 points in the second half. He was the only Ram to finish in double figures, and his game winner will be part of VCU lore for generations.
Graham made play after play down the stretch. He made the deftest steal of his career with 4:21 remaining but VCU couldn't convert the free-throws. He assisted Jordan Burgess's big shot. He stole the ball and took it to the hole with 1:23 remaining. and he drained the deciding 3-pointer.
Treveon Graham and Juvonte Reddic are both serious contenders for Atlantic 10 Player of the Year. Fortunately for VCU, the Rams aren't even sure who's the better player on the team.
Five Stats
27 fouls is the most fouls called on VCU since January 27th, 2009 when VCU lost 68-63 to Northeastern.
Zero VCU players were offered scholarship by UVA.
Briante Weber played 38 minutes. He had never played more than 31 minutes in his career.
40% is VCU's worse FT% since January 16th, 2008.
Four Rams tallied four fouls, but no one fouled out of the game.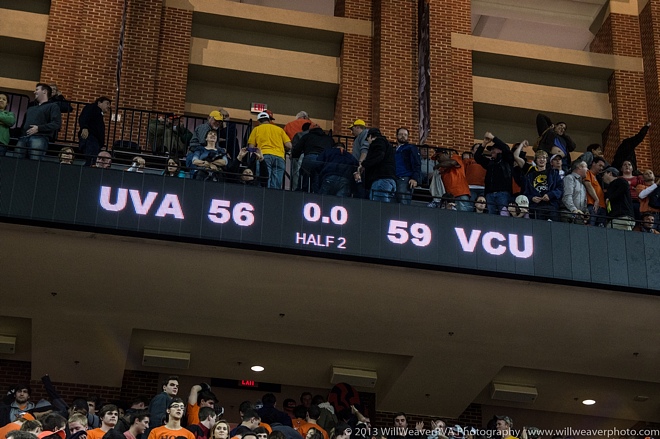 Box Score
VCU
| Player | Min | TP | 2FG | 3FG | FT-FTA | OR | DR | PF | A | TO | Blk | Stl |
| --- | --- | --- | --- | --- | --- | --- | --- | --- | --- | --- | --- | --- |
UVA
| Player | Min | TP | 2FG | 3FG | FT-FTA | OR | DR | PF | A | TO | Blk | Stl |
| --- | --- | --- | --- | --- | --- | --- | --- | --- | --- | --- | --- | --- |
Looking forward
VCU returns home to face Winthrop at 7:00 PM on Saturday. The game will be broadcasted on CSN-Plus.
Photos by: Will Weaver
Related
— ∮∮∮ —
To stay up to date on all things VCU Basketball related, follow @rvaRAMnews on Twitter or Facebook and sign up for our email newsletter.