What sort of fast food would you like to see?
Update #1 — June 27, 2014; 9:49 AM
Thanks to Brittany in the comments who checked in on the
permit for the old McDonalds
we now have hard evidence of what that building is to become, please note the highlighted section from the permit below.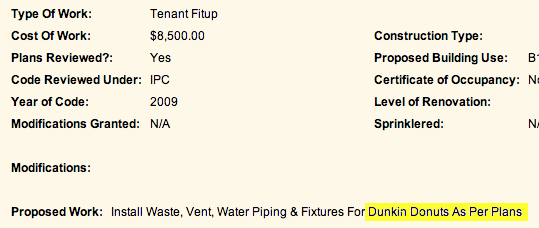 Thank you Brittany for looking into this while I was engrossed in World Cup soccer.
— ∮∮∮ —
Original — February 11, 2014
The old McDonald's on Forest Hill Avenue (seen above in an out of date picture) has had construction workers inside the past couple weeks. This leads to the natural question, what's going inside?
Unfortunately I can't tell you that yet but according to the most recent building permits I can tell you it's going to be another fast food restaurant.
Which fast food would you like to see? My vote goes for a local chain ala Chicken Fiesta or something similar.
If you want to keep track of the project head over to the city permits search engine. The site is very finicky about how you enter addresses so make sure and follow the directions exactly.
Photo: Google Maps