Movies are the best, and here are what the Academy's going to term the best of the best. And this year they may actually be right on target.
Award ceremonies are funny things. I am dimly aware of the Grammys and totally oblivious of the Emmys, but I spend a lot of months every year looking intently forward to Oscar-time.
Who knows why we do these things to ourselves. The Oscars have never been an accurate representation of true greatness in film, but watching it, for me, is like a really glitzy form of rubbernecking. I know this is a huge mess, but I can't stop staring at it. And, of course, there's the odd chance that the Academy will do something brilliant.
Also, it's fun to try to make predictions. Below are some recaps of the ten best picture nominees (complete with handy links to my reviews, in case you'd like a more in-depth refresher) as well as my picks for the major categories. Leave your own picks in the comments, and then tune into ABC at 7 on Sunday night to see how we all did.
The Big Ten
Note: This year was a big improvement in best picture nominees, which, as you may know, was expanded to include ten last year. Don't listen to any arguments to the contrary, it's about money and only money. As a result the list gets woefully diluted, but this year was a good year for films. There are no Avatars on this list.
Black Swan
The second best film of the year (and the one I actually enjoyed the most), Black Swan is a thriller that explores a simple theme in parallel with a fictionalized production of the famous Swan Lake. Ballerina Nina Sayers wrestles with perfection and all of the insecurity that comes with it.
Best Picture Material: Absolutely. It's provocative, groundbreaking, and keeps you guessing throughout. Fantastic direction and editing, and the interwoven score is something truly special.
The Fighter
Talented actors set a new bar in this film about the rise and fall of two brothers from a small town in Massachussetts. One is a boxer on the up-and-up, and the other, a former boxer himself, is so far down that there may not be anywhere else to go. Their worst battles are the ones they have with their families (sometimes nicely staged in the boxing ring itself).
Best Picture Material: This kind of showcase for genius talent (notably Christian Bale as you've definitely never seen him before) is always a big sell for the Oscars. Plus, it's just a damn good movie.
Inception
OK, a guy and his motley crew know how to get into people's dreams and figure out their secrets. But what if they could start planting information into their dreams? World domination! But careful, there's a catch. You may not quite understand that catch, but it's there. Trust Leo.
Best Picture Material: Inception was a very tense thriller with a lot of glaring holes, but the fact that those holes don't present themselves until well after you've walked out of the theater, I'd say it's a particularly well done film. That said, it didn't blow my mind, not even a little bit. I'd never put this on the level of many of its fellow nominees.
The Kids Are All Right
Two teenage siblings decide to find out more information about the sperm donor for their two lesbian mothers (played impressively by Annette Bening and Julianne Moore). But introducing this guy into their lives just causes a whole lot of stress for everyone.
Best Picture Material: I found the film refreshing in that they don't really all learn to get along with their sperm-dad, but I couldn't help feeling that, though their family relationship with each other was ultimately strengthened, that dude totally got sacrificed in the process. There were times when the dialogue seemed a little forced. Worth watching, but not worth awarding.
The King's Speech
O, shining jewel of 2010! There are zero things wrong with this delightful film. Like Black Swan, The King's Speech made me want to keep watching it on a continuous loop as others brought me food and water. The actors are perfect as King George VI and his speech tutor, who helped the monarch gain confidence and win Oscars.
Best Picture Material: You think this is going to be boring, but it isn't. While infinitely more mellow and subtle than Black Swan, I felt similarly towards both of them. And that feeling was…"Be three hours longer."
127 Hours
A boisterous adventurer gets stuck between two rocks for…I forget how many hours, providing us all with a cautionary tale grotesque enough to scare us into doing a thousand safety checks every time we walk out of our homes. James Franco stars as one of the only cast members and does a great job of exploring an enormous range of emotions with a camera directly in his face.
Best Picture Material: Yes, it's admirable that a film about a guy standing in place for three days can be compelling, but I found it a little too hokey for my tastes.
The Social Network
Facebook is founded by bad people; The Social Network is scored by good people (Trent Reznor, woo!). And directed by good people too. This questionably accurate story of friendship, betrayal, greed, and power is truly an achievement in relevant filmmaking, and it teaches us all a lesson (albeit one we will probably ignore) about letting jilted college dudes be in charge of things.
Best Picture Material: Let's just say, I "liked" this. I'd "write on its Wall" that it "should poke me" and then I'd stare at its last posted photo and over-analyze other people's comments on it.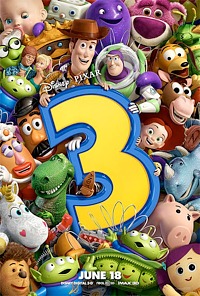 Toy Story 3
Guys, this movie is frigging scary! I said this to the girls I babysit for, and they laughed at me, but then admitted that yes, there were some tense moments. Toys aren't just hopping around a bedroom anymore, they're dealing with life, death, power struggles, incinerators, psychological torture, and sandboxes! And the Ken jokes are hilarious.
Best Picture Material: Of course not. It's Toy Story 3. While leaps and bounds better than any other animated movie this year, it still has some cringey moments, like when the piggy bank calls Buzz Lightyear an "astro-nut."
True Grit
The Coen Brothers are still doing what they're doing, being pretty brilliant most of the time. This Western remake involves a young girl trying to avenge her father with the help of a dirty jerk (Jeff Bridges) and a fussy ranger (Matt Damon). It's compelling and beautiful, and is dripping in wry wit and perfect directorial timing.
Best Picture Material: Sure. I liked this film a whole lot. If a few of the other movies in this category hadn't been made, I'd go so far as to call it my favorite film of the year. But they were made.
Winter's Bone
One teenage girl who's on her own (well, with the help of a slightly insane uncle named "Teardrop") against the formidable force of organized crime. I spent the first hour of Winter's Bone trying to figure out what it was a remake of, as it really didn't fit into any of the genres we expect. The mafia-esque intrigue set in the meth-addled Ozarks really surprised me, and I can safely say that I've never seen a movie quite like it.
Best Picture Material: I wholeheartedly recommend this excellent film, and I would also really like to talk to someone professional about what it means that I am in love with Teardrop.
The Picks
This year, my predictions for the Academy align pretty well with what is in my heart of hearts. Oh, and in case you're wondering, my prediction for best dressed is Robert Downey, Jr.
Best Picture
My pick: The King's Speech (see above).
Actor in a Leading Role
Javier Bardem (Biutiful)
Jeff Bridges (True Grit)
Jesse Eisenberg (The Social Network)
Colin Firth (The King's Speech)
James Franco (127 Hours)
My pick: Colin Firth
He's the new Meryl Streep, you can't beat him. Nobody else on this list even came close.
Actor in a Supporting Role:
Christian Bale (The Fighter)
John Hawkes (Winter's Bone)
Jeremy Renner (The Town)
Mark Ruffalo (The Kids Are Alright)
Geoffrey Rush (The King's Speech)
My pick: Christian Bale
OK we're aligned so far, Academy. While I LOVED John Hawkes in Winter's Bone, Christian Bale did something seriously special.
Actress in a Leading Role:
Annette Bening (The Kids Are All Right)
Nicole Kidman (Rabbit Hole)
Jennifer Lawrence (Winter's Bone)
Natalie Portman (Black Swan)
Michelle Williams (Blue Valentine)
My pick: Natalie Portman
Slim pickings this year except for Portman's brilliant Nina Sayers in Black Swan. Totally unforgettable.
Acress in a Supporting Role
Amy Adams (The Fighter)
Helena Bonham Carter (The King's Speech)
Melissa Leo (The Fighter)
Hailee Steinfeld (True Grit)
Jacki Weaver (Animal Kingdom)
My pick: Melissa Leo
Portman is such a shoo-in for Best Actress that the True Grit folks made an extremely sketchy decision to push Hailee Steinfeld as Supporting. This gives her a fighting chance, which would encourage lasting interest in the movie. Considering she's the main character of the film, this is pretty silly, but she won't have a chance against Melissa Leo's chain-smoking, willfully ignorant Alice.
Directing
Black Swan (Darren Aronofsky)
The Fighter (David O. Russell)
The King's Speech (Tom Hooper)
The Social Network (David Fincher)
True Grit (Joel Coen and Ethan Coen)
My pick: Tom Hooper
I'd love to split it between Aronofsky and Hooper, but I'd also love it to snow every year exactly on Christmas morning. Hooper will get it, and Aronofsky can chalk it up to bad timing.
Writing (Adapted Screenplay)
127 Hours
The Social Network
Toy Story 3
True Grit
Winter's Bone
My pick: The Social Network
If it were me, I'd say True Grit might have the best screenplay up there, but it's not me. (Related note: Toy Story 3 is adapted?)
Writing (Original Screenplay)
Another Year
The Fighter
Inception
The Kids Are All Right
The King's Speech
My pick: The King's Speech
I highly doubt that it'll win all those other awards (and I really think it will) and not win this one. It's JUST THAT GOOD.