Taglines for this film basically write themselves. "What do you do when the other fighter in the ring is..your mother??" "Between your sisters and your girlfriend, somebody's going to win the title." "It's like Big Brother on crack." "Literally?"
I was so excited about movies after I saw The Fighter that afterwards, I dragged a friend out into the freezing rain in the middle of a Monday night so that I could talk excitedly about the film with some kind tolerant soul. What a great year 2010 was for films, as this year's Academy Awards indicate, making a veritable mockery of the year prior, what with its Avatars and District 9s.
But 2010 is no mockery, no sir. In addition to bestowing Oscarly praise on startlingly well-made productions this year, Hollywood has upped the ante on acting. As the obnoxious, oblivious, but still somehow lovable Dicky, Christian Bale's performance — while still not holding a candle to his 1992 tour de force in Newsies* — was nothing short of jaw-dropping. Bale cheerfully oozes around Lowell, Massachusetts, usually with his arm around his bashful brother Micky, played by Mark Wahlberg. Dicky'd had a shot at boxing greatness in his youth but now, as a 40-year-old crack addict with a serious aversion to listening, all his hopes are wrapped up in Micky.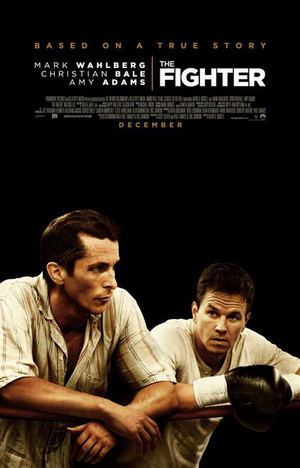 Let's take a second to clarify, because the similar names make things a little confusing.
Dicky (Bale): former boxing champ, current crack addict, 40, extrovert, moonlights as Batman.
Micky (Wahlberg): current boxing hopeful, probably late 20s, quiet, uncertain, looks great in a t-shirt.
Their mother, Alice, played by the brilliant Melissa Leo, who should and hopefully will win the Best Supporting Actress Oscar, is Micky's manager. She's in her element in heels and tight white jeans, surrounded by her millions of daughters and controlling everyone's lives. Micky's new girlfriend, Charlene (Amy Adams in a refreshingly different role), believes she can help Micky shut out the increasingly harmful effects of his family and focus on becoming a serious boxer.
The style of the film is part of your fascination with it. At first, you're along for the ride with HBO cameramen, who (as Dicky keeps saying) are making a documentary about his supposed comeback. Nobody wants to wipe the gap-toothed smile off his face and tell him anything different. Soon enough, the film within a film is pushed to the side and we shift our lens to Micky and his struggles to be taken seriously, but it's hard to shake off the feeling that we're still quietly tagging along with the documentary filmmaker. As a result, you're more invested in the characters and ripping your fingernails to shreds anticipating the next move.
Next to Bale's method performance (almost unrecognizably skinny with slicked hair, a mottled complexion, and a floppy swagger), Wahlberg is still good but, like his character in the film, it's hard to get anyone's attention when that other guy is around. Micky in general isn't thoroughly developed, and while you love him to pieces and want him to do well, you can't help but hope that the next scene will be about his big brother.
Likewise, for a family with complex problems that span three generations, the ending comes together rather too quickly for my tastes. Or perhaps the parts leading up to it are too long. While forgiveness is a major theme in The Fighter, I found myself wanting to know a little more about why these people choose to forgive and why they don't.
That said, each moment is riddled with heart, tension, and excitement, and the performances set bars for which great actors will reach for years to come. I'm not saying that a throng of dancing newsboys wouldn't have added that special something, but we can't have everything.
*If you think I'm making a joke here, then you have either not discovered the magic of that heartwarming musical, or you underestimate how difficult it is for a British teen to sing his heart out with a New York accent. As someone who can really identify with the latter, I can tell you that it is extremely taxing.