Overwhelmed and overflowing with awesome ideas from our 2012 Holiday Gift Guide? This time we present a few stocking stuffers we found around our town–many made by RVA elves.
Overwhelmed and overflowing with awesome ideas for our 2012 Holiday Gift Guide, we decided to highlight a few more for those of you yet to hit the streets to shop (tick-tock). We also realized that a toy fire truck would look strange in a stocking, and boxing up a stick of lip balm may not win you any spouse of the year awards. So this time we present a few stocking stuffers we found around our town–many made by RVA elves.
— ∮∮∮ —
It's your art. It's your street. Fine art postcards, $1-$4, at the VMFA shop. Street sign cards (pictured) designed by Richmond's Slow Def, $2-$4 for postcards, notecards $16 for six, at Mongrel in Carytown. Also available at Strawberry Fields in the Fan.
— ∮∮∮ —
Have you ever wished you smelled like your neighborhood? Me, neither. You will, however, wish your neighborhood smelled like these soaps. Each Richmond Soap Studio product is handmade with organic and sustainable ingredients by RVAer Rebekah Kusterbeck at her workshop on Strawberry Street in the Fan. Our favorite is the Nickel Bridge with lime, lemongrass, spearmint, pumice, and seaweed. $8 each, available at Strawberry Fields, Very Richmond, Ellwood Thompson's, Ciao Bella, Cottage Lane, and the Bizarre Market. RSS also teamed up with Need Supply to create a soap "planet" for their "The End is Near" theme.
— ∮∮∮ —
We love gifts that are recycled or upcycled–when it's a cycle, even better. Key chains, bracelets, and bottle openers, $12 at the VMFA Shop.
— ∮∮∮ —
For the endurance athlete on your list, drop a few Chia Bars, by Richmond's Health Warrior, in with the red and green M&Ms. Highly portable for long-distance runs, hikes or rides, each bar is loaded with Omega-3s and other stuff that's good for you. $1.39 at Ellwood Thompson. Also available at Whole Foods and Urban Farmhouse.
— ∮∮∮ —
Several great mixtapes are floating around that highlight the sounds of RVA's best artists. Go with The Cheats Movement X RVA Mag Presents: RVA Hot Sauce The Mixtape Volume 1, co-produced by popular culture blogger, Cheats, and RVA Mag, featuring our best hip-hop acts. Or try Style Weekly's Sounds of Richmond, Volume 5. Each a free download. Drop it onto a CD and into a music lover's stocking.
— ∮∮∮ —
This paper wallet is recycled, recyclable, durable, sustainable, and adaptable. For a gift a parent would treasure, consider commissioning your child to paint a masterpiece on the front. Tyvek paper wallet, $19 at the VMFA Shop.
— ∮∮∮ —
Jackson Ward's Big Secret is doing a poor job of keeping quiet, with their innovative laser engraved art appearing everywhere from Shockoe Denim to The Martin Agency to the Bizarre Market. Modern Artifacts commissioned them for these glass ornaments that shine with RVA pride, $15.
— ∮∮∮ —
For the last 17 years straight, my stockings have been filled with, stockings (that's socks to you, 2012). They have never looked like these. Stance socks, $10/pair, West Coast Kix.
— ∮∮∮ —
We know Burt has a solid squad, but they best beware of RVA's Bees. Kitchen-made in Hanover using local beeswax and other natural ingredients, Mac's Smack lip balm is Petroleum free, paraben free, and cruelty free. $5 at Ellwood Thompson or Whole Foods. Go with Mint Wish–for each one sold, Mac donates $1 to Make a Wish Virginia.
— ∮∮∮ —
We came across this colorful trio of lovely gifts for the lady in your life at Pink in Carytown. Coin purse by Lolo, $25. Necklace with painted quartz pendant encased in a bullet shell, made by Richmonder Kristy Santelli, $68. Anne Welford may win the inaugural RVANews Best Name For a Local Artisan award with Woolgather By The River: hat, $38.
— ∮∮∮ —
The eponymous RVA sticker has lost no swagger in it's omnipresence–tougher to find but still free, fresh, and full of life. Great for new drivers, new Richmonders, or Richmonders who have relocated (pending inevitable return). Order online here, limited quantities available (we've got black & gold and orange & maroon varieties too!).
— ∮∮∮ —
The VMFA shop has these novel handmade earrings. Above left, for your brash young star (made from recycled Blockbuster cards (remember those?)), $28. At right, for at least two skulls a day, Handmade by Richmond's Karyn Shonk, $40. Thank you, model, Laura.
— ∮∮∮ —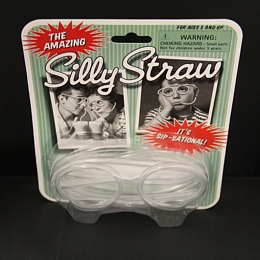 If Santa is not on the task, we found all types of fun and engaging stocking stuffers for children at World of Mirth, the VMFA Shop, Mongrel, Quirk, and The Bizarre Market.