The chain hopes to capitalize on its pledge to save shoppers up to 50% versus traditional stores–while still providing high-quality food and produce–by adhering a number of cost-saving strategies.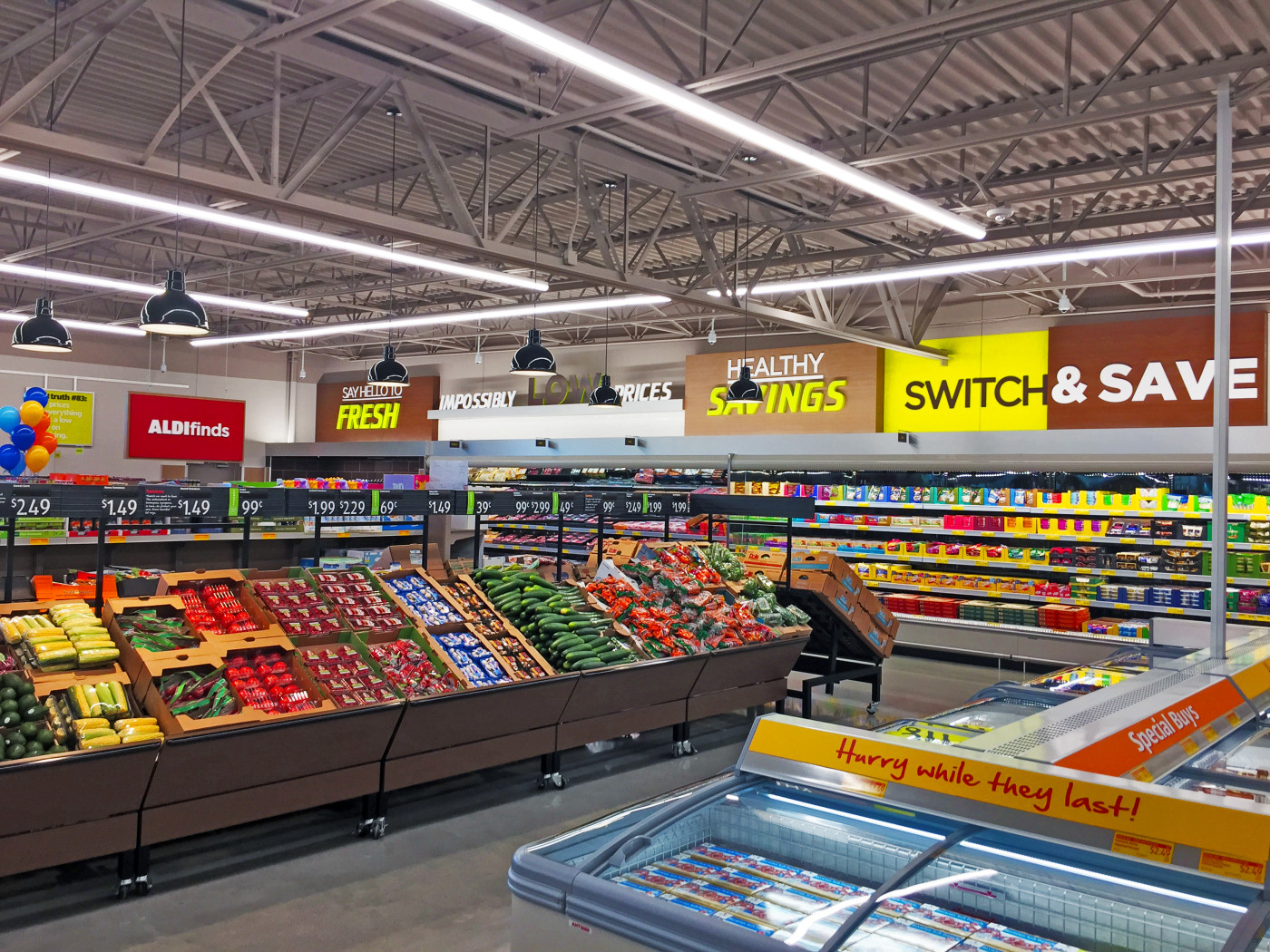 Discount grocer Aldi is making a big splash into the Richmond market, with plans to open six area stores in town by mid-2016. Today, the first two of those stores–one in the West End and another in Colonial Heights–open today.
I had a chance to check out the West End store, located on Parham Road near Three Chopt, just before it opened to the masses to see what all the hype was about. And I must say, my experience exceeded my expectations.

— ∮∮∮ —
Grocery shopping, simplified
As I reported earlier this year in a feature on the grocer's history and plans to enter the Richmond market, Aldi is the half-sister chain of Trader Joe's, and you'll find a lot of the same products at low prices. But unlike Trader Joe's, Aldi feels like a place you could do all of your weekly grocery shopping, if you so chose.
The West End location looks like a miniature version of any of the area's mega grocery stores with a bright, open floor plan and high ceilings–the warehouse feel. Take the 90,000-square-foot Kroger stores in Short Pump or Carytown and condense them down into about six aisles of staples, one to two brands to choose from for each item, and that's basically Aldi.
Someone I recently talked to likened it to the smaller grocery stores of the 1960s, where there were fewer brand choices and a focus on honest to goodness household staples–a pretty accurate assessment.
Perusing the aisles of Aldi, you'll find all of your grocery staples from milk, eggs, and bread, to fresh and frozen meats and seafood, some of which were as much as half off what you'd typically pay at another store. Aldi stocks 1,300 of the most commonly purchased items to keep costs down and move inventory. You won't find a ton of specialty items here; a methodology that's completely by design.
I was especially surprised at just how inexpensive the fresh produce was (take deals like 69 cent bundles of mushrooms or six limes for a dollar, for example). Aldi currently carries nearly 70 varieties of fruits and vegetables, including several organic produce items.
Meats and cheeses were another category that kind of blew me away–the quality looked pretty darn good for the price. The store features USDA Choice meats and a line of organic products, free of artificial colors, flavors, or unnecessary enhancers. They also continue to expand their line of gluten free breads, cookies, and other sundries.
If the idea of swapping your favorite swapping name brand products for an Aldi store brand makes you nervous, the store's got your back, too. If for any reason you're not 100 percent satisfied with one of their food products, they'll replace it and/or refund your money–it's essentially a double guarantee.
Beyond food and produce, the store also offers what it calls 'Aldi Buys.' It's an entire aisle devoted to home goods and seasonal items, constantly rotating in and out and at a bargain price. During our tour, the store had patio ware, hanging plants, and even bags of mulch for sale, capitalizing on folks' springtime endeavors and weekend projects.
— ∮∮∮ —
"Impossibly Low Prices"
So how does the chain offer what they call "impossibly low prices" then? It's a combination of things.
First, to save money on cart return and cleanup, shoppers must deposit a quarter to unlock a shopping cart from the front of the store. When the cart is returned, so is your quarter. To reduce spending on bags (and to be as environmentally conscious as possible), Aldi charges six cents per bag at checkout. They encourage you to bring your own reusable bags, or you can purchase theirs for a nominal fee to reuse again and again. You'll also have to bag your own groceries, which eliminates the need for baggers (and let's be honest, how many times have you ended up doing this anyway at Kroger or Martin's when they're short-staffed on a busy Saturday?).
Finally, the store only accepts cash, debit cards, and EBT cards for payment–a move that saves the business a boatload of money on credit card processing fees. All of this, coupled with the fact that 95% of the store's selection is comprised of private label brands, means you're likely to save a lot, depending on what you buy.
— ∮∮∮ —
a new market, for the richmond market
Aldi is in the midst of a rapid expansion plan nationwide, and Richmond is yet another market that's part of that aggressive plan. The company currently serves about 30 million customers per week in 1,400 stores spread across 32 states, and plans to expand that number to 2,000 by the end of 2018.
Locally, Aldi will have a total of six area stores by next year–on both Parham and Staples Mill Roads in the West End; on Boulevard in the city proper; on Forest Hill Avenue in South Richmond; and one location each at a yet-to-be-announced spot in Mechanicsville and Chesterfield County.
"We think Richmond is a fantastic market and we're excited about being here," Jeff Baehr, Frederick division vice president for Aldi told me during the tour, when asked about their entrance into an already crowded Richmond grocery market. "There's a lot of great competition here that we're ready to stand side by side with and take on. It's a new, untapped market for us for sure, so we're really very excited."
Baehr also went on to explain that customer demand and requests expedited their entry into the market, but that plans were already in motion to enter the Richmond Metro area.
To celebrate the opening of the new Richmond stores, Aldi took a page from Charlie and the Chocolate Factory by hosting a ribbon-cutting ceremony Thursday morning where the first 100 shoppers received a golden ticket, each containing Aldi gift certificates of various amounts. Another lucky customer won a year's supply of produce.
The Richmond area Aldi locations will be open from 9:00 AM – 9:00 PM Monday through Friday, and close at 8:00 PM Saturdays and 7:00 PM Sundays, limiting operating hours to peak shopping times to reduce overhead expenses.
The retailer's stores currently under construction in the Richmond area should open sometime this summer, the company says, with a total of six open by mid-2016.
— ∮∮∮ —
PHOTOS: Aldi Opens West End Store