The well-known Szechuan chef will occupy part of the Hoffheimer Building on West Broad Street following extensive renovations.
Famed chef Peter Chang is opening a 3,000-square-foot restaurant in Scott's Addition this fall, a pair of local developers announced this morning to a neighborhood group.
Local real estate team Carter and Annie Snipes signed a 10-year lease with Chang in the lower level of the Hoffheimer Building, the minaret-adorned building they recently purchased, located at 2816 West Broad Street. The announcement was made at the monthly meeting of the Scott's Addition Boulevard Association.
Well known for his unique and flavorful regional Szechuan Chinese cuisine, Chang's 3,000-square-foot Richmond restaurant is scheduled to open this fall as part of a $1.4 million rehab of the 1928 Hofheimer Building, using historic tax credits. The project is being designed by architect Todd Dykshorn and financed by First Capital Bank.
"We are extremely excited to be working with Peter and believe he will be a major draw for the Scott's Addition area," said Carter Snipes. "This will be Peter Chang's first restaurant in the City and he is excited to bring his unique culinary experience downtown."
Chang selected the site after touring many other locations around the city. "I looked at dozens of locations for Peter in Downtown Richmond," Wan said. "We left no stone unturned and I truly feel like we found the ideal home for him," said broker Nancy Wan, who represented Chang in negotiations.
"I was drawn to the Hofheimer Building for its easy access to so many parts of downtown including VCU, The Fan, Northside and the Near West End," Chang said. "I can truly serve all of my downtown customers from this location. I'm excited by what Carter and Annie are trying to do there," Chang continued.
While the restaurant will occupy half of the building's first floor, the couple's firm, Snipes Properties, has ambitious plans for the rest of the Hoffheimer Building, the crown jewel of which is a 4,000-square-foot rooftop deck once used to clean and dry rugs when the building was owned by the Hoffheimer Fine Rug Cleaning Company.
The rooftop deck is serviced by a two-ton freight elevator and features panoramic views of the surrounding area. Snipes is marketing the space as the ideal location for a rooftop bar or dining patio that complements Chang's restaurant.
"Peter has expressed interest in expanding to the roof or sharing the building with a craft beer or wine centric concept that would compliment what he is doing," Snipes said. The developers plan to seek approval later this summer from City Council to allow the rooftop space to be utilized once construction on Chang's restaurant space is underway.
A graduate of the Sichuan Higher Institute of Cuisine, Chang received the title of Master Chef and graduated first in his class before coming to the United States, where he was the chef for the Chinese Embassy in Washington, D.C.
He later opened restaurants around Virginia in Short Pump, Williamsburg, Charlottesville, Fredericksburg, and Arlington. His Short Pump restaurant was named among a list of the '50 Best New Restaurants in America' by Bon Appetit Magazine in 2012.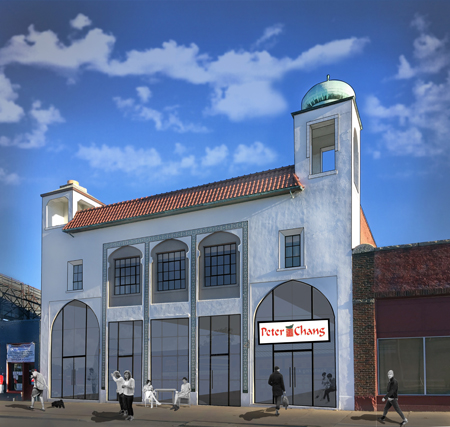 Photos: Snipes Properties