One year ago, Paul Cassimus was teaching Spanish to high school students. Now he makes and sells popsicles for a living. And he loves it.
Original — May 03, 2013
At this time last year, Paul Cassimus taught Spanish at Varina High School. Now he sells popsicles. But the 28-year-old didn't fall on hard times. He found a passion.
"I taught for two years," Cassimus said, first at Byrd Middle School before moving to Varina. "But I didn't feel totally connected with what I was doing." A college business major, Cassimus began brainstorming other careers.
Thoughts soon moved to two friends: brothers Nick and Steven Carse. While on a trip to Central America, the Carse brothers discovered paletas, the Latin American version of popsicles made with fresh fruit and fresh ingredients. Inspired by paletas, the Carse brothers created King of Pops, an all-natural, ecologically responsible popsicle food cart that debuted in Atlanta in 2008. Additional carts later spread across Georgia, then into North Carolina.
"I talked to them about it and I said I thought Richmond would be great [for a location]," Cassimus said. At first the brothers were hesitant, but Cassimus drafted a business plan–in between his high school lesson plans–that he pitched to them. The brothers changed their minds. "They knew I was serious about it."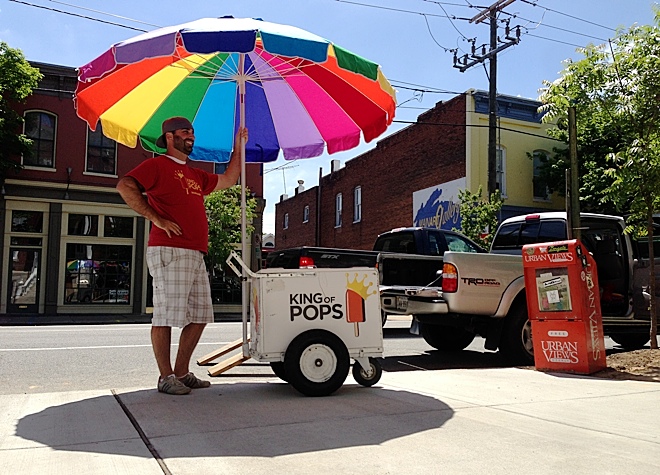 Cassimus launched his King of Pops food truck last June soon after teaching his last class. Giving up a steady job for a new and unproven career would probably intimidate most, but it didn't Cassimus. "I was not apprehensive at the least. I was excited about it," he said. "It was energizing." Although anxiety and uncertainty creeps in from time to time, overall he remains energized by his King of Pops business because "I believe 100 percent in [the] product."
Making Blackberry Ginger
Mix base syrup of water and organic cane sugar
Add blackberries
Squeeze lemons and juice ginger into mix
Pour into popsicle molds and freeze for about an hour
Heat seal between 50 -100 in plastic wrappers, store in chest freezer
He makes every popsicle at his commissary in Scott's Addition, typically devoting four-to-five hours to it a few days each week. The ingredients he uses for the various flavors come from local sources like Agriberry, Homestead Creamery, and others. Cassimus offers about seven flavors on any given day, each priced at $2.50.
The first King of Pops cart in Atlanta has served hundreds of unique-flavored popsicles since it opened. While nowhere close to that amount just yet, Cassimus regularly experiments with flavors of his own. He creates them by taking a base fruit and then "mixing and matching them" with other ingredients. For instance, there's the Pineapple Habanero, Peach Nectarine, and his personal favorite, Banana Pudding. He's also fond of a new flavor, Blackberry Ginger (see sidebar).
One of his more unorthodox popsicles came with the help of Hardywood Park Craft Brewery. Last summer, Cassimus used one of the brewery's IPAs, mixing it with grape fruit, to create a limited-run flavor. "I'd love to do a collaboration with them again," he said. He enjoys working with businesses to create custom flavors. Last year, he also produced Thai Coffee and Thai Tea popsicles with the help of Michael Ng, owner of Thai Corner.
Now in his second summer of business, Cassimus wants to keep building the King of Pops brand. He'll do that by hitting the pavement with popsicles nearly every day. Come next year, he hopes to extend his presence to cities like Charlottesville, Williamsburg, and even Virginia Beach.
But before he considers expanding, he first wants to be successful here. "I feel this very positive vibe in Richmond," he said. "I think [it's] an amazing place to do business." Nearly a year after starting, he's still energized by King of Pops– an energy he couldn't find in the classroom.
King of Pops' weekly schedule is regularly updated online.
Featured photo by: Erin Soorenko