This week, you have an opportunity to impress, indulge, surprise, spoil, create, care, luxuriate, and most importantly, love. Fortunately, RVA's finest artisans and entrepreneurs will make that an easy task.
Next week, you have an opportunity to impress, indulge, surprise, spoil, create, care, luxuriate, and most importantly, love. Fortunately, RVA's finest artisans and entrepreneurs will make that an easy task. So while you're showing a lot of love for someone special, show a little love for our smashing city.
— ∮∮∮ —
Whatever you do next Thursday, do not roll into Rite Aid for red roses on the way home from work. Richmonder Sarah Pollard Chiffriller provides a similarly easy, yet spectacularly more creative and beautiful option with her Twigs line of flower arrangements at Ellwood Thompson's. Using native flowers when available and an at-the-ready artistic eye, Sarah serves up lively colors and inventive combinations in the produce aisle. Valentine's arrangements are $25 and up.
— ∮∮∮ —
Angela Bacskocky has to be one of RVA's coolest creators. Her haute couture designs are homegrown, handmade, and expertly achieve both edgy and classic. Time spent under the tent at Alexander McQueen shows in her artsy, yet highly wearable, "Nest" narrative, showing off her penchant for natural and sensual fabrics. Even cooler, she collaborates with a collection of stylish Richmonders in telling her stories. Buy into this line before she soars even higher. Her women's clothes and uni-sex accessories are available at Etsy and Need Supply at a small fraction of what they should cost. Check out her red leather top: $82; waxed, oiled, leather handbags: $165; and vegetable tanned cowhide wallets: $28.
Photo by: Cameron Charles Lewis
— ∮∮∮ —
Richmond artist Emerald Grippa adds an air of sophistication to the RVA wardrobe with her elegant silk scarves for women. The urbane accessory has long graced the necks of elite women like Queen Elizabeth II and Grace Kelly and found a novel use in Basic Instinct. Grippa gives the pink heart look of this scarf a punk rock edge, eschewing the standard heart shape in favor of fierce moth wings, $98. Also available at Need Supply. Chardae's crystal cuff by Academy Jewelry.
— ∮∮∮ —
Everyone loves to be pampered–especially by the one they love. Pick up some of Wildly American's line of all natural handcrafted bath bombs, soaps, scrubs, and lotions. Handmade in Richmond, available at Eurotrash, Urban Farmhouse, Shields Market, and Mode Salon, $3 – $6.
Or go large and grab a gift certificate for lengthy luxuriation at Nesbit Salon, Salon Vivace, or Salon del Sol, prices vary.
— ∮∮∮ —
Step out in some saucy red sneaks. West Coast Kix in Carytown has groovy gifts to cover both feet festively. Pictured: men's and women's styles together, including Lacoste, Saucony, Clae, Vans, and The People's Movmt, $45-105.
— ∮∮∮ —
Luxury clothier Ledbury unveils "short run" shirt selections every two weeks, and February's first collection includes the aptly colored Red Urbana Check, in both regular and slim fits, $135.
— ∮∮∮ —
Shockoe Denim offers women a fun pair of gold jeans for what should be a fun holiday–exclusively for the lady on your list who fully owns her personal style. This pair is also a glowing reminder that Shockoe will custom make a pair of jeans to meet your loved one's size and creative imagination–right in the back of the store. Custom jeans, $220. Off the rack jeans for men and women, $185 – $225.
— ∮∮∮ —
Like Angela Bacskocky, rad Richmonder Rachel Albright of Academy Jewelry highlights fashion as an artistic endeavor. Her pieces emerge as small contemporary sculptures or abstract expressions. The Tallula Necklace deftly juxtaposes mismatched handmade objects on a leather cord. Handcrafted in Richmond and, like a museum install, engrossing to the eye. $68 at Need Supply.
— ∮∮∮ —
When I met Richmonder Michael Seay he was wearing a pair of striking cufflinks that immediately had me striking up a conversation. Turns out he had hand carved them out of discarded moose antlers! Long ago inspired by Noah Scalin's Skull-A-Day, I delved deeper into Michael's craft and learned he owned another pair made from mammoth tusk ivory recovered from iced over rockbeds in Siberia. Speechless, I shook his hand, mumbled some confused indicia of amazement and appreciation, and returned to the comfortable confines of the open bar. The brushed nickel versions are a bargain at $25 for the set, Modern Artifacts. See and believe the others at stauntonandstudds.com.
— ∮∮∮ —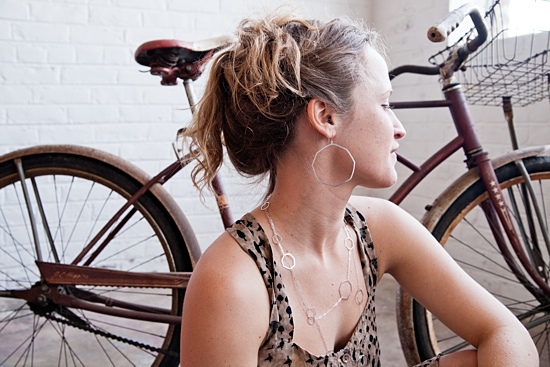 VCUArts graduate Elaine Butcher makes geometry interesting with her airy and minimalist shapes on thin cords and posts. Silver Octagon hoops, $40. Extra long Silver Octagon Necklace (doubled around), $68. Available at Modern Artifacts and Quirk Gallery.
— ∮∮∮ —
A night out on our town is an ideal way to enjoy the company of a loved one. Some of our most romantic restaurants are Arcadia, Bistro Bobette, Juleps, Lemaire, and Rowland. Most will have special Valentine's Night menus so check their websites and make your reservations early. For the planners out there, start the romance early with tickets to Swan Lake, presented this weekend by the award winning Richmond Ballet.
— ∮∮∮ —
While the luscious grace of our ballet company evokes romance in almost everyone, our friends at lululemon athletica would have you know that yoga, too, is for lovers. Their huge heart for RVA beats hard alongside a guided vinyasa and bumping DJ on February 21st at The Hippodrome. Yoga, music, VA and love: free. Outfit your sweetie in advance with a thematically colored top, like the Power Y Tank, $52.
— ∮∮∮ —
Convincing people to eat chocolate is no difficult task–on Valentine's Day, note that the sweet stuff happens to heighten levels of desire. Master Chocolatier, Cathy Churcher of Chocolate Cravings, hand makes "hot love" (an ancho chile and cinnamon flavored chocolate truffle) and other irresistible chocolate confections in her tiny Northside kitchen using high grade Colombian cocoa from small family farms. Over the weekend I had the enviable task of visiting Churcher and the chocolate factory, where journalistic integrity required me to consume everything pictured above.
— ∮∮∮ —
While trading truffles with your true love, consider giving and spinning One Hundred Years by beloved local band, Low Branches. Their new record is so intoxicatingly introspective, it almost insists you cuddle up with a cutie, light a candle, and crack open a bottle of red wine, $8.
Photo by: Marc Cheatham
— ∮∮∮ —
West 30 Candles are handmade in Richmond of pure soy, cotton wicks, with other natural ingredients. Select the clean burning Chanel Mademoiselle and speak a romance language to one another,$12. Available Sheppard Street Antiques and Very Richmond Gallery and Gifts.
— ∮∮∮ —
Judges at the most recent Virginia Wine Expo added this affordable easy-drinking DelFosse Meritage to the Governor's Case–a collection of Virginia's twelve best wines. Pick one up at your local wine shop, $25-30.
— ∮∮∮ —
Turn your evening up a notch with a visit to Fiamour in Carytown. Here, charming Richmonders Sheri Harabedian and Danyelle Evans offer a wide range of styles and sizes of sizzling intimates for the every woman. The boutique focuses on high end European brands unique to their store and covers AAA to K and 28 to 50. A pair of impossibly soft Peruvian cotton PJs by Skin sells for $55-95. Black corsets by Blush $78-94.
— ∮∮∮ —
Cheers to the marksmanship of Cupid, and to all, a good night.