As the new Sweet Frog emerges on Cary Street, please join me in a voyage back in time… Courtesy of neighbor Charles Pool: The historic district report lists the construction date for 815 W. Cary as the 1890s. According to the city directory records, this was a residential address until 1893, so either a residential […]
As the new Sweet Frog emerges on Cary Street, please join me in a voyage back in time…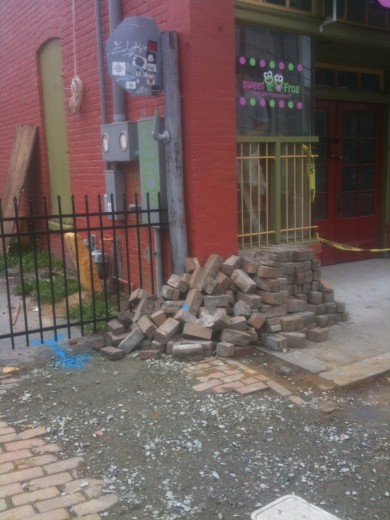 Courtesy of neighbor Charles Pool:
The historic district report lists the construction date for 815 W. Cary as the 1890s. According to the city directory records, this was a residential address until 1893, so either a residential building was torn down at that location and replaced with what we see today or else a residential building was changed into a storefront.

According to the City Directories 815 W. Cary was utilized as a grocery and confectionery from 1893 until 1940. In 1942 the Royal Cafe was at this address. Harvey Hardware is first listed at this address in 1948.

1893 – 1915 W. M. Rankin – grocer
1921-1922 Lee M. Ellis – grocer (home – 2239 W. Grace)
1926 Edward H. Palmer – grocer
1936-1939 David Lieberman – confectionery (home – 2720 W. Grace, Apt. 6)
1942 Royal Cafe
1948 — until recently Harvey Hardware

Of the occupants at this address before it was a storefront, it is interesting to note that in 1888 and 1883 it was an integrated dwelling with both black and white occupants living in the same dwelling. (The early directories indicated black residents with an asterisk) . Also it is interesting that in 1885 a harnessmaker lived in the building; I would guess that he may have worked in one of the two livery stables that were on Green Alley on the 900 block behind the city auditorium. The following are the residents listed as occupants of this address:

1882 [this address is not shown in the directory]
1883 Celia Brannan, widow of Francis P.
* (asterisk denoted black resident) Frank Pride, driver
* James Pride, laborer
1885 G.T. Granger — harnessmaker, home – 815 W. Cary
1886 G.T. Granger
1888 Dennis Hayes – machinist
* Pleasant Miller – laborer
1889 Dennis Hayes
* Pleasant Miller
1890 Theodore Dunnavant — pressman The State
1891 Theodore Dunnavant
Now maybe my imagination is running away from me, but I thought I had heard somewhere that a pre-Civil War tavern existed on or near this site and that some of the cobblestone driveway next to 815 W. Cary St. was actually used by horses and carriages for this tavern. I could very well be wrong about that.
I was thinking about carriages earlier this week. One reason was because of a discussion of Richmond's historic transportation paths at a GRTC Task Force subcommittee meeting. The other is the amazing silver carriage that was brought in to the Virginia Museum of Fine Arts for "The Splendors of India's Great Kings Marahaja exhibit. Fortunately the museum curators were able to roll the carriage in through doors rather than having to use a cost-prohibitive crane.
If you have not had the chance yet, I urge you to take some time to view this exhibit. There is truly some great history and art to take in. (for more on the exhibit, you can click here for an article on rvanews.com)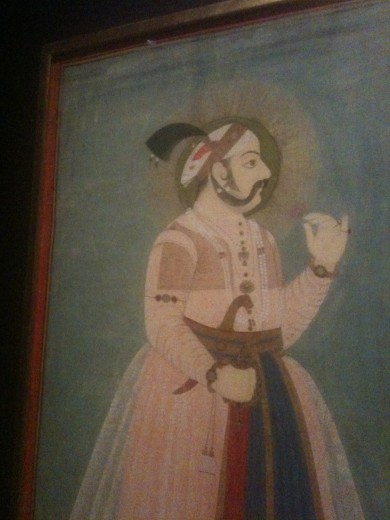 I think I actually first saw a copy of the portrait above as a child while reading about the British East India Company in the The Seafarers series by Time-Life Books.
I also wonder if the Marahaja had a connection to Mars–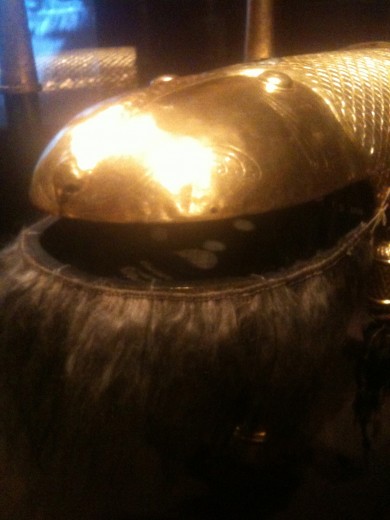 Reminder: The Museum is open 365 days a year, but do check its hours. General admission to VMFA is always free. Tickets for the exhibit range between $12 – $15. Admission to Maharaja is free for VMFA members, children 6 and under, and active-duty military personnel and their immediate families. The "Maharaja" exhibit is at the VMFA until August 19th.