Five new novels to get you through the dog days of summer.
by Scott Cheshire; July 8, 20114
At the age of twelve, Josiah Laudermilk testifies in front of his massive congregation in Queens, New York with the untempered belief that the apocalypse will come in the year 2000. Years later, with the apocalypse prediction behind him, recently divorced Josiah leaves his home in California to care for his father who has started to unravel after his mother's death.
High as the Horses' Bridles circles around faith, both its presence and absence, particularly in the face of illness and death. Despite the delicate subject, Cheshire writes with such respect that his commentary can be read, examined, and appreciated from nearly any viewpoint. But that's not to say he handles anything with kid gloves, rather he chooses to write with a focus on depth and reality over searing critique.
What I wanted to say was, Dad, you got it all wrong. Death is not a home. Cancer is not a reward. When it comes knocking on your door, you should run. And if you don't run because for some reason you don't know better, you should be taken up and protected."
At the end of the novel, Cheshire jumps to nineteenth century Kentucky in a brave move that will likely throw off some readers, but serves as a fascinating bookend to the novel's fiery opening. For those interested in exploring the risks of faith through story, High as the Horses' Bridles is a book that readers will want to dig into, turn over, and discuss at length.
by Alyson Foster; July 1, 2014
Botanist Jessica Frobisher and her husband Liam live a normal life in their Michigan home until a disaster strikes Liam's space tourism company, Spaceco. In the midst of legal battles and increasing pressures, Jess and Liam agree to be followed by documentary cameras in hopes of polishing Spaceco's name. Instead, the cameras capture both the family and the company's gradual decline.
In a total diversion from common narratives, God is an Astronaut is written completely in Jessica's e-mails to a former colleague without giving readers insight into his responses. Though it takes several pages to get a feel for the style, the format soon takes shape and works well as a sort of quasi diary. Jessica gives readers an uninterrupted, unedited, and often hilarious account of the events unfolding around her while slowly revealing the secrets that bind her to her colleague and push her away from her family.
With so many pieces of its narrative going off the beaten path–e-mail prose, space tourism, documentarians–God is an Astronaut has the potential to seem completely off the rails. Yet, Foster uses Jess's honest voice to make the story feel genuine and relateable. Though the novel's end feels slightly rushed, the journey there is wholly unique and well worth taking.
by Lydia Netzer; July 1, 2014
George Dermont knows who he's looking for, but just can't find her. She needs to be an astronomer with brown hair who also happens to be a dreamer. When he collides with Irene, a perfect match for his description, the pair hits it off without realizing the work that went into their meeting. Friends since childhood, their mothers raised them to be soulmates and set them on a path toward finding one other, unsure of the course that would follow.
Lydia Netzer's writes like no one else. How to Tell Toledo From the Night Sky is a mash-up of dream worlds and black holes and online RPG's blended with crazy schemes and plans. But behind the novel's quirky exterior is Netzer's ability to touch deeply on themes pulled from everyday life. Readers may not understand the science behind astronomy or see the appeal in online gaming, but each of the book's characters carries a set of hopes and fears that are nearly universal.
Who cares if it's dangerous? Who wants to be the person who doesn't touch two bells together to make a sound, who doesn't hit a baseball with a bat, doesn't grind an orange against a knife. In life there is only collision to keep us from dissolution, and there is only love to keep us from death.
As George and Irene navigate the waters of their strange relationship and discover what their mothers attempted to build, they both expose themselves to the dangers of real risk and emotion for the first time. Far from a generic love story, How to Tell Toledo From the Night Sky is a wonderfully weird blend of science, love, and fate set against the trials of family and friendship.
by Celeste Ng; June 26, 2014
Lydia Lee is the cherished middle child of Marilyn and James Lee, the heads of the only Chinese-American family in their small 1970's Ohio town. Fractured by the turns their own lives took, Marilyn and James set out to see that their daughter has all the opportunities they missed. But when Lydia is found dead in a nearby lake, the family is forced to come to grips with both the secrets they have buried and the signs they have ignored.
The act of unpacking family secrets is common in contemporary fiction, yet so rarely done in a way that allows for complete character development. A father may come to blows with his son or a couple looks back on their marriage, but readers often miss out on the full dynamics that make up a family from its conception. In Everything I Never Told You, Celeste Ng starts with the moment that threatens to tear the Lee's apart before taking readers through the full journey that got them there.
The racism and loneliness James deals with as a child causes him to push his own children to be outgoing and popular. A younger Marilyn gives up her medical career for her family, which she refuses to see happen to Lydia. Ng charts this delicate dance between members of the family backward and forward in time and in varying perspectives with a fluidity most writers only dream of.
Rather than genuine interactions or conversations, misguided assumptions form the structure of the Lee family. Lydia's death forces them to talk to one another, to realize the mistakes they've made and express real emotions for the first time. In the end, Celeste Ng's fully realized characters, effortless writing, and compelling story make Everything I Never Told You one of the best debuts of 2014.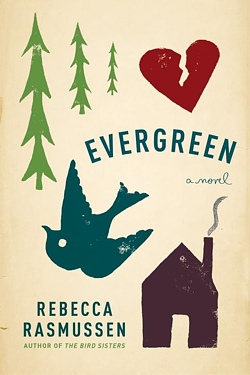 by Rebecca Rasmussen; July 15, 2014
In 1938, Eveline and her new husband Emil leave their small town to make a home in the wilds of Minnesota, scarcely prepared for the changes they will meet. The couple lives a quiet and happy life with their new son Hux until Emil is called to care for his ailing father in Germany. Determined to show her strength, Eveline chooses to stay in Evergreen while Emil is away; a decision that will permanently alter her life.
Evergreen is told in four parts that span most of the twentieth century, from Eveline and Emil in 1938 through generations of their family in the 1970's. The story is one that should be experienced alongside Eveline, with little knowledge of the plot before hand, as Rasmussen excels at fully immersing readers in her novel. Within the first few chapters, Evergreen becomes a real place with distinct textures, smells, and identifiable locations. Rasmussen carries her characters, and their descendants, through the next several decades with an admirable blend of tranquil atmosphere and demanding pace.
Though some of the pieces fit together too neatly, particularly in the final section of the novel, the journey of Evergreen is a beautiful one. Rebecca Rasmussen shares the lifetime of a family, from its wavering first steps to its last moments of forgiveness, with all of the moments of grace, strength, and heartache in between.