Minus the bad acting and weak script, Oz is a pretty mediocre film.
A bunch of moons ago I took my son to see Wreck it Ralph, during which he saw the trailer for Oz the Great and Powerful. I mean, this was in November, and he is still bugging me about this new Wizard of Oz movie coming out–you know, "the one that's just called Oz" as he reminds me daily. Because I'm a good father (and because there wasn't much else to see at Movieland), I decided to suck it up and go see Oz the Great and Powerful against my better judgment.1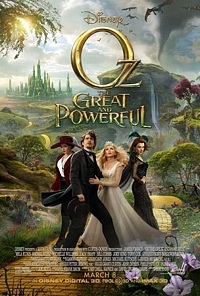 Oz is director Sam Raimi's first film since 2009's Drag Me to Hell2 and tells the back story of some of cinema's most famous characters: the wizard of Oz, the two wicked witch sisters (East and West), and Glinda the Good Witch. It's an intimidating task: fleshing out beloved childhood characters that have become iconic to generations of humans. But Raimi says, "Fuck it! What's James Franco up to? LET'S DO THIS THING!" And do this thing, they did.
Ol' Franco plays Oscar "Oz" Diggs, who you probably known as the soon-to-be Oz the Great and Powerful. He's living life as a two bit huckster/magician in Kansas, performing in a traveling circus and breaking girls' hearts. And then! What's that in the distance? A tornado! This all may seem familiar, but the tornado whisks Oscar Diggs away, the screen brightens from its previously sepia tones into vibrant colors, and Oscar finds himself in the Land of Oz.
Oz–the guy, not the land–meets the witches both wicked and good, some plot ensues, and he saves the day (while learning some lessons about life along the way).
If you've ever read any of the L. Frank Baum3 books you know they're…kinda messed up? The original Wizard of Oz adaptation does a brilliant job of condensing, focusing, and cutting the original material to leave us with something incredible. This new adaptation does…none of those things? There's still plenty of weird/terrifying bits, but there's no context and certainly no songs. The familiar characters, which you probably love with all of your heart, are flat and boring–at least most of them.
Michelle Williams plays a mesmerizing Glinda, and I loved Rachel Weisz as Evanora (one of the wicked sisters). But guys, James Franco. There's no need for me to write any words about his performance in Oz, because this picture captures it exactly. And Mila Kunis does a good job at being ethereal, I guess, but I'm not sure that's what the script called for? So while there are some bright moments they're mostly obscured by James Franco acting at you.
I saw the 2D version, but there are many, many obvious 3D tricks: stuff jumping out at the screen, unnecessary finger pointing and camera zoom-ins, and the requisite waterslide scene. If you've got older kids some of this stuff might be "neat," but for little ones it may be too startling and for adults it'll be a cheesefest. Plus the flying monkey warriors are about a trillion times scarier than their 1939 incarnation.
The movie's rated PG, but it's not something I'll be taking my four-year-old son to see–no matter how incessantly he pesters me.
— ∮∮∮ —
Why you should see this movie
Since L. Frank Baum was one of your distant relatives, you're a direct beneficiary of the Baum Estate! Get those ticket sales, girl!
Why you should stay home
You're a wee child and don't want to have terrifying nightmares about carnivorous eyeball plants chasing you through the woods.
— ∮∮∮ —
Footnotes
While I don't abide too much by the MPAA's rating system when it comes to deciding which films my son should see, I do think it's incredibly important to prescreen things for him. You never know when a seemingly innocuous movie will be filled with terrible lies (Pocahontas). ↩
Which is SO GOOD! ↩