As a bored child, Sarah Tiller chased reptiles on family vacations in Florida. She's now started a business to bring her passion for reptiles to everyone.
"A few [people] don't even know my name, they just call me Reptile Girl," said Sarah Tiller, 21-year-old biology student and owner of the mere days-old business, Experience Exotics.
She owns a day gecko (the breed that inspired the Geico gecko), iguana, and a spotted turtle five inches in size and 17 years old. But Tiller also has a five-foot black-throated monitor and a baby water monitor that will one day grow to a length between seven and nine feet. "I enjoy all reptiles," Tiller said.
She houses these animals inside a home she shares with her boyfriend and two-year-old son. "He likes them, but he's not allowed anywhere near them," Tiller said about her son.
Tiller's fascination with reptiles developed during childhood family trips to Florida. She'd often grow bored with the adults and found other ways to entertain herself. "I would just run around and catch lizards," she said.
At first, the reptiles merely allayed her boredom, but soon she became fascinated with them. At age nine, she convinced her parents to let her own a bearded dragon. As her father is allergic to dogs, this seemed like a reasonable compromise–as long as Tiller was the primary caretaker. "That was perfect for my parents because they didn't have any responsibility," she said.
She'd later own both a male and female bearded dragon. The reptilian couple grew amorous, and soon after, and unbeknownst to Tiller, the female laid eggs and buried them in soil. However, the eggs didn't hatch.1 Tiller was afraid that if she kept the two together, additional babies might die.
So she took both bearded dragons to Off the Ark, an exotic pets store in Chester. While there, Tiller, then 10-years-old, saw a variety of reptiles under one roof. She became even more enamored of them, and convinced her mom to let her bring home a baby tegu. But what Tiller didn't tell her mom was that tegu adults can grow to as long as five feet–a fact which Tiller's parents gradually realized over the next three years. "My parents weren't too happy about that."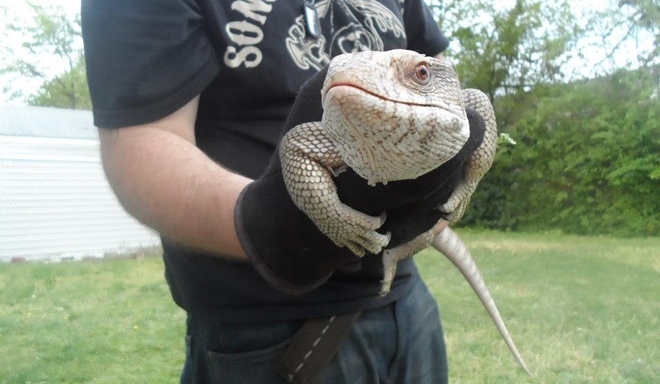 Tiller began growing her reptile family in earnest when she moved out at 18. Her most recent addition is a three-inch baby snapping turtle. The largest animal she cares for is the Black-throated monitor, which she keeps in a roughly eight-by-six-foot cage. That monitor will likely grow another foot in length. "He's going to need a new cage very soon," Tiller said. She said that many large cages can cost upwards of $1,000. She can build her own for about $200.
Tiller is a Biology major at John Tyler Community College and expects to transfer to VCU to focus on zoology, particularly herpetology. "My dream job is to work with Komodo Dragons."
Her current summer Biology teacher asked that each student introduce themselves to the class. When Tiller's teacher found out about her reptiles, she asked if Tiller would bring them into class.
"I started thinking, 'It'd be really cool to go to other schools and talk to kids about reptiles because they don't see them much,'" she said. That idea led to her nascent business Experience Exotics, which she recently announced on the RVA subreddit.
Tiller is still toying with the precise business model, but the gist is that she'll bring her several exotic animals to schools, family gatherings, and even office get-togethers to allow people to touch, hold, and learn about animals they seldom (if ever) interact with.2 Prices for visits start at $75.
But the new business isn't just about making Tiller money. She loves reptiles and has so many of them, she thinks "it would be awesome to share my passion with people."
— ∮∮∮ —
Footnotes
Tiller later learned this isn't uncommon. ↩
Each reptile she owns is legal, non-venomous, and not endangered, so she doesn't need special animal permits. But Tiller said she's currently working with a lawyer to ensure her business can operate within the law. ↩