Team USA's World Cup hopes are crushed, but America's birthday is just around the corner.
Good morning, RVA! It's 78 °F. As weatherunderground.com tells me, in an unnecessarily passive aggressive tone, today's forecast is nearly the same as yesterday's: blazing hot, sticky humid, and a slight chance of storms in the afternoon.
There is a tropical storm working its way up the coast, but, for now, it looks like the impact on RVA and our 4th of July celebrations will be minimal. Definitely worth keeping an eye on, though.
Water cooler
Yesterday, Virginia Senator (Democrat, District 16) Henry Marsh announced his retirement effective Thursday. Marsh has been involved in Richmond politics since 1966, when he was first elected to City Council. In 1977 he became Richmond's first African-American mayor; he's held his current position as state senator since 1991.
Style Weekly has a quick look at some of the impending bicycle-related infrastructure projects in the works ahead of the 2015 Big Race. Expect bike lanes, like, real, honest-to-god bike lanes.
Here's a great reason to avoid Carytown on Friday: three men have decided to walk around with rifles, exercising their open-carry rights. Don't worry though, the long guns are unloaded (but their hand guns are, of course, loaded and chambered). If the thought of a group of dudes loaded down with weapons wasn't enough to terrifying you, maybe this quote from one of their well-armed members is: "Getting up and doing something positive or negative is better than sitting around at your house with an opinion never actually getting up and standing for something. Nut up or shut up. I am a true patriot. Are you?"
Sports!
Squirrels handled Harrisburg, 3-2, and head back to work tonight at 7:00 PM.
Kickers battled the Mexico U21 National Team to a 1-1 draw.
Nats rocked the Rockies, 7-1. The Nationals have scored seven runs in each of the last three games. They'll finish up the series tonight at 6:05 PM.
World Cup
We came, we saw, we lost to Belgium in extra minutes, 2-1. You did us proud, USMNT, but the 2014 World Cup continues without you. Out of respect for our grieving nation, there are no World Cup matches today. The action resumes on Friday.
This morning's longread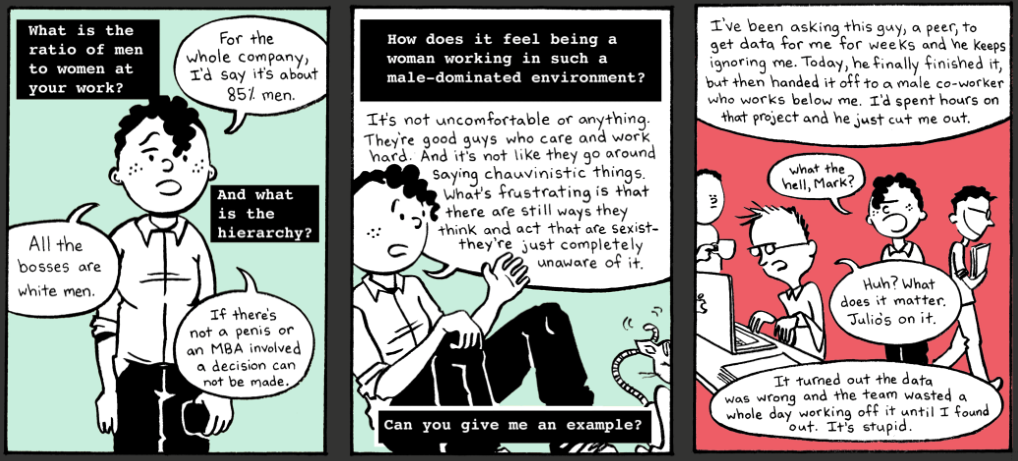 A well written comic about the subtleties of sexism in any industry, but in tech specifically.
Photo by: Gamma Man
This morning's Instagram
— ∮∮∮ —
Email
Want to automagically get Good Morning, RVA in your inbox every morning? Sign up below!