Going in, I had no strong preconceptions about what I was going to find at the Virginia Tea Party Convention. Unfortunately there were no patchouli-scented protesters out front, no yelling, sign-waving supporters lining the sidewalk — these would've made for good photos.
Despite reports that the Tea Party is a corporate invention or at least well funded, the rows and rows of tables present the convention as being a constellation of smaller groups. It felt like being at a craft show, sort of, except that the only things for sale are t-shirts, stickers, and buttons. It may have been all of the older white ladies in sweaters.
A small percentage of the stuff for sale indicates a frustration with both the Republicans and Democrats — a percentage slightly higher than that bearing the Confederate flag. There were a lot of McDonnell and Cuccinelli stickers, though (maybe 2nd only to "Guns Save Lives" and up there with "CUT SPENDING" and "DON'T BELIEVE THE LIBERAL MEDIA"). Judging solely by the swag for sale and the stickers on attendees, the Tea Party folks aren't disenchanted Republicans and Democrats, so much as a hardcore set that has always leaned right. Interestingly, there were also a lot of books for sale.
Everything seemed normal enough on the surface. I did have one kind of paranoid conversation, with a neighbor of mine not shy about sharing her understanding of things, about the UN's Agenda 21, a sustainable development program of which Tea Party folks have said "is evil and we will all be slaves." Their notion as I understand it is that zoning for sustainable growth will lead to the loss of our property rights and is part of a world-wide conspiracy between Obama and "his European elitist plutocrat puppetmasters". So there was that…
The crowd was very much mostly older white folks. I know everyone says that about the Tea Party — but it's so very true. I didn't do a head count, but my take was that maybe 85%+ of the folks there were older than my 38 years* and all but maybe 2 were white. The crowd seemed evenly split male/female.
The outer hall was ringed with tables of stuff for sale and with info on different affiliated groups. The hall was busy, if not crowded. The big room had more tables, a stage, and hundreds of chairs, and was really empty. There were 2 smaller rooms with break-out sessions underway, with both rooms standing-room only.
I got to the convention at 4PM on Friday afternoon, late in the program on the 1st day of the 2 day Tea Party Convention. This may account for how empty the place was, perhaps Saturday there will be more people?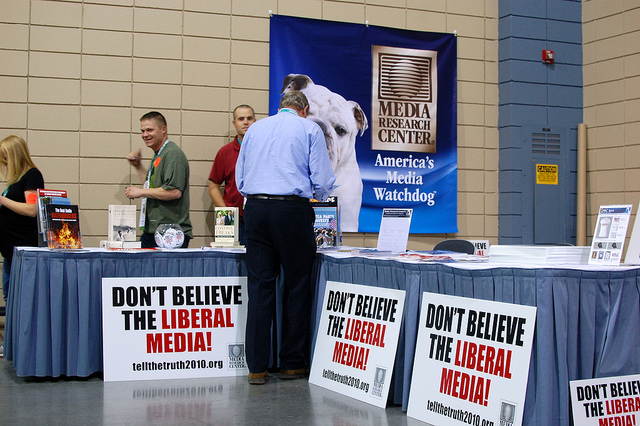 I think these guys were giving me the dirty eyeball.