The Second Battle of Bull Run from the perspective of Richmonder John H. Worsham.
It was August of 1862 and Union General John Pope and his Army of Virginia were encamped north of Richmond along the Rappahanock River, waiting to make a grand attack on the Confederate capital. In early August, the new general-in-chief of the Union army, Henry Halleck, had ordered Gen. George B. McClellan, the commander responsible for the recently failed Peninsula Campaign, to join Pope's forces. In order to make the attack on Richmond, Pope would need McClellan's troops, but McClellan was dragging his feet.
Confederate General Robert E. Lee, whose army currently defended Richmond, saw an opportunity in the split Union army. He made the decision to go on the offense and strike Pope before McClellan could reinforce him. Lee moved aggressively against Pope along the Rappahannock River during the month of August. After a series of engagements, Lee was unable to check Pope's army and get across the river. In order to gain the advantage, Lee made a rather bold decision to split his army. He sent Jackson and Stuart (and later Longstreet) in a flanking move around Pope's army to attack his communication hub and supply depot in Manassas.
One of the soldiers marching for Manassas with Jackson was twenty-one-year-old Richmonder John H. Worsham of the 21st Virginia Infantry. For Worsham, the strategy of the flanking maneuver was a lot less of a concern than his rumbling stomach. After several days of hard marching, the men in Worsham's Company F were completely out of rations. The troops easily captured the large Union supply depot at Manassas during the night and were ecstatic to find vast stores of every kind of food:
Now here are vast storehouses filled with everything to eat, and sutler's stores filled with all the delicacies, potted ham, lobster, tongue, candy, cakes, nuts, oranges, lemons, pickles, catsup, mustard, etc. It makes an old soldier's mouth water now, to think of the good things captured there…Men who were starving a few hours before, and did not know when they would get another mouthful, were told to help themselves…I know one who took nothing but French mustard, filled his haversack and was so greedy that he put one more bottle in his pocket. This was his four days' rations, and it turned out to be the best thing taken, because he traded it for meat and bread, and it lasted him until we reached Frederick City. "One Of Jackson's Foot Cavalry", Pg 120-121
Once reports reached Pope of the surprise attack early that morning, he abruptly pulled back from the Rappahanock River to deal with the enemy at his rear. Jackson, knowing that Pope would soon arrive, took a position along the original battlefield from the First Battle of Bull Run in a well-defended wooded position. On August 29th, Pope engaged with Jackson's forces at Manassas. Pope erroneously thought Jackson was isolated and that he could crush Jackson before Lee or Longstreet could arrive. However, he was unaware that Longstreet had been dispatched shortly after Jackson and was closer than he realized. For most of the day on the 29th, Pope and Jackson attacked and counter-attacked on the Bull Run battlefield, taking heavy losses. For John Worsham, the back-and-forth of the day's fighting nearly ended up killing him:
The whole field seemed to be full of Yankees and some of them advanced nearby to the railroad. We went over the bank at them, the remainder of the brigade following our example. The enemy now broke and ran, and we pursued, firing as fast as we could…As we returned a Yankee battery of eight guns had full play on us in the field, and our line became a little confused; we halted, every man instantly turned and faced the battery. As we did so, I heard a thud on my right, as if one had been struck with a heavy fist. Looking around I saw a man at my side standing erect, with his head off, a stream of blood spurting a foot or more from his neck. As I turned farther around, I saw three others lying on the ground, all killed by this cannon shot…Immediately our attention was called to a line of battle filing into position in our front, but nearly at right angles to us. What did this mean? Our courier, after a short stay, was seen coming as fast as his horse could run, and before he reached General Starke, cried out, "It is Longstreet!" A great cry that Longstreet had come was taken up by the men all down the line. "One Of Jackson's Foot Cavalry", Pg 129-131
Longstreet's arrival shifted the odds of victory squarely into the Confederates' favor. To add to their good fortune, Pope didn't notice his arrival and made no adjustment to his strategy. In fact, upon viewing Longstreet's troop movements on the morning of August 30th, Pope mistakenly thought that the rebel army was retreating. That afternoon, Pope resumed his attack only to be repulsed by the strengthened Confederate foe. Seeing the Union lines in disarray after the repulsed assault, Jackson and Longstreet took advantage and launched a massive counterattack.
The attack succeeded, overwhelming the Union troops and forcing them to fall back. Worsham recalled his men were "wild with excitement, hats were off, some up in the air!" (Worsham, pg. 132) The Union army scrambled to muster a defense. Were it not for resilient northern troops at places like Chinn Ridge and Henry Hill who slowed the Confederate assault, Pope's army would have been annihilated. Upon nightfall, Pope evacuated his battered army to the safety of Washington.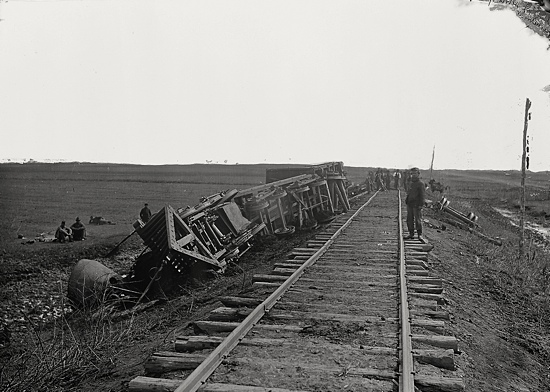 Following the battle, Lee would use his newfound momentum to take the Confederate army north to make his first attack in Union territory in September. Pope would be relieved of his command on September 12th, and his army would be merged with the Army of the Potomac. The fate of the Union army in the east would be back in the hands of George B. McClellan. Lee and McClellan would soon meet again on the battlefield at Antietam, which would later be remembered as the war's bloodiest battle.
Note: I'll be taking a short break from the column during the month of September to focus on my upcoming wedding. I'll be returning in October to pick up where we left off.