Chris Mattera told us how to make a perfect slider back in 2010, and we're still using his recipe. Yes, this is what you should bring to that cookout today.
Original — June 30, 2010
Maybe it's out of nostalgia for my early childhood in the great state of New Jersey, home of White Castle, or maybe I just have lowbrow tastes, but I love a good, thin somewhat greasy cheeseburger. Sliders have become the "in" thing, but no fancy-pants foie gras and kobe burger will ever match the simple pleasure of a well-done, extra-thin patty between two soft buns with cheese. Recently, I have undertaken the challenge of replicating my favorite style of burger without heating up the kitchen. These sliders are sure to impress a hungry crowd at a summer BBQ, but you shouldn't have too much trouble knocking out at least a dozen at a time.
To make your own White Castle style sliders you will need:
1 pound good quality ground beef, preferably local and grass-fed (We use Gryffon's Aerie from Crozet — easily the best ground beef ever)
1/2 medium sweet onion, chopped very finely or grated
1 pack Martin's Dutch Potato Dinner rolls, split horizontally in half, with tops connected on one side and bottoms on the other.
6-8 slices, cheese (American for authenticity, but sliced cheddar works as well)
1/4 cup water
Salt and pepper, about a teaspoon each or to taste
1 tablespoon vegetable oil
Equipment
1 cast-iron griddle
1 barbecue grill, preferably charcoal
2 large spatulas
Large cutting board
Rolling pin or wine bottle
Plastic Wrap
Method
Light the grill. If charcoal, start the charcoal and when glowing, distribute along the edges of the grill. If using a gas grill, heat to medium high. Place the cast-iron griddle in the middle of the grill and allow it to preheat.
Mix the ground beef, chopped onion, salt, pepper and water in a bowl. Knead by hand until the water is incorporated and the mixture feels somewhat wet, about 30-45 seconds.
Line the cutting board with a single piece of plastic wrap and turn the meat mixture onto the plastic wrap-lined board.
With clean, wet hands, spread the mixture out into a rectangle approximately 80% the width of the buns. Top with another piece of plastic wrap.
Using the rolling pin, gently spread the meat out until about ¼ inch thick and about 15% wider than one sheet of buns and twice as long.
Oil the griddle. Remove the top layer of wrap and, in one motion, invert the board over the griddle so the sheet of meat mixture lands squarely on the griddle's hot surface. QUICKLY remove the second sheet of wrap.
When the top of the meat sheet begins to get slightly grey in spots, use the two spatulas to flip it over. You may need to cut it into two pieces to do this. This is alright, as long as it is cut evenly in half.
Allow the meat sheet to finish cooking, about 1 minute. Once cooked through, top with cheese, using the cheese squares to obtain even coverage.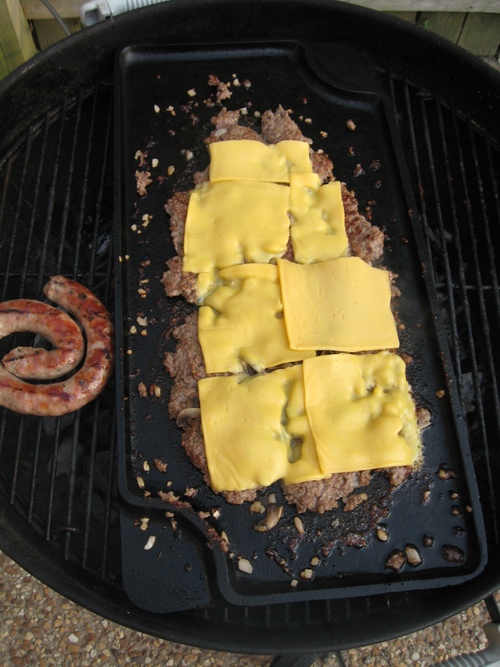 Lay the sheet of bun bottoms upside down on top on the melting cheese.
With two spatulas and the aid of an assistant, invert the burgers onto a cutting board.
Top with the sheet of bun tops, and cut between the buns with a sharp knife.
Serve hot with ketchup, mustard, mayo, and plenty of very cold beer.
Makes 12, serves 4-6 (with sides).