Two months later, it's happening: the premiere of the big band that was to rival any other like it in Richmond. This band is actually way more than two months in the making, though.
Two months later, it's happening: the premiere of the big band that was to rival any other like it in Richmond. This band is actually way more than two months in the making, though. The Richmond Jazz Collective started out as an idea by VCU students Ben Heemstra and Lucas Fritz that turned into rehearsals of a workshop-type band in the fall. I sat in on one of those rehearsals in November as they prepared for their big debut, which was originally to take place on February 1.
So why, after two months, have their sounds been contained to Muse Creative Workspace — their rehearsal space in Shockoe Bottom — and the occasional member's recital?
The fellas raised some eyebrows when their methods of acquiring the charts that they would be performing in February came into question. Narrowly avoiding legal ramifications concerning copyright law, they learned their lesson and they now own their charts fair and square.
Some other things have changed since those first several meetings. For one, the band's line-up saw some changes including the vacancy of the artistic director position left by Taylor Barnett as well as a trombone chair by Bryan Hooten, both VCU faculty.
The band has pressed forward regardless. Sitting in on another rehearsal on Monday, this one their last before their big premiere, I see that despite these obstacles, they really do sound good.
Guys trickle in around 10pm to the rehearsal on North 19th Street on Monday night. There are a couple latecomers, but it's no big deal. They set up in formation — which extends nearly halfway into audience seating, so luckily it's just me there — and get their tunes in order to run the set. There's a little bit of the expected fare for big band in there: two Thad Jones charts, a Frank Foster tune made famous by Count Basie, and a couple Sammy Nestico pieces.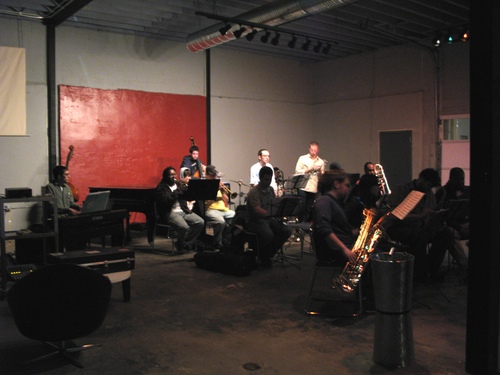 But of the eight tunes that will make up Monday's set, three stand out from the rest. There's the Björk song "Unison," arranged for big band by Fritz, who also plays the Dave Douglas-inspired tune with his octet Compass Rose Orchestra. Guitarist Karl Morse arranged the St. Vincent song "The Party," a downtempo jam that better accompanies the after-party complexities than the during-party carefree vibe. The third is "Easy Gentle," an original flowing waltz by band member and trombonist Ballard Midyette that will feature David Hood on soprano saxophone and Mark Ingraham on cornet.
The standard literature for the sacred institution that is the big band isn't as up to date as these three are, but they can still pack a punch. The set opener, Thad Jones's "Back Bone," is a heavily driving feature for the trombones. Even Frank Foster's "Shiny Stockings" and Sammy Nestico's "Rachel" — a beautiful feature for trumpeter Rob Quallich — result in peaks in intensity and decibels despite calmer beginnings.
Opening up the set will be a smaller ensemble under the direction of Doug Richards performing works from Duke Ellington's "Unknown Sessions" for small group and Miles Davis's legendary "Birth of the Cool" nonet. The ensemble is essentially a class for the eight VCU students plus one alumnus that make up the group. They meet several times a week to work on the repertoire under the guidance of Richards, who has either strong emotional or personal connections to the work of Duke Ellington and the Miles Davis Nonet.
Better late than never, the Richmond Jazz Collective begins their monthly adventure at The Camel on Monday night. A promising group that has the potential to become part of the realm of modern and unique big bands, they're taking it one step at a time. Patience, after all, is one quality they've proven to attain.
—
Richmond Jazz Collective is: David Hood, Suzi Fischer, John Lilley, Marcus Tenney, Jonathan Gibson: saxophones; Stefan Demetriadis, Alex Powers, Ballard Midyette, Reginald Chapman: trombones; Rob Quallich, Mark Ingraham, Ben Heemstra, Lucas Fritz: trumpets; Devonne Harris: drums; Andrew Randazzo: bass; Karl Morse: guitar; David Tennenholtz: piano.
Small group is: Lucas Fritz: trumpet; Suzi Fischer: alto saxophone; Jonathan Gibson: baritone saxophone; David Hood: tenor saxophone; Nate Lee: trombone; Ben White: piano; Andrew Randazzo: bass; Sam Sherman: drums; Stephanie Fairbairn Ycaz: tuba.