As Richmond continues to ascend on the national and international map, HI Richmond Hostel aims to add a new accommodation option.
From VCU's Final Four showing and our burgeoning dining scene to the UCI Road World Championships and the recent 150th anniversary of the Civil War, Richmond has put itself on the map–both nationally and internationally–in less than a decade's time. As more people near and far discover the charm that is so uniquely Richmond, it seems natural that it might be time to open a hostel in our fair city.
Richmond's first such entity, HI Richmond, opened to the public August 29th, just in time for the Big Bike Race™, which brought a bevy of visitors from around the globe. Housed in a building with a storied past–it first served as the home of Otis Elevator, and was later a state-run women's penitentiary–the hostel offers an alternative to out-of-town visitors looking not only for a cheaper place to stay, but one where they can connect with other travelers.
Hostelling International, the Richmond location's parent company, gutted the building located on North 2nd Street downtown, removing a number of walls and drop ceilings to create an open, welcoming space for guests to connect with one another. The main lobby features plush couch seating, a resource library, and a bulletin board featuring upcoming Richmond events. A vintage pool table, currently undergoing restoration, will soon round out the space, according to HI Richmond manager Ethan Ashley.
The lobby area flows straight into the dining area, which features a community kitchen space open to all guests to store, prepare and eat food together. A continental-style breakfast and some ready-made foods are included in the stay and available in the hostel's refrigerators.
HI Richmond features one ADA-accessible room on the first level for guests with disabilities, with the remainder of the rooms on the second level. Rates depend on the type of experience you're looking for. Traveling with a group of friends (or looking to make some new ones)? A six-person bunk room will only run you $30 a night. If you'd like something a little more private, a queen bed for one-to-two people is $79. Got the entire family in tote? You can reserve a family room with a queen size bed and bunk for $99 per night. There's something for everyone. Anyone traveling to Richmond outside of a 30-mile radius is welcome to book a stay.
Ashley says their concept doesn't really compete with more expensive nearby hotels, insisting instead that their model is more akin to Airbnb, the success of which is tied in no small part to the rise of the sharing economy.
Staff says the hostel, which can accommodate around 55 guests, was completely booked up for several days during the Big Bike Race™, and overall, occupancy rates have been higher than staff originally anticipated. "We thought there might be some downtime here when we first opened, but it's been pretty busy," Ashley said of guest stays.
The hostel has seen a large presence from the biking community, a trend Ashley says he expects will continue to rise with the recent opening of the Virginia Capital Trail.
HI Richmond is part of a network of 4,000 hostels in 90 countries worldwide run under the nonprofit Hostelling International umbrella. There are around 50 locations in the U.S., serving approximately 1 million guests annually, according to the organization. The mission of the 100-year-old entity is to provide an affordable way to see the world, foster lifelong friendships, with the ultimate goal of "creating a more tolerant world."
— ∮∮∮ —
HI Richmond Hostel is located at 7 North 2nd Street in Downtown Richmond. Call 804.729.5410 for more information and reservations.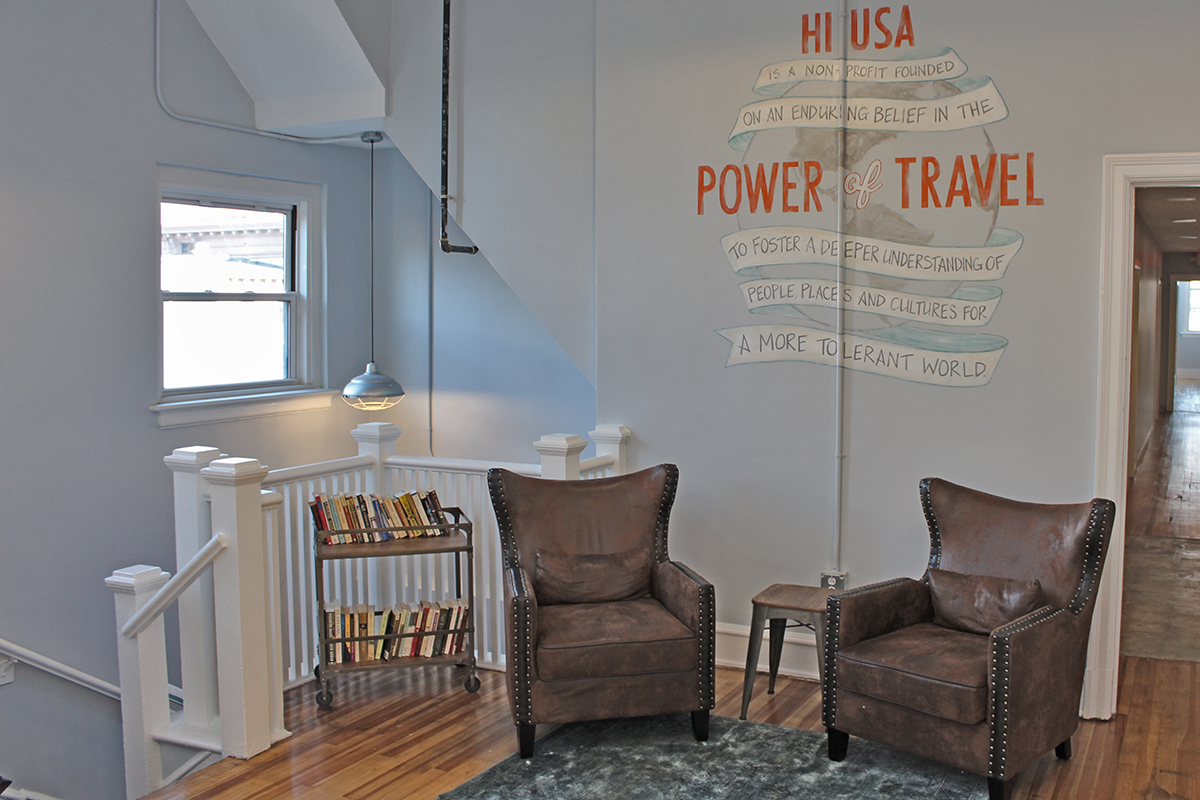 Photos: Trevor Dickerson/RVANews