It's like when in the evening of each day in the Hunger Games and they project the images of the fallen into the sky! Only it's OK, we still live.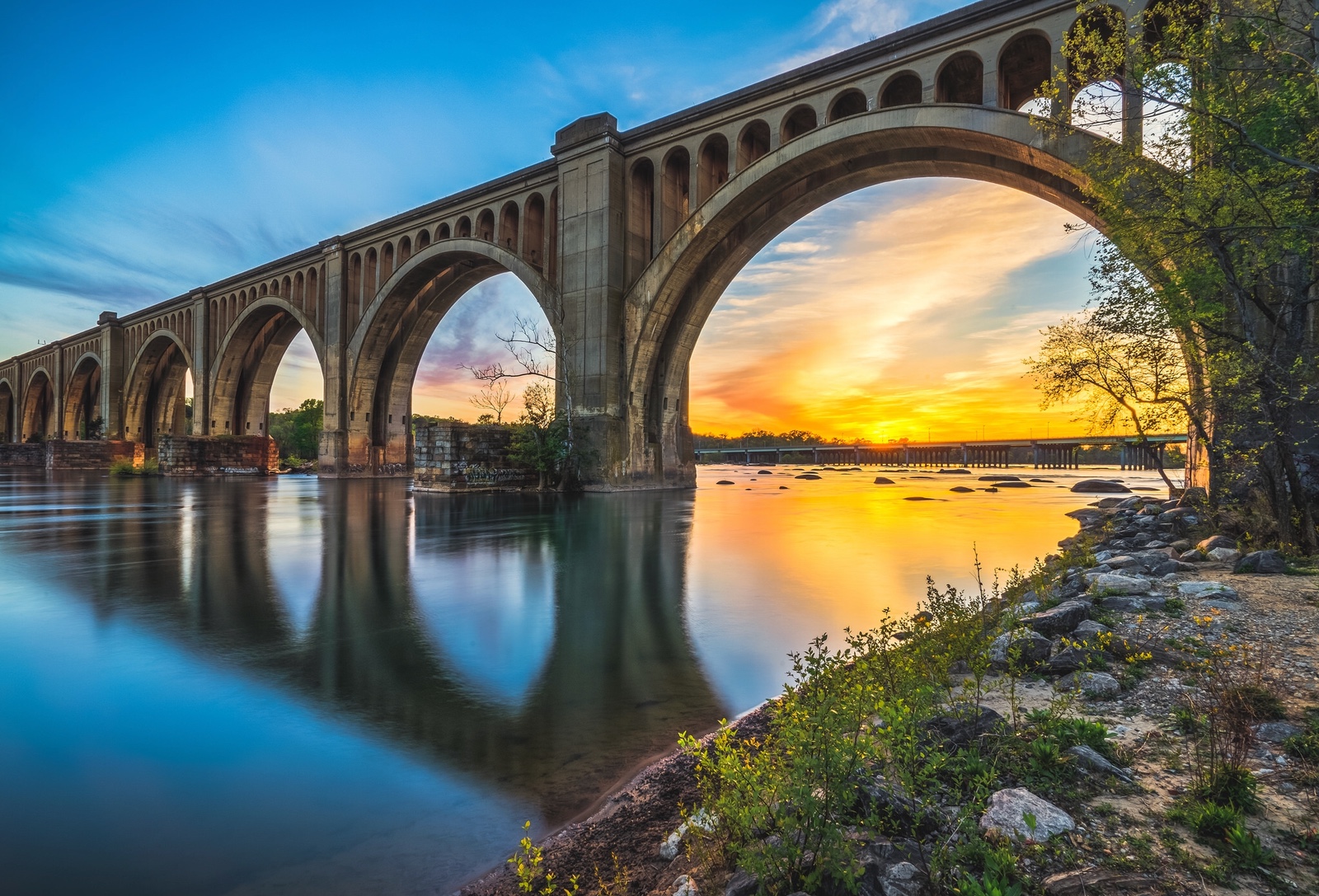 Photo by: Michael Chronister
It was a really wonderful eight years in RVA.
— ∮∮∮ —
To catch up
Read the last four Good Evening, RVAs to recap our last week of scheduled content and hear my fond farewells. If you want to cheer yourself up this weekend, here are some festivals!
— ∮∮∮ —
From Val, to you
Valerie Catrow says good-bye. She also wrote a final thing about National Get Outdoors Day at Pocahontas State Park. One of those things is sad and one is pretty fun-sounding!
— ∮∮∮ —
To Richard
Richard Hayes put in a serious number of hours, days, months, and years to bring you wittily worded community news, and I will miss sitting across from him every day, like in a big way. To come in today and see his LEGO collection gone was a bitter pill to swallow. Richard knows exactly how to stop a Ross-Susan yelling match in its tracks by throwing in a one-liner. His wife, Page, has written a few things for us over the years, and each of them has been an informative, fun read (and we don't just say that because she is famous for bringing us treats for no reason). Oh, and their daughter is going to take over the world, so keep an eye out for that. Thank you, Hayeses, for all that you did and all that we know you will continue to do for the community.
In the link above, you can keep up with Richard's progress, as he soldiers ahead, unable to stop his fingers from typing good headlines and reporting things he thinks you and your neighborhood should know.
— ∮∮∮ —
To Trevor
Trevor Dickerson is, quite simply, the nicest person you will ever work with. He's not only nice, he feels many feels and he can't stop himself from working hard. What a killer combination. From his early days as Short Pump's premiere community blogger, to his reliability as RVANews's West End, Near West End, and West of the Boulevard writer–Trevor simply could not and would not quit. We universally adore both Trevor and his work, and regularly say so out loud to each other as if it's news. He will certainly be one to watch as the Richmond media scene adjusts.
— ∮∮∮ —
To Teresa
If you haven't read our EDU FAQ series and you want to learn an impressive amount of information about the state of Richmond Public Schools, I recommend clearing your schedule. Teresa Cole is unlike anyone you have ever met, I promise you that. Her sheer dedication to whatever she's working on is kind of breathtaking–I can't tell you how many very late-night messages I've gotten from her as she's poring through massively detailed PDFs and making her own charts and graphs. The woman has three kids and is a teacher herself. I worry about her health. Not seeing where this series will end up is one of the most disappointing things about RVANews coming to a close–I'm personally hoping she'll continue to write them and maybe we can help her get the word out somehow. I wish it were more clear at the moment, but it's just not. Anyway, Teresa, you are a wonder. Thank you for breaking a very, very complicated subject down for all of us dummies so we can understand.
— ∮∮∮ —
To Julie
Poor Julie Glover got two months of columns in ([here's her latest, published on our last day])(https://rvanews.com/entertainment/off-the-shelf-two-local-ya-authors-and-one-wild-trilogy/138240) before we had to call it quits. And such a bummer…I'd been looking for a good literature person ever since Shannon Nemer left us a year ago. Julie's recommendations were great and her ideas were charming (photographing books in iconic Richmond places? what!? yes! duh!), and she clearly genuinely loved her job. You can find Julie at Chop Suey Books in Carytown, where she may just be willing to give you help finding local and non-local books to read.
— ∮∮∮ —
To Lauren, the RVA Fresh Daisy
Lauren Millard had the hardest job here and gets the least amount of credit. Forging enough relationships and making enough sales to keep a bunch of people employed is…well, the thought of it makes my stomach literally hurt. She worked constantly and from what I can tell, without stopping to breathe much. When I first heard she was being hired at RVANews, our friend said "Have you met Lauren yet? She has enough energy to power a small town." And that was totally correct, and she continued to energize, encourage, and basically power this small town, even working alongside Ross/Susan twinspeak that has got to be cringingly annoying to witness. Lauren is also phenomenally thoughtful with an "acts of service" love language that is so strong, you have to wonder how she manages it all. Officiating her wedding was one of the highlights of my entire life, and I don't know how I'd watch ballet without her. Hopefully I won't ever have to.
— ∮∮∮ —
To all of the rest of you
People, you can't know how much your kind words have meant to us. It's really been something. Hopefully, we'll see each other again soon, in some form or another. TTFN.
Your pal,
Susan