With July comes tomatoes, which, if we're being honest with ourselves, is most of the reason anyone gardens in the first place.
Half of 2013 is down the drain and so is half of this year's Garden Wars. Apart from conversations about "where has this year gone!", with July comes tomatoes, which, if we're being honest with ourselves, is most of the reason anyone gardens in the first place.
Anyway, the battle continues, and remember it's not just for Honor and Glory but a real, tangible prize (thanks to the kind folks at Plow & Hearth)! Maybe vote for the person most likely to share their real and tangible prize with you? Just a thought.
Congratulations to last week's winner: Lesley Bruno!
Last week's results
Lesley Bruno
Erik Bonkovsky
Scott Pharr
John Sarvay
Competition leaderboard
Erik Bonkovsky
Lesley Bruno (tie)
Scott Pharr (tie)
John Sarvay
— ∮∮∮ —
Lesley Bruno
Peach salad with fresh basil.
Our first tomatoes.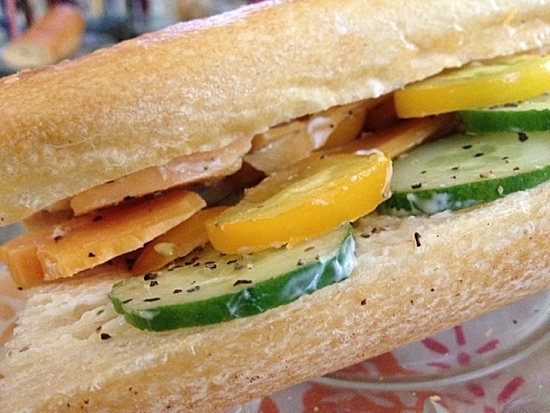 The most delicious cucumber and tomato sandwich in the land.
— ∮∮∮ —
Erik Bonkovsky
Buttercrunch beads with overnight rain. Like others, we staggered our sowing of greens to ensure fresh lettuce throughout the summer.
See [the onion] as the paradigm of life that it is–as one member of the vast living, gravity-defying troop that, across the face of the earth, moves light- and air ward as long as the world lasts. Robert Capon
Vacation brings peril for any gardener: in this case, an oversized zucchini in the clutches of our four-year old daughter
— ∮∮∮ —
Scott Pharr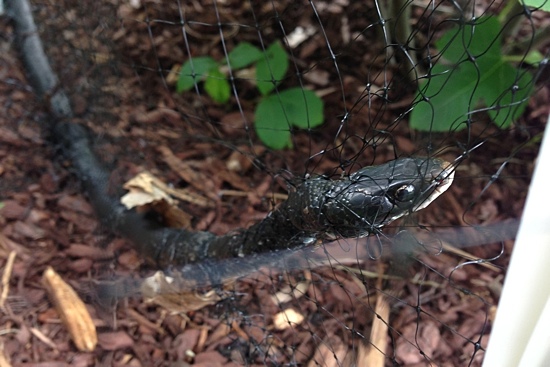 Sometimes gardening brings more than veggies–was this guy here to protect us or steal our blueberries? Either way, we got him untangled and let him back out into the wild!
Speaking of blueberries, our next bush has started to ripen up quite nicely!
I thought we were planting sunflowers, but apparently we were planting magic beans. Can't wait to steal the giant's harp!
— ∮∮∮ —
John Sarvay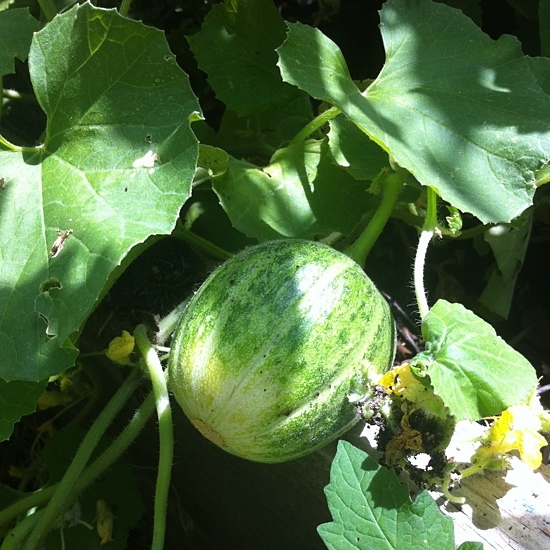 You will see this wee watermelon later this summer, as Thea and her friends devour it and its cousins in our backyard with the sprinkler spraying and the kid rock music blasting.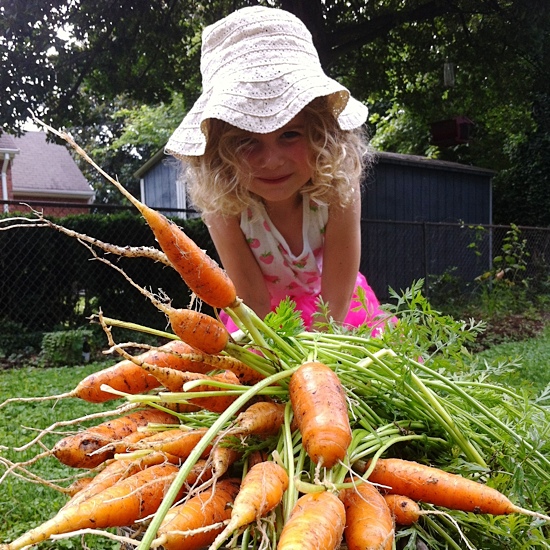 Inspector Nine checks out the last batch of spring carrots. We pulled four dozen of these tasty vitamin capsules from the ground this weekend. In related news, the new batch is just starting to sprout.
It's quantity AND quality this week. We were out of town, and returned to a bounty! We harvested (and then shared with friends) 13 cucumbers, three pounds of yellow bush beans, and almost 50 carrots.
— ∮∮∮ —
Vote now!