An unorthodox idea for funding RPS capital improvements in the short-term.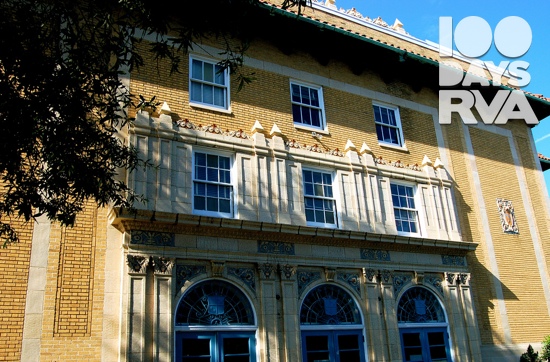 Inspired by Michael Bierut's 100 Day Project, 100 Days to a Better RVA strives to introduce and investigate unique ideas to improving the city of Richmond. View the entire project here and the intro here.
Idea: Sell naming rights to Richmond Public Schools.
Difficulty: 3 — It's tough to imagine this sitting well with students or parents.
Style Weekly captured the attention of Richmond in April with their article, "Caving In: Dead rodents, moldy curtains and black ooze. Inside Richmond's worst public school building." The article was a sobering piece that confirmed many peoples' suspicions about the quality of Richmond Public School's infrastructure.
Last year the capital improvement budget for RPS was less than $1 million. This year's has been increased to $7 million with $1 million earmarked for buying buses. But according to an 11-page report by the school system's new chief of operations, an additional $29 million is needed for immediate issues facing 44 RPS buildings.
Something has to be done.
Last week another story caught headlines: Walmart Coming to VCU. While VCU is "excited" about bringing the 4,100-square foot mini big-box to campus, an extremely large number of people are upset.
Walmart has an image problem in Richmond. RPS has a buildings issue in Richmond. What if businesses like Walmart could make cash donations in exchange for naming rights at public schools? For example, a new roof and HVAC system would result in Thompson Middle Schools sponsored by Walmart.1 In the case of the roof, Walmart could be progressive and settle for a 50-foot wide "Walmart" on the roof that would be visible from Google Maps–that'd at least catch some headlines.
In 2012, Virginia Governor Bob McDonnell tried selling the naming rights to roads as a way to cover part of an estimated $70 billion shortfall in transportation funding. The Governor's plan, though, was unfortunately packaged as an unrealistic choice between naming rights and raising taxes.
In Richmond, this plan could be presented as a choice between waiting for City Council and the Mayor to expand funding or the Richmond School Board partially taking matters into their own hands in the short-term. At the very least, it would attract attention to the problems.
What is the cost of our commercial culture? Plastering the interior walls of schools with billboards for Cookie Crisp and Tonka trucks probably isn't the best way to foster an atmosphere of education. Lines would have to be explicitly drawn ahead of time, but what's more distracting: an exterior Walmart sign or ooze dripping from the ceiling mid-class.
Is the desire to honor our regions heroes or keep civic institutions free from the labels of corporations valuable enough to forgo income when the city has been otherwise unable to properly fund the school system? Is upholding an idealistic vision of our civic institutions more important than the lives of 23,000+ students? If Richmond can't find the money in the budget, then it's time to explore every unorthodox method for finding funding for turning our schools into–at minimum–functioning institutions.
I'm undoubtedly sensitive to the concerns. When I was sixteen I would have thrown a fit if I had attended Walmart James River High School, but my school's roof wasn't falling down. The asymmetry of school quality is frustrating, but it is a lifetime away from changing. It's time for Richmond Public Schools to seek out alternatives and literally plug the leaks in the short-term.
Love this idea? Think it's terrible? Have one that's ten times better? Head over to the 100 Days to a Better RVA Facebook page and join in the conversation.
Photo by: taberandrew