February is Black History Month. Check out a handful of ideas on how to explore and celebrate the African American story with your kids–specifically within the context of our city.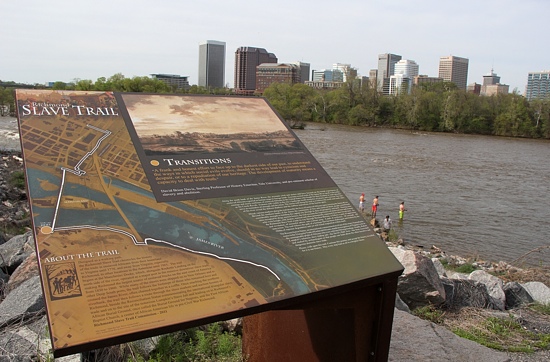 This walking trail follows (and works to preserve) the history of slavery in Richmond. Stops on the trail include the Manchester Docks, a major port in the downriver Slave Trade; Lumpkin's Jail, where enslaved Africans were held for auction; and First African Baptist Church, which became central to the development of the African American Community here in Richmond.
Maggie L. Walker was an African American business woman, entrepreneur, community leader, and civil rights activist. This exhibit (housed in Mrs. Walker's own "urban mansion") offers an intimate look at her belongings, her home, her writings–all of the bits and pieces that helped make up the personal and professional lives of this beloved Richmonder.
Maggie L. Walker National Historic Site (600 N. 2nd Street)
Open Tuesday through Saturday from 9:00 AM to 4:30 PM through February 28th; open Tuesday through Saturday from 9:00 AM to 5:00 PM March 1st through October 31st
Free admission
If your kids aren't stoked at the prospect of touring Maggie Walker's home, perhaps this one-woman show offering a "real life" glimpse into her life (with Tiffany Jana in the title role) will be more up their alley.
Science Museum of Virginia (2500 W. Broad Street)
Runs on select dates through March 7th (see website for details)
Free with museum admission
Each weekend this month the Children's Museum of Richmond's Central and Chesterfield locations will host a variety of musicians and performers to honor African American culture and history. The line-up includes: Robert Jospe and the World Beat Workshop; Richmond's Boys Choir; and Ezibu Muntu.
CMoR Central (2626 W. Broad Street) and CMoR Central (6629 Lake Harbour Drive)
Saturdays and Sundays in February (see website for show times)
Free with museum admission ($8; members and kids under one are free)
African Americans have served in the US military since our nation's beginning. Through rare photos and historic documents, this exhibit chronicles the African American military experience from the Spanish-American War to the desegregation of our military after World War II.
SunTrust Gallery (919 E. Main St)
Open daily from 9:00 AM to 5:00 PM
Free
From 1893 to 1925, nearly everyone employed by the Dooleys at Maymont Mansion were African American. This tour of this well-known Richmond home shifts the focus to their perspective, exploring the hard work that went into maintaining the home as well as what life was like "beyond the gates of the estate in the turbulent times of the Jim Crow South."
Maymont Mansion (Hampton Street Entrance)
Saturdays in February from 12:30 PM to 1:30 PM
$6; $4 for members
Follow the story of segregated schoolhouses throughout Chesterfield County through video interviews with former students, as well as photos and artifacts–many of which were loaned to the exhibit by those same students, as well as former school staff members.
Chesterfield County Museum (6813 Mimms Loop)
Runs through May 31st; open Tuesday through Friday from 10:00 AM to 4:00 PM and Saturdays from 10:00 AM to 2:00 PM
$2 suggested donation
During this two-hour tour, you'll explore landmarks around town that represent the rich history of Richmond's African American population, including several stops in Jackson Ward (AKA "the Harlem of the South") and sites of sit-ins during the Civil Rights movement. This tour is offered by River City Segs year-round, but it's being offered at a big discount for the month of February. Also: all riders must be 14 years old and weigh at least 100 pounds.
River City Segs (1805 E. Grace Street)
Wednesdays through Sundays from 2:30 PM to 4:30 PM (ALL riders must arrive 45 minutes ahead of time for training)
$29.50 per person or $74 for a group of four (normally $59 per person)
Photo by: Gamma Man