Every year men around America try their hardest to figure out the perfect gift for their child's mother. No easy task! I am about to make it simple for you…seriously.
If you have little ones at home this project is inexpensive, fun, and fast. We mothers are sentimental, and hand crafted items mean more to us than anything store bought. Or at least for most of us. My hubby will tell you I have a box full of just these sorts of treasures and I can tell you when, where, and why for each creation my kiddos have made me over the years.
When it comes to children's artwork though everything seems nicer when framed. Have you ever gone to your child's art show at school and they have the artwork framed and you just have to buy it because it looks so good all framed up and ready for your wall? Fingerprint Artwork is just such a project.
My oldest is 10 and still thought this was a huge blast!
Supplies
Assorted Color Ink Pads (Michaels has a basket at the front of their store with .99 cent pads that are the perfect size)
1 Piece of nice white textured scrapbooking paper (can also be found in the craft store)
1-2 Sharpie markers for outlining those fun designs
1 pencil
1 matted frame ( I picked these little frames up at Michaels for $5!)
2-3 blank white sheets of "practice paper"
1 wet towel and one dry towel for each child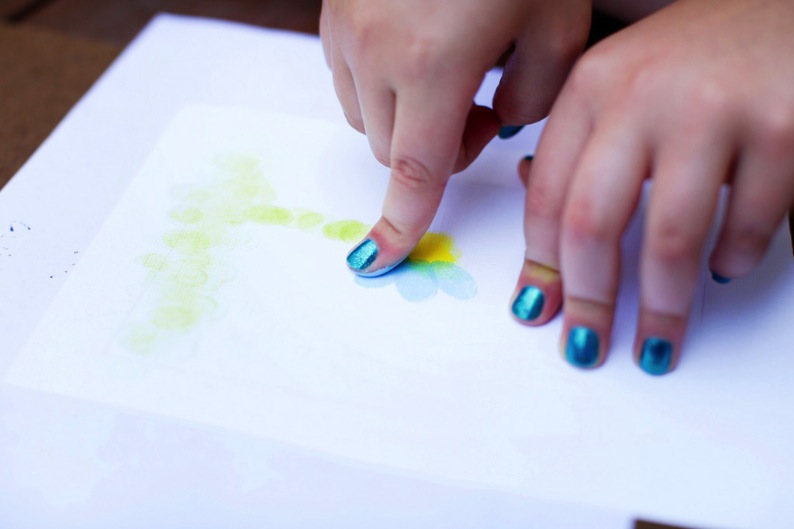 1. Start off by showing the children how they can make things with their fingerprints: flowers, bugs, trees, grass, etc… on the scrap pieces of paper. Allow them to really get a feel for how to use their imaginations.
2. Show them how to use the paper towels in between each color so the colors don't merge into a muddy color.
3. Open up your frame and with your pencil lightly trace the outline of the matboard onto your textured scrapbooking paper.
4. Now ask your child to place their favorite idea into the traced out square.
5. After they have completed their master piece be sure to date the back of their art work with your pencil and ask them to sign their art work on the front so mom can glow with pride at her little budding artist fantastic work!
6. Be sure to lightly erase the pencil outline for the matboard cut out from their picture.
Enjoy Mom's smile as she opens this sweet little gift from the heart. Happy Mother's Day! :-)