A look back at InLight ahead of this year's event.
InLight illuminates Monroe Park later this week as the free public art exhibition returns for its seventh year. The one-night only event runs Friday 7:00 PM – 12:00 AM
Created in 2008 to celebrate 1708 Gallery's 30th anniversary, InLight collects light-based exhibitions done by national artists and centralizes them in a specific city area.
Ahead of this year's InLight, here's a look back at past events.
— ∮∮∮ —
2013
2012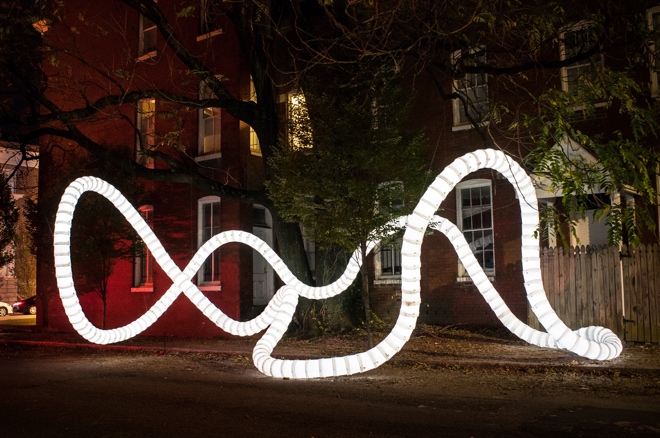 2011
2010
2009
2008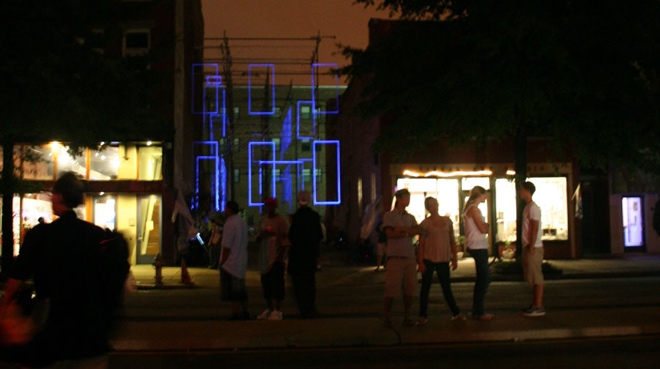 Related
Credits
InLight 2013
Image credits
Medeology Collective: Alessandro Imperato, Jim Gladman, and Kelly McClung, 
Bridge Of Signs, photo by Terry Brown
Julie Hinzmann and Shawn Saharko, Thank You, Thank You, Thank You, Winner of both People's Choice Award and Most Environmentally Conscious Award, photo by Terry Brown
Rachel Cohn, Laurids Sonne, and Michael Ashley, Nonesuch Tales of Ardea Herodias, Winner of Best in Show Award, photo by Terry Brown
Ross Fish, Lilli Fayaz, and Sean Ludwig, A Breath of Fresh Air, photo by Terry Brown
InLight 2012
Image credits
Devon Johnson, Noms de Pays, Winner of Best in Show Award, photo by Jon Sheridan
Jason Peters, Meandering Dynamics, Winner of Best in Green Award, photo by Terry Brown
InLight Richmond 2012 Community Lantern Parade, photo by Terry Brown
Nelly Kate and Dave Watkins, Interstitial Transduction, Winner of People's Choice Award, photo by Terry Brown
InLight 2011
Image credits
Riley Harmon, Trace, Winner of Best in Show Award, photo courtesy of the artist
Brian Davis, Sightline (2011), photo by Terry Brown
Annica Cuppetelli and Cristobal Mendoza, Nervous Structure, photo by Terry Brown
InLight Richmond 2011 Community Lantern Parade, photo by Terry Brown
Peter Fraser (with support from Richmond Cycling Corps and Pedal Power), Inspiration Generation, Winner of People's Choice Award, photo courtesy of the artist
InLight 2010
Image credits
Jacob Stanley, Spanning Systems (a partial rewire), photo by Terry Brown
Patrick Gregory and Lincoln Mitchell, Enlightened Abandonment, photo by Terry Brown
The Medeology Collective: Alessandro Imperato, Jim Gladman, Kelly McClung, and Matt Haddock, Illumi-Nation Narcosis, photo by Terry Brown
InLight 2009
Image credits
Ed Purver, Show of Hands, photo courtesy of the artist
Joshua Poteat and Roberto Ventura, For Gabriel, Winner of Best in Show Award, photo by Heidi Hess
InLight 2008
Image credits
Peter Culley, Eleni Savvidou, Adam Frantzis, Andrew Montgomery, Lighthouse_1_Jackson Ward, winner of both the Best in Show award and the People's Choice award, photo by Andrew Montgomery
Photos courtesy of 1708 Gallery