Visionaries, Art 180's newest exhibit, draws upon the magic of tarot cards.
Artist Brittany Justice spent a lot of time around mystic stuff as a child. Her mother ("she was always really into New Age-y things") introduced her to tarot, and it's been a constant in her life since. Not only do the traditional decks feature arresting art, but each card holds a certain kind of mystery and promise–and you don't get to SEE the art until you (or fate, depending on what you believe) turn over the card, which is already in position, waiting to give you some insight.
Do you know who could use some insight? Guys, do you remember being a teenager?
Your future is like a darkness that's occasionally murky and occasionally glittery, depending on your mood. You're not sure what to believe, you're not sure exactly what kind of person you are, and anyone asking you to be insightful about yourself (or anything, really) is such a shocking occurrence that it tends to leave you speechless, at which point you're more often than not pegged as a sullen kid. What a bummer of a situation! It's hard to look at teens when you're safely on the other side of 30 and know that no matter what you say, they won't truly believe you that everything's going to turn out OK.
But what you can do, as Brittany Justice and Art 180 have done, is instruct them to draw a tarot card at random (or "random," if the fate thing is your bag) and let that card inspire a work of art. Not a copy of the art on the card–more a two-step representation of what each believes the card says about them. "I thought it was interesting as a prompt because there's kind of like this element of mysticism when you draw something and you think 'This isn't me,' but when they really sat down with it and thought about it they thought, 'OK maybe this could be me.'
As per usual, Art 180 shows us all that teenagers are some of the most inspiring people.
Visionaries opens this Friday, at Atlas 180, along with some performances by Art 180's Breakdance Yoga and Chorus programs. It will feature work by these two high schoolers from John Marshall, who you should promptly become superfans of. Both are part of Art 180's teen leadership program.
Steven, 15
Steven's been working with Art 180 for about three years, after learning about the program through an Art 180 visit to Henderson Middle. A soft-spoken guy now, middle school Steven was fairly bold about trying new things. "I didn't know how shy I was going to be until I got to high school. When I went to the big show, I thought, 'Oh wow, how can I do some of this cool looking stuff." Then he met some of the Art 180 folks in person, and the rest was history.
He chose the Empress card, which was a letdown at first.
"At first I was like "What?! I got the Empress?" Then I thought, 'Well, they're tarot cards, so fate probably told me to do this," explains Steven. And then he did some research. "I found out she stands for nurturing and some other traits that I have, so I thought that made sense."
"She's kind of about beauty, and when I heard beauty I thought of nature right off the bat. Plus, the Empress always has a scepter or something. And it has an orb, and when you see an orb it's going to be a jewel, and of course a jewel comes from the earth," he says. Steven tends to like natural subjects, so this piqued his interest. and the result is something he's quietly proud of, and something he feels represents him pretty well.
— ∮∮∮ —
Elle, 17
A junior at John Marshall, Elle's been a part of Art 180 since sixth grade. She's always been into art. "I remember being in elementary school and just drawing abnormal things. When I learned how to draw glasses, I would draw them nonstop."
Her tarot card, the Tower, freaked her out at first. "When I saw it, it had fire coming out of the windows and like, lightning. It's scary! There were people falling out of the windows, and I thought, 'That's really disturbing.'" Then she learned that the Tower represents unwanted change.
She thought about that for awhile and realized it aligned with one change in her life that has been bothering her. As she grows up (she's looking at an impressive number of colleges currently), her family is having trouble seeing her as anything but a child. "They don't want me to grow up just yet," she said flatly. "And it doesn't help that I'm short and I have these big doe eyes. I'm just the baby baby baby!"
"They've always been like 'We have to take care of you, we have to take care of you,' but they're not going to be there when I'm in college, so they need to take a step back!"
Elle's figurine mimics the Japanese Harajuku dolls, which are adults that look a lot like children. It's interesting how the Tower, with its terrifying imagery, became something so cute. Change can come in all sorts of ways.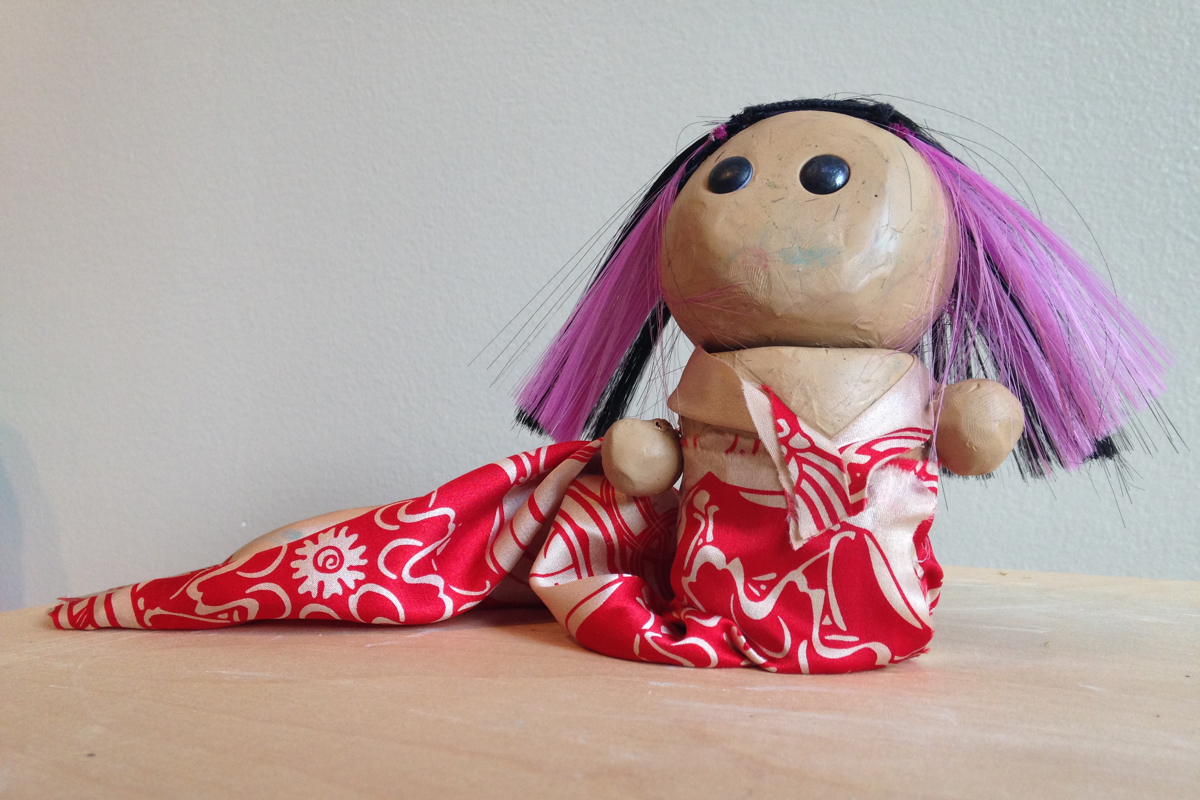 Her favorite project thus far is the Art 180 wall at the old GRTC building, which she herself came up with the vision for. And get ready, it's some life knowledge.
"These monsters are throwing dice out to the world and whatever it lands on, you go for it. Life takes you on a crazy roller coaster. You find the paces of your life. At the end, you're content." She's super proud of the result. "The whole spread of it–you'd look at it and think 'Kids made that??' People underestimate teeagers. They're the quiet ones of society. If we answer a question, people will say 'You don't know what you're talking about.' If people would stop shutting us down and listen to us, they'd see we're really smart and we're paying attention."
Caption: Art 180 kids, just drawing stories on the sidewalk, no big deal.
Visionaries
Friday, April 3rd – Thursday, April 23rd • Opening night superfun reception: 6:00 – 9:00 PM
Atlas (the Art 180 digs), 114 W. Marshall Street
Free!