This local artist has created a business painting over other local businesses. And business is good.
Five businesses along a stretch of Broad Street have Ross Trimmer's name on them.1 Figuratively speaking.
Trimmer is the founder and owner of Sure Hand Signs, a local revival of what many considered to be long dead: hand-painted signs.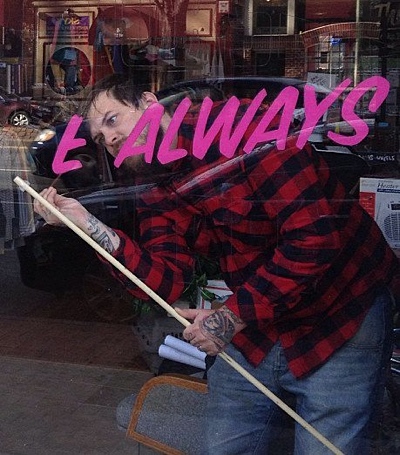 "I'm a traditional sign painter," Trimmer said one afternoon while taking a break from one of his latest projects. "I focus on doing things the way they would've been in the 1940s."
What began as a hobby has nearly turned into a full-time business for Trimmer. His signage and reverse painted windows span across 14 Richmond businesses and up into the D.C. Metro Area. Local–typically small–businesses are increasingly handing Trimmer work to make their business stand out. "They want the outside to look as cared for as what's in it," Trimmer said.
An alumnus of VCU's Painting and Printmaking department, Trimmer began his professional art career as a tattoo artist in 2005. He then spent three years in D.C. working as a T-shirt designer. When he returned to Richmond in 2008, he began tattooing again at Brookland Park Tattoo and freelancing as a designer.
In mid-2011, Trimmer became fascinated with hand-painted signs. He said some of the allure the signs hold isn't unlike the allure urban graffiti and murals have: "Artwork that's out there, that everyone sees, that no one thinks about," he said.2
But Trimmer said that when he becomes fascinated with something, he wants to master it himself. "I knew I had a good understanding of letters and a good understanding of color" from tattooing, he said. So he bought cans of 1 Shot paint and "started painting letters" when work at the tattoo shop slowed.
He learned from initial mistakes, and by the end of 2011 his friends started to take notice of the work he was producing. One of the first projects he did was paint signage inside Salvation Tattoo. That led to him painting a sign for a Florida tattoo shop. This pattern of work begetting work kept repeating. "Each time that I did one, it led to more [requests]," Trimmer said. At that point, I totally didn't think I'd have a business, per se."
His first official job came when he painted Tech Exchange's outdoor sandwich board and interior signage. He soon expanded beyond signage to paint windows. Some of his early customers were 212 Tattoo and Books, Bikes, and Beyond, the latter being "one of the first big window jobs that I've done."
He created an Instagram account last January, and a month ago created a Facebook page. But most of Trimmer's business has come through word-of-mouth. "It's literally just snowballed from there," he said. His reach now exceeds RVA. "I'm starting to get calls from Northern Virginia."3
In addition to the quality of his work, Trimmer is also scoring business for the simple reason that very few people do what he does. While there are a handful of other hand painters locally, Trimmer said: "I'm one of the first ones to try and push it as a business."
Some of his most recent projects include Y&H Mercantile on Robinson Street, and the new theater for the Richmond Comedy Coalition. He's also currently redoing a majority of Cafe Ole's interior.
"I'm pretty much a small business supported by small businesses," Trimmer said. And there are plenty of businesses queuing up for his work. "I'm booked about a month out," he said. He hopes that Sure Hand Signs becomes his full-time occupation before long. Although he has no fixed-rate for projects (it varies from one to another) he does provide free estimates.
Despite the businesses he's worked on, Trimmer's convinced that his best signs are ahead. "The work keeps getting more intricate," he said. "There's always a new problem to solve."
As a tattoo artist, his work vanished into the world when each customer left the shop. But now Trimmer can travel around town and, before long, see one of his signs.
"My drives to work have gotten more fun," he said, smiling.
— ∮∮∮ —
Footnotes
212 Tattoo; Coalition Theater; Books, Bikes, and Beyond; LoveRVA Gallery; and Quirk Gallery. ↩
Here's the trailer for a recently released documentary on the art form, Sign Painters. ↩