Christmas is just ONE week away, folks! If you're one of the many millions of people who have neither completed nor started your holiday shopping, don't panic. We have some great gift ideas available from local shops. No need to hope and pray that your online orders will arrive in time, these gifts are ready to be bought now.
If you're reading this you either A) haven't finished your holiday shopping, or B) most likely haven't started. Don't fret. Whether your gift shopping is nearing a complacent end, or the impending panic of last minute shopping is soon to commence, local Richmond retailers provide many options to make seasonal shopping a breeze! The RVANews Holiday gift guide is full of ideas to inspire and make your gifts a hit beneath the tree.
— ∮∮∮ —
For her…
Rachel Albright's Academy Jewelry is designed locally and can be found online through her Etsy shop and at Need Supply Co. Her work often incorporates the use of geometrical shapes, coral, and even used bullet shells! Rachel also makes custom jewelry(prices range from $24-60).
— ∮∮∮ —
Leather gloves infused with aloe to keep hands warm _and_ prevent drying. Gloves by Echo Design and available at Need Supply Co. ($58.00).
— ∮∮∮ —
Leather quilted purse at Need Supply Co. ($24.00)
— ∮∮∮ —
Hand crafted in Denmark by a husband and wife duo, the charm of these furry friends is irresistible. Maileg creations include foxes and raccoons (pictured above), as well as a mouse that sleeps inside a matchbox. Available at Mongrel ($32.75)
— ∮∮∮ —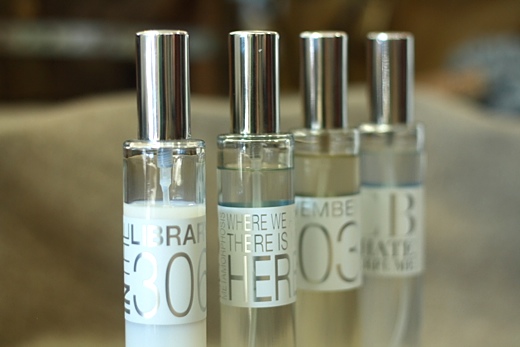 Christopher Brosius hates perfume. Well, he describes this "hate" as perfume too often used as an ethereal corset trapping everyone in the same unnatural shape. "He doesn't like for everybody to smell like everybody else, and his range of unique and hand blended perfumes reflect both fun, individuality and his own scent memories." CB I Hate Perfume comes in fragrances such as "In The Library," "Winter 1972," "Burning Leaves," and several more! CB I Hate Perfume is available at Need Supply Co. (prices range from $75-135.00).
— ∮∮∮ —
Poly canvas bow hair clip at American Apparel ($14.00).
— ∮∮∮ —
For him…
Founded in 1884 in Middleborough, Massachusetts, the Alden Shoe Company is one of the oldest shoe producers in America. Help keep boots pristine with Alden's Fine Boot Cream, which serves as an excellent supplement to polish and wax; available in black and burgundy ($9.00 each). No shoe shine kit is complete without a quality brush, so pick up this one for $38.00. Boot polish and brush available at Need Supply Co.
— ∮∮∮ —
Set of three 48-page graph page memo books available at Need Supply Co. ($10.00).
— ∮∮∮ —
Whoever invented this is a genius. Finally, the ability to make grilled cheese and other snacks inside of a toaster. Toastabags are reusable, easy to use, and hassle-free. Available at Mongrel, ($10.95 for a set of two).
— ∮∮∮ —
This switchblade bottle opener is a favorite amongst the Jets and the Sharks. Available at Mongrel and complete with functioning "swish" sound!
— ∮∮∮ —
For staying in…
Woven with 100% pure virgin wool, Pendelton's National Park blankets are still woven at the original Pendleton Woolen Mill in Portland, Oregon just as they were more than 100 years ago. The Pendleton Yellow Stone Park blanket can be found at Need Supply Co. ($172.00).
— ∮∮∮ —
Holiday shopper Nicole Lang describes the Thymes Frasier Fir candle as "the kind of thing you want for yourself, but you just pray someone will get it for you." Available at Mongrel ($12.95).
— ∮∮∮ —
Set of Munchstaches combination cookie cutter and stamps." Available at Mongrel.
— ∮∮∮ —
Original 'Orange and Turqouise Dreamcatcher' painting by local artist Allison Good. Visit the Artisan Alley holiday pop-up shop located 323 W. Broad Street for original paintings, artwork, and crafts. Dreamcatcher water color painting ($150.00).
— ∮∮∮ —
Records make the perfect gift and Steady Sounds provides new, used, and vinyl box sets. Steady Sounds also has a Holiday LP section including the newly released A Very She & Him Christmas ($18.00).
— ∮∮∮ —
Lamplighter arguably brews the best coffee in Richmond. On any given day, Lamplighter sells 8 different types of coffee including one house dark, one decaf, and 6 single-origin coffees of varying roast levels. The Ethiopian Sidamo single-origin coffee is highly recommended. ½ pound of coffee sells for $7.50 and 1 pound for $15.00 and each comes with a complementary cup of coffee.
— ∮∮∮ —
Sourced from a quarry in North Carolina, this slate cheeseboard is the perfect gift for someone who loves to entertain, and it comes included with chalk and anti-slip padded feet. Available in a 6×12 sushi plate ($8) and an 8×16 cheese slate ($15), River City Cellars.
— ∮∮∮ —
For the crafty and creative…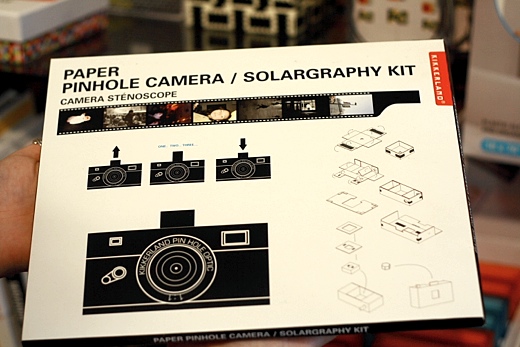 Paper pinhole camera kit, Mongrel ($9.95).
— ∮∮∮ —
Wool and the Gang knit kits provide crafty DIY projects for novice and expert knitters alike. Kits available at Need Supply Co. ($45-95).
— ∮∮∮ —
Vintage Coronet Automatic 12 electric typewriter, Blue Elephant ($40.00)
— ∮∮∮ —
And a few extra ideas for everyone…
Richmond has formally adopted Joseph Gordon-Levitt as our own and vice versa. Before hitting the town, RegularJOE as he is known in the hitRECord community edited and curated thousands of contributions from writers are illustrators to create The Tiny Book of Tiny Stories: Volume 1. The 64-page tiny book features 31 tiny stories and illustrations from 45 writers and artist. Available at Fountain Bookstore, ($14.99).
— ∮∮∮ —
Steady Sounds t-shirt designed by Eliza Childress and available in yellow, green, orange and grey ($10.00)!
— ∮∮∮ —
Nothing makes a better stocking stuffer than chocolate! Organic and fair traded equal exchange chocolates are rich and come in varieties such as extra dark Panama chocolate, chocolate espresso bean, and milk chocolate with a hint of Hazelnut. Available at Ten Thousand Villages, ($3.75).
— ∮∮∮ —
3 piece set of vintage green suitcase set. Available at Blue Elephant ($28.00).
— ∮∮∮ —
Remember, during the holidays, it really is the spirit and thought that counts when it comes to gift giving!
Recap of retailers included in the 2011 Holiday Gift Guide:
All products/services their respective prices were accurate at press time.