Disney makes a final attempt to squeeeeeze some dollars out of the summer with this mildly entertaining but totally "eh" spin-off.
DisneyToon Studios, the folks responsible for such gems as The Return of Jafar and The Lion King 1 1/2, are playing with the big boys this summer1 with the release of Planes, a full-length feature film "from the world above Cars."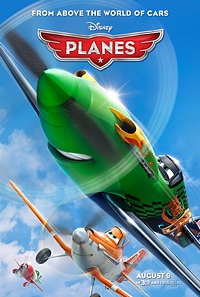 Did you get that? It takes place in the same universe as Cars, but it's not a Cars movie, per se. It's also not a Pixar movie; it's a Disney movie–one that was originally intended for DisneyToon Studios' typical direct-to-video route before the powers-that-be decided to go ahead and send it into theaters.
The thing is? It seems they did very little to give Planes that extra "something" to ready it for theatrical release. It feels like a direct-to-video movie…but one you pay $20 for you and your kid to see in the theater.
I don't mean to imply that direct-to-video movies aren't of value. As a parent, I find them extremely helpful when I need to occupy my prayshus snowflake for 45 minutes so I can make a phone call/do the dishes/take a nap/etc. I've even been known to snuggle up and watch The Fox and the Hound 2 on occasion. But the films always feel a bit half-baked, less polished, like their sole purpose is to hold kids' attention on a particular franchise until the next block buster arrives.2 Planes feels like exactly that, too.
Shifting our focus from the ground to the skies, Planes tells the story of Dusty Crophopper (charmingly voice by Dane Cook3), a crop-duster with dreams of competing in the Wings Around the Globe Rally. With the help of Chug (Brad Garrett), hometown mechanic Dottie (Teri Hatcher), and the surly but noble former war plane Skipper (voiced by Stacy Keach, who I think has actual gravel in his chest), Dusty manages to qualify for this legendary race around the world.
Although the start to the film borrows a bit too much from Cars (Chug is basically a cleaned up Mater and Skipper is Doc Hudson with wings and a service record), it sets the story up nicely–I even chuckled a few times! And really, who doesn't love an underdog, particularly if he's got a team of misfit friends to back him up? Except once Dusty makes his way to the Wings Around the Globe Rally, the movie falls flat…and pretty much stays that way. We don't see much of those friends of Dusty who helped make him so likeable, and instead get rushed along with our scrappy crop-duster through the legs of the round-the-world race, breaking from time to time to watch him interact with competitors representing a variety of broad cultural stereotypes. For me, the most cringe-worthy of these is El Chupacabra (Carlos Alazraqui), a Mexican plane with a thick accent, little control over his hormones, and a penchant for mariachi music. I mean, I know they are planes and not people, but come on, Disney. Do we really need to perpetuate this whole insatiable Latin lover stereotype–in a kids movie no less?
Story flaws aside, Planes does manage to offer up some great animation at points. It doesn't have the same look that we've grown to expect from Pixar, but several of Dusty's flight sequences–particularly during his stint in India–are quite lovely. I also couldn't help but be impressed by what we saw during one particularly tense scene taking place over (and in) the Pacific Ocean. What's more it's funny enough and pretty cool to look at, so even if you don't love it, your kids probably will.
And they'll also probably love the sequel, Planes: Fire & Rescue, already set for release in July 2014.
Damn you, Disney.
— ∮∮∮ —
Why you should see this movie
If seeing your kids enjoy something is a big enough motivator to fork over tens of your hard-earned dollars at the box office, sure, go for it.
Why you should stay home
Planes will likely be out on DVD in about 3.5 seconds. Add it to your Netflix queue and maybe give Turbo or Despicable Me 2 a try instead.
Bechdel test
Dottie the mechanic is of the female persuasion, but she doesn't say a word to any of the other lady vehicles in the film; they're all too busy making eyes at the "gentlecars" and "gentleplanes" for intelligent conversation. What am I even saying?
— ∮∮∮ —
Footnotes
To be fair, this isn't DisneyToon's first theatrical release. For every 10ish straight-to-video movies they put out there, they send one to the theater. You can see the full list of releases here. ↩
Because, well, that's their sole purpose. ↩
Guys, I usually despise Dane Cook. It took a lot out of me to write that, but I meant it. He did a great job. ↩