Heaton Johnson took the opportunity to ask a lot of Richmonders at the dog park about their dogs. Can you feel the love tonight?
— ∮∮∮ —
Hannah and Rosie
Breed: Beagle/Lab mix
Sex: Female
Age: 13
Rosie and Hannah met Rockbridge County, Virginia, on July 2nd, 2009. Rosie is really attracted to trash, not very social with other dogs, and loves Hannah very much.
Megan and Berkeley
Breed: Labrador Retriever
Color: Chocolate
Sex: Male
Age: 18 months (born on Valentine's Day of 2014)
"I got Berkeley from some close family friends who are neck deep in the service animal registration process as dog breeders. I grew up watching them breed and raise chocolate lab puppies, and I always knew I wanted to get one 'when I grew up.' I got Berekeley shortly after college graduation (although the jury is still out as to whether I'm a grown-up)."
Dorian, Gabe, and Sage
Sage was adopted, and like most German Wirehaired Pointers, she deeply craves human companionship and has formed a strong bond with her owners.
Maurice and Leia
Maurice rescued Leia from a breeder. Razor Edge pitbulls have an interesting story.
Lauren, McCray, and Luna
Lauren and McCray met Luna through C.A.R.E., which rescues Richmond-area dogs from difficult situations–think abuse, neglect, and other things that terrible human beings do to animals.
Nick, Hilary, and Milo
Breed: Mix (most likely part Dane)
Sex: Male
Age: 1
Sanctuary Rescue in Midlothian is the fated place where Milo met his new family. This dog rescue is really rigorous in its efforts to rescue dogs from "death row" and get them adopted.
Corinne and Patti Smith (aka "Patticake," aka "Little Squirrel")
Breed: "She's a hound mix. I've heard that she resembles a treeing walker coon hound, so I usually say she's a walker hound mix."
Sex: Female
Age: 3
"We met at the Richmond SPCA–I saw her picture on the website and set up an appointment to meet her. She was with one of their amazing foster families at the time. We're celebrating age three at her Gotcha Day (one year adoption anniversary) in November."
Spencer and Mobley
Spencer's friend was fostering Mobley, and Spencer would look after him while the friend was at work. Though they don't live together, and Mobley isn't Spencer's pet, they're still close friends. Fostering is a fantastic way to help out animals–visit Richmond SPCA to learn about their programs.
Emily and Russel
Breed: Mix
Sex: Male
Age: 2
Emily and Russel, though companions for a short amount of time, have built the strongest of bonds. From a log cabin in Leesburg to the bustling city of Richmond, they have experienced all that life has to offer.
Jennifer and Patty
Jennifer works at the SPCA, and that's where she fell in love with Fatty Pancakes.
Ariel and Piper
Breed: Boxer
Sex: Female
Age 1.5
Boxers look a little intimidating, but they love to have fun, and they're known for being really smart.
Sherif and Saber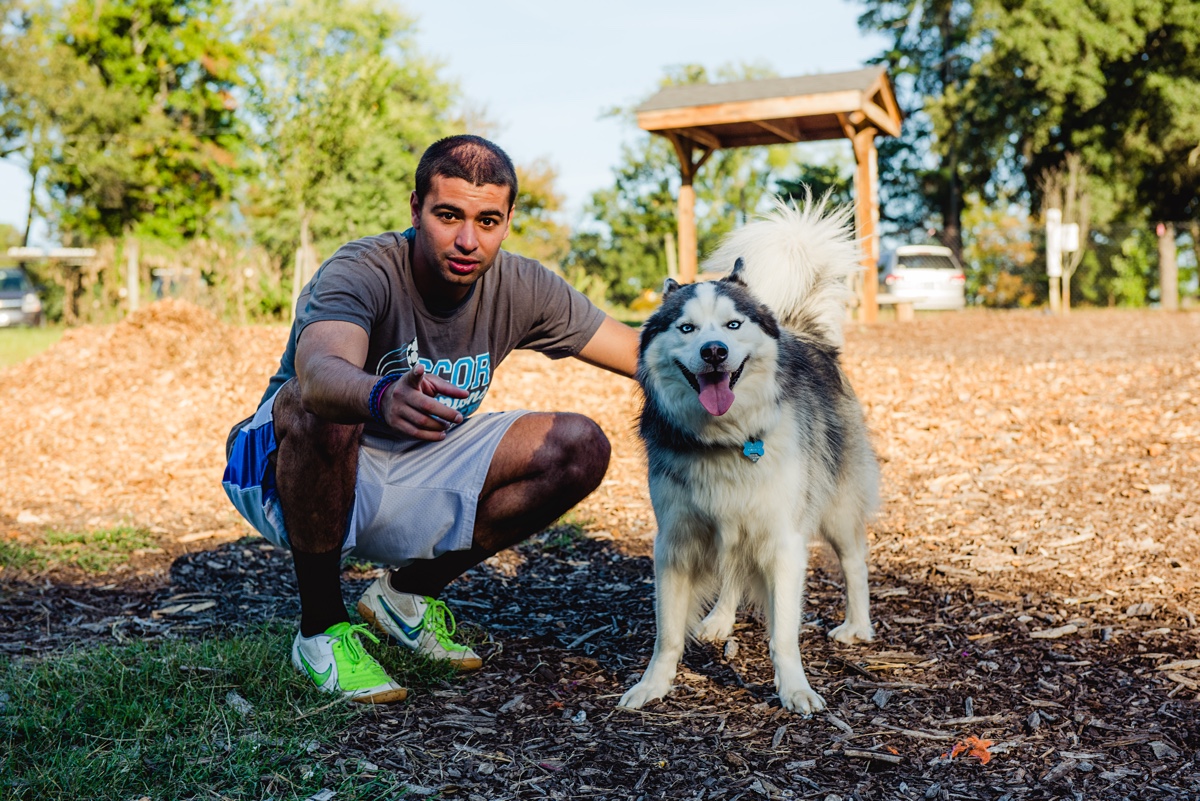 Breed: Husky
Sex: Male
Age: 3
Sherif rescued Saber from a friend–huskies are built for speed and for pulling sleds, but they're also really into playing games.
Brittany and Honey
Breed: Mix
Sex: Female
Age: 1.5
Brittany was second in line to get Honey, who was up for adoption at the SPCA. She was only able to seal the deal because the original folks didn't show up!
Leah and Maeve
Maeve was adopted from Animal Care and Control in Hanover. She's training to be a service dog.
Dave and Jacques
Jacques, who was named after Jacques Fontan was bought from a kennel and is now training to be a service dog. Service dogs are a great way to share a dog's awesomeness.
Your photographer: Heaton and Austral
In 2012, I was backpacking in Argentina for seven months. After being on the road alone for some time, I decided that I no longer enjoyed solitude. I had always wanted a Japanese akita and had spent years researching the breed, as to know how best to train one. Ultimately, I knew that there was no other dog for me and I started looking into breeders. Luckily for me, the only breeder in all of Argentina was a very serious one. I got my baby and I did some traveling until ultimately arriving back in the states.
He's a lazy stink of a dog but he's very beautiful, loyal and too smart for his own good. His girlfriend Mosa, who is also a Japanese/American white akita, recently had a litter of seven puppies–three white and four red.