They may make it look easy, but the life of a dancer is anything but. Richmond Ballet company member Elena Bello has a special place in her heart for the holiday classic, The Nutcracker, and she shares her experience with us in her own words and pictures.
Elena Bello knew almost nothing about ballet when she was discovered in New Jersey at the age of nine. Minds in Motion, Richmond Ballet's education outreach program, had alighted upon her school, and Elena was quickly spotted as a hard worker with a natural aptitude for picking up choreography.
Her first exposure to The Nutcracker was also her first exposure to the world of big, classical ballet productions. After years of training, an apprenticeship with Richmond Ballet, a stint in their new travel company, and now as a full-fledged company member, Elena celebrates the ballet that sparked her passion with a photo diary that gives us a sneak peek into the frenzied, nonstop, and incredibly rewarding life of a dancer who loves what she does.
— ∮∮∮ —
Marty Davis and I rehearse our Columbine and Harlequin Doll pas de deux from Act I of The Nutcracker. Marty is a new partner for me this season, but I have really enjoyed getting to know him, and it's been fun working with him throughout the rehearsal process so far.
Photo by Sarah Ferguson. Richmond Ballet 2013. All rights reserved.
— ∮∮∮ —
It is very important that our pointe shoes fit properly, and each dancer here in the company has shoes designed with their particular needs in mind. Everything, from the box of the shoe to the ribbons, can be customized to help support and show off our feet in the best way possible.
Photo by Sarah Ferguson. Richmond Ballet 2013. All rights reserved.
— ∮∮∮ —
I wear Capezio pointe shoes. I've become pretty quick with preparing a pair of shoes–sewing the ribbons, breaking them in–and that's certainly a good thing because we can go through at least one pair per performance, depending on the role we are dancing.
— ∮∮∮ —
We learn many roles, even ones we don't perform, throughout the Nutcracker rehearsal process. Here I am rehearsing the Snow Pas de Deux, the Snow Queen and King from Act I of The Nutcracker, with Thomas Ragland. Thomas has been dancing the Snow King role for many seasons, so it's great to be able to learn the role with a real expert. Hopefully next year I'll be able to dance the role of the Snow Queen on stage!
Photo by Sarah Ferguson. Richmond Ballet 2013. All rights reserved.
— ∮∮∮ —
Here I am rehearsing the Chinese dance from Act II of The Nutcracker, the Kingdom of Sweets. This dance doesn't require pointe shoes, which is a great relief for my feet! I love that the choreography takes its inspiration from martial arts, and that the dance has a more contemporary feel, which are both styles I really enjoy.
Photo by Sarah Ferguson. Richmond Ballet 2013. All rights reserved.
— ∮∮∮ —
The Ballet orders all our pointe shoes, and they are stored in a special cabinet in the costume shop. It's incredible to think how many pairs of shoes I go through in a season, let alone all the company women! However, it's very important to have a large supply of shoes–after all, you can go through them very quickly during a busy show like The Nutcracker!
— ∮∮∮ —
Break time! We have a really busy schedule this time of year, but it's still important to take some time to relax and catch up with friends. So happy to have my friends Lauren Archer (center) and Sabrina Holland (left) from the Ballet to hang with during my down time!
— ∮∮∮ —
Performance Day: Before each show, I always take time to prep my shoes. In this picture, you can see that I am applying what we call "pancake" to the satin on my pointe shoes, which prevents the shoes from shining too much on stage. "Pancaking" also covers any black or dark marks on the satin, and makes them look new for the stage.
— ∮∮∮ —
It's also very important to warm up properly before each show, and everyone has their own routine. I do a mix of pilates and my own stretches to make sure that my muscles are warm, and I wear warm-ups and socks to ensure that they stay warm throughout my exercises. Warming up properly ensures that we don't pull a muscle when doing these highly abnormal-looking movements that we call classical ballet.
— ∮∮∮ —
Applying my make-up for Act I of The Nutcracker, where I am scheduled to dance "Columbine" on this night–one of the life-size dolls that is magically brought to life by Dr. Drosselmeyer at the Silberhaus' Christmas party. I love dancing Columbine. It's a short dance, but it's fun, and it's great to get into the very stylized choreography.
— ∮∮∮ —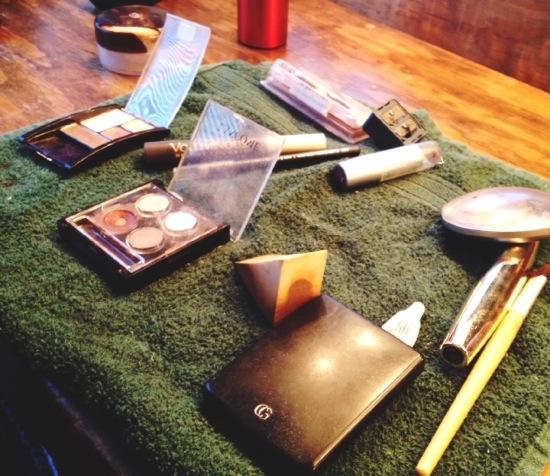 My make-up for The Nutcracker. The Columbine Doll requires some involved make-up: big long exaggerated lashes, which I draw under my eyes, and red circles that I draw on my cheeks with bright red lipstick.
— ∮∮∮ —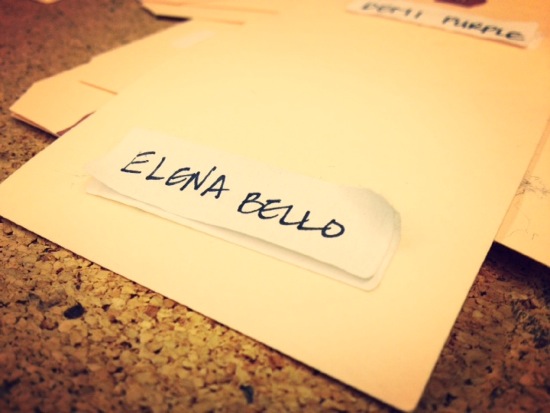 The costume shop uses tags to label everyone's costumes. Sometimes there are two versions of the same costume, so it's important to know which version has been fitted to you. We work very closely with the staff in the costume shop to ensure that our costumes fit us comfortably.
— ∮∮∮ —
Almost time to go on and already getting into character! I like to review the choreography before going out on stage, just as a last minute reminder. For some reason, even though I know I know it, it feels reassuring to go over everything just one more time!
— ∮∮∮ —
I also am scheduled to dance Spanish tonight, so here I am, again with Marty, getting into my Spanish character! I love the flamenco vibe!
— ∮∮∮ —
Back in Richmond, and it's coffee time! Coffee is a huge part of my life, and it certainly helps to keep me going during our busiest season. I'm joined this time by my Norfolk roomie, Melissa Robinson!
— ∮∮∮ —
With another one of my close friends, here at the Ballet, Sarah Sharp from Marketing. We have such a great group of people at Richmond Ballet, and I love being a part of our fun, lovable, hilarious family.
— ∮∮∮ —
TV Time! Here I am with Matt Frain, shooting a spot for NBC 12's '12 About Town'. Again, doing media has been more a part of my job since becoming a member of the company, but I do enjoy the opportunity to do new things! We even got to wear our costumes for this spot! It airs Friday…hope everyone sees it!
— ∮∮∮ —
And just because we can't get enough of Christmas at the Ballet during Nutcracker season, here I am decorating my tree at home, with of course, my awesome dog, Rufio. He was a huge help!
— ∮∮∮ —
Thanks to Melissa Robinson, Sarah Ferguson, and my great friends for helping me gather all these photos.
Don't be an insane person and miss The Nutcracker , playing this weekend and next. Visit Richmond Ballet for tickets.
Featured image by: Sarah Ferguson, Richmond Ballet 2013