The small-but-mighty Henley Street Theatre wraps up their 2009-2010 season with an ambitious adaptation of Henrik Ibsen's 1879 classic, A Doll's House, running through May 29.
The small-but-mighty Henley Street Theatre wraps up their 2009-2010 season with an ambitious adaptation of Henrik Ibsen's 1879 classic, A Doll's House.
The story of Nora Helmer, the prototypical desperate housewife, is likely familiar to most folks — after all, Ibsen is a staple of most high school English classrooms. Director Anna Senechal Johnson's version doesn't stray far from the letter of the original, angst-filled (controversial! banned!) material, but that's not a bad thing. Her careful, deceptively simple direction underlines the fact that this is source material that's held up for over a century. The focus in this production stays where it should: on Nora, as she makes the journey from wifely plaything to (sort of) fully-realized woman.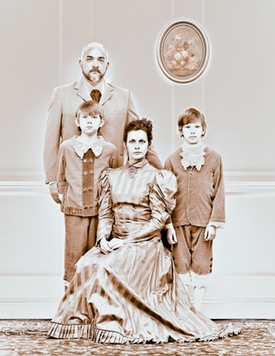 At the center of the drama is Jennie Meharg's on-point portrayal of Nora. She gives a complex performance that bridges the gap between two separate characters: Nora the childish, empty-headed spendthrift, petted and caged by her overbearing husband, and Nora the independent, self-aware woman. Andrew C. Boothby's Torvald Helmer is mostly a one-note bully of a husband. He's easy to hate, but Boothby's ending scene lends some necessary depth to a character that seems, at times, to be nothing more than a foil for Nora's character growth.
Every story needs a good villain, and John C. Moon delivers. He is equal parts desperate and menacing as the blackmailing Nils Krogstad. Moon does such a fantastic job that the mere mention of his name throughout the play becomes a threat. Jennifer Frank and Freddy Kauffman also give excellent performances in their roles as friends of the Helmers, providing calm counterpoints to Nora's frenetic behavior.
The set and costumes are as carefully unobtrusive as Johnson's direction. However, it's clear there is a reason for all the choices made. Beautiful antiques and subtle Christmas decorations tell the story of the Helmers' station in life without being obvious. The costumes, from frivolously voluminous dresses to somber, buttoned-up suits, are perfectly paired with the characters who wear them. It's evident that for a small theater company, Henley Street does an admirable job maximizing its resources.
It's easy to groan and smack your forehead when someone mentions Ibsen, because a night spent with any of his works will never end with sides that hurt from laughing. But like any good play, you'll appreciate it more if you see it performed. Instead of making assumptions based on that one time you read half of it in high school, check out Henley Street Theatre's excellent production of A Doll's House. It's worth the angst.
Henley Street Theatre's production of A Doll's House runs through May 29. Tickets are $20 with discounts available for students and City of Richmond employees. Stop by their website or call their box office at 804-340-0115 for details. Tickets bought online by this Thursday for Friday or Saturday performances are just $15 and will not be subject to the $2 handling fee.