photos by Sam Allen for RVANews
Last week's Musicircus was smaller than years past but it contained all the signature elements of the successful annual event curated by Brian Jones. Some of Jones's favorite musicians found their niche in the mazy Visual Arts Center on Thursday night, playing their own music against a noisy backdrop and demonstrating the relationship between sound and space.
As simple as it is in everyday life, Musicircus amplifies that relationship in music. Take, for example, upstairs at the venue where a narrow, open hallway separated guitarist Scott Burton and drummer Scott Clark — together known as SCUO — and Gabe Churray and his harmonium. Their music almost went together, the duo's chilled groove and Churray's lulling drones mixing nicely, but the listener walking down the hallway from one to the other gave the sounds another dimension: a live mix based on position, and thus compositional control by the observer.
At Musicircus, each performer plays with sound while each observer plays with space. It's audience participation at its best, and it makes next year seem so far away.
John Winn played bass clarinet with JC Kuhl and drummer Brian Jones
JC Kuhl on bass clarinet
Elliott Shelton created soundscapes and more with guitar and effects
Scott Burton and Scott Clark of SCUO chilled out playing meditative grooves
Barry Bless played accordion with his Happy Lucky Combo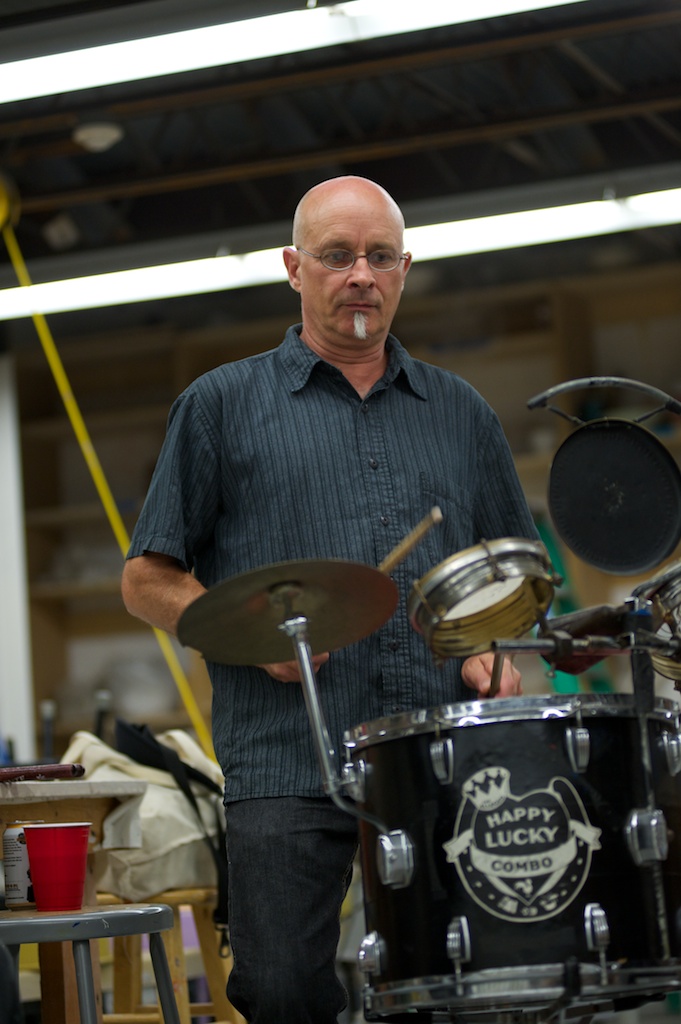 Happy Lucky Combo's Pippin Barnett used his few percussion instruments creatively
Gamelan Raga Kusuma's Daniel Martin played the traditional Indonesian music with ensemble
UTV Chamber played like nobody was watching
Josh Bearman (left) and bluegrass champs The Hot Seats hooted and hollered, taking over the main room with jubilation