This New Zealand-inspired gastropub makes eating meat "guilt-free."
Who: Mike Ripp who started Havana 59 and whose family owns 25 Arby's around RVA
What: a full gastropub that offers New Zealand grass-fed meat, venison, and lamb with homemade sauces,12 beers on tap, and over 80 wines sourced from the Southern Hemisphere.
When: opened in February 2012
Why: To bring quality food to RVA and use natural ingredients for "guilt-free" eating
Where: 10 S. Thompson Street
Dishes: The Aucklander burger features avocado relish, mayonnaise, uncured bacon, Egmont cheese, tomato, Dijonaise, and mixed greens. French fries are made from Idaho Russet potatoes and are cooked in 100% pure peanut oil. Seafood is ½ price every night between 4:00 – 6:00 PM.
— ∮∮∮ —
"I don't normally close my eyes when I eat," said a customer. "But I do when I eat here." This is a recent compliment given to Burger Bach, a New Zealand-themed gastropub. "We literally have people in here three-to-four times a week," said Jessica Fulbright Bufford, assistant general manager of the restaurant. "The food is as fresh and as good as you can get."
Burger Bach (pronounced batch1) opened in February. The man behind the gastropub is Mike Ripp, whose family owns 25 Arby's locations throughout the region operating at a net worth of $40 million. Ripp also owns Havana 59 in Shockoe, and his brother, Chris, owns Can Can in Carytown. "It's in their blood," said Jessica about the familial restaurateurs.
Ripp visits family in New Zealand several times each year. On a recent trip, he met the members of Silver Fern Farms, a meat producer that raises animals on open pastures and allows them to graze on natural grass. Ripp was impressed with both the animals' quality of life and their subsequent taste. He wanted Richmond to experience this "guilt-free" eating. Ripp created Burger Bach around his experience in New Zealand.
Silver Fern Farms ships large chunks of beef, lamb, and venison to Burger Bach to cut and grind on-site. Bufford said preparing meat this way makes bacteria growth improbable, especially compared to buying pre-cut meat sold within US borders. It also makes the burgers taste better. "The product is just phenomenal." Burger Bach manager Michelle Elliot said that "we want people to feel like you're getting away from Richmond." Not to avoid the city, she said, but to experience as much of New Zealand as possible. "We're trying to broaden the spectrum of high-quality foods."
There are no freezers at Burger Bach. Everything is fresh. Between midnight and 8:00 AM, a cook prepares all of the signature sauces (Chiptole BBQ, Dijonaise, mustard sauce, etc) to be used later that day, including the ketchup. Ashley Farms in North Carolina supplies chicken, oysters come from Rappahannock River Oysters, and mussels are flown-in while still alive. Between 6:00 – 9:00 PM each night, all seafood–mussels, oysters, and shrimp–are half-priced, making it one of the best deals in the city.
Ellwood Thompson's supplies Burger Bach with a signature hamburger bun. Goochland-based 3 Fellers provides buns for those who eat gluten-free ("We sell a lot of gluten-free buns," said Bufford). Most of the sodas use real sugar and come in glass bottles.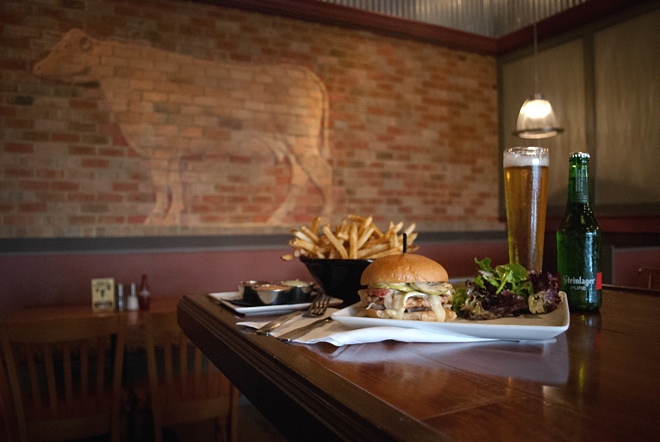 Burger Bach hand cuts Idaho Russet potatoes to make French fries that are cooked in peanut oil. The fries, which have become a local favorite, are cooked and monitored for time and temperature. "It's literally a science project," said Bufford. "We take our fries more seriously than most people do."
"People are paying more for a better product," said Bufford. Ranging from $7 – $11, burgers at Burger Bach cost more than those at McDonald's or Five Guys, but the quality of the New Zealand meat far surpasses those fast-food burgers. "Once they figure out what we're about…people start to appreciate it," said Elliot.
As a gastropub, Burger Bach has 12 beers on tap, including Moa and Steinlager beers native to New Zealand. Each of the 83 wines that are available are produced in the Southern Hemisphere, and there are plans to offer cocktails made with New Zealand-based vodka company 42 Below.
Bufford said that Burger Bach's popularity has exceeded the expectations of its owner and staff. She mentioned that on a recent Friday, a couple walked from their nearby home to eat. The following night, the couple brought five of their neighbors. This, said Bufford, underscores how well-received Burger Bach is among Richmonders. "We're on a first name basis with many of our customers," said Bufford.
Ripp hopes to open additional locations throughout the region. Wherever they open, the quality of those expansions will likely match what's at the end of Carytown. "We take everything that we do seriously," said Bufford.
Follow Burger Bach on Facebook for daily and weekly specials.
— ∮∮∮ —
Footnotes
Bach is short for bachelor pad. ↩