The title's misleading. No one's crazy or stupid, but they're all just normal people on their way towards figuring out what the hell love is all about. Turns out it's an entertaining journey.
Sometimes a few days lapse between when I see a movie and when I delight you all with my heartwarming analysis of it. That's often because I need a couple of days to decide how I really feel,* but this practice turns around and bites me when I spend that time thinking increasingly of a descriptive word like "cute."
Or "Ryan Gosling."
Or "abs."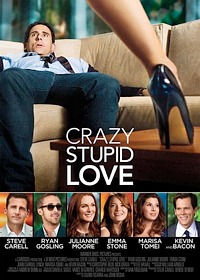 Pretty soon, that one memory has crowded out all of the rest of the film's details and I'm stuck trying to recreate my initial thoughts. I even bought a special film journal to help me flesh out my gut reaction, but there it lies on my coffee table, as clean and unspoilt as the mind of a newborn babe.
But with Crazy, Stupid, Love, I'm thinking that first-impression journal entry would have been just as one-track as my current line of thinking. Because this comedy is simply, utterly, knock-down, drag-out adorable.
But there are more adjectives I can think of to throw out about this film– ones that can help us all look past that odd second comma in the title to appreciate a movie for being sweet, poignant, thought-provoking, funny, surprising, and well-done.
It goes like this. Cal (Steve Carell) and his wife, Emily (Julianne Moore), are getting a divorce. Emily's going through a midlife crisis, but she can hardly be construed as the villain, as her doubts and fears are pretty respectful. Cal falls in with Jacob (Ryan Gosling), a smooth womanizer with a freakishly hot torso and the (correct) attitude that how you dress says something about you. And what he wants Cal's wardrobe to say about him is that he's "better than the Gap."
The whole damn movie is better than its mass-produced Gap-equivalents. Time is given to each of the many characters' personal struggle, but not so much that it feels slow (although it is quite long), and it never falls into the trap of purchasing cheap laughs with slapstick or PMS jokes. Instead, it's elegant — reminiscent of Barefoot in the Park or Kramer vs. Kramer, only maybe not quite so sophisticated. It is by the writer of Fred Claus, after all.
The highlights are two montages of both of the film's strong male characters learning things about themselves–Cal how to dress like he doesn't hate himself (the first step in not hating yourself) and Jacob how to connect with another human being (namely Anna, his lady love interest, played by Emma Stone). Correction, the climax of the film might be even better. It's extremely fun and contained some plot points that I personally didn't predict. (And I always predict.)
And that's how Crazy, Stupid, Love, with its stupid comma, keeps it all from becoming too saccharine– it's still fun and feels fresh. Like Beginners, the subject of my last review, this film's characters truly mean well, making them more genuine-feeling than a cardboard cutout of a villain, bent on breaking up the family. This film, too, focuses on finding connections and hanging onto them, connections that mean more than just sex. Even if it's super-hot sex with Ryan Gosling.
To that end, the film shies away from any really gratuitous sex scenes, but it still entices, and not just because of the torso shots. Give Crazy, Stupid, Love a try. Be better than the Gap. It's worth it.
*Well, at any rate, it's clearly not in order to have more time to think up creative, engaging openers.