While severe thunderstorms threaten Virginia today and tomorrow, slightly more peaceful weather returns on Sunday to kick off next week. In the tropics, Ernesto and Florence are no more, but there's two more systems to keep an eye on.
In the Tropics
Despite a developing El Niño in the Pacific, which tends to suppress Atlantic hurricane development, the tropics are busy yet again this week. Florence dissipated not long after it formed last week, and Ernesto made landfall first on the Yucatan Peninsula near Belize and then on the central Mexican gulf coast yesterday, and is now rapidly being torn apart by the mountainous Mexican terrain. Two more areas of interest, along with Florence's remnants (yellow, below) , now have the attention of National Hurricane Center forecasters.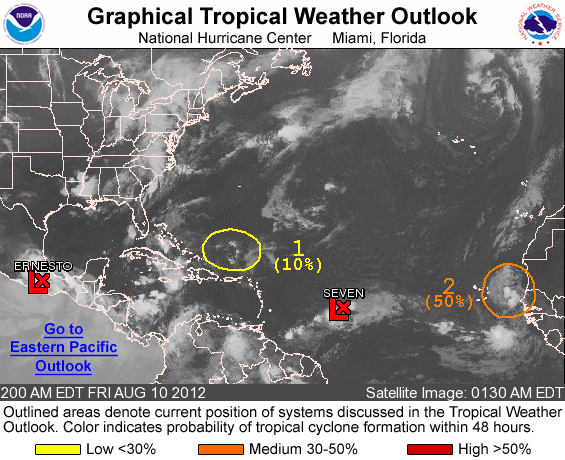 The orange-circled area just off the African coast is the latest in a series of tropical waves emerging from the continent. This system hasn't developed into any sort of tropical cyclone yet; it's just an area of interest at this point. However, current guidance seems to indicate that even if it does continue to organize, it is likely to remain out at sea and not a threat to land.
Tropical Depression Seven isn't the most impressive storm, either. While it is forecast to slowly intensify (it will become Tropical Storm Gordon if it does), its highest probability track looks to be similar to Ernesto's. Many of the Caribbean islands, Mexico, and Central America face the biggest threat from this system if it continues to intensify.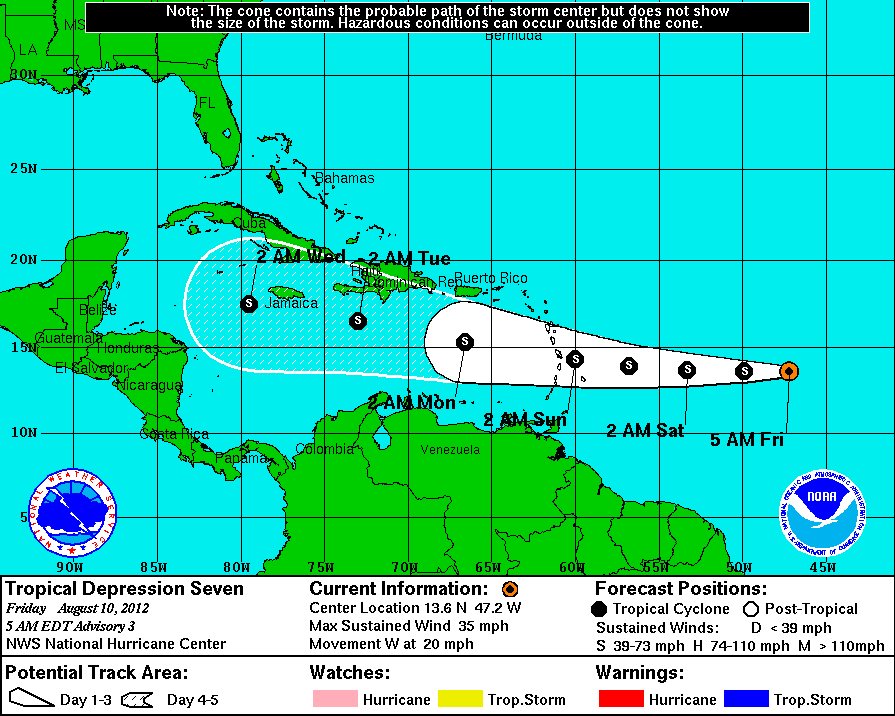 Severe Weather Threat Friday and Saturday
The Storm Prediction Center has been keeping an eye on Virginia all week long, watching for the potential for some severe weather today and this evening. This morning's showers may help limit storm development later today if some of these clouds can stick around for a while. Unfortunately, it's early enough in the day that we can get plenty of heating and instability if clouds clear out in the next couple hours, which it looks like they might just do.
Look for the strongest storms to be later in the afternoon and into the evening. In areas that see the most clearing today, some of these storms could certainly be severe, with wind gusts to or in excess of 60 mph and/or hail in excess of 1" in diameter. The threat for additional thunderstorms and rain showers will continue into early Saturday morning. Skies will begin to clear out later in the morning Saturday. A threat for strong and severe thunderstorms, primarily with heavy rain, returns Saturday afternoon and evening. Locations that see storms on both days may see a flash flooding risk in poor drainage areas if enough precipitation falls. Remember, also, that these aren't the only dangers with these storms. If you're close enough to hear thunder, then you're close enough to a storm to be struck by lightning, even if you're not directly under the storm.
Next Week
A more tranquil pattern returns on Sunday and will stick around for most of the week. While temperatures will remain in the mid to upper 80s all week, we'll get a little break in the humidity, with dewpoints dipping from the 70s today into the low 60s on Sunday, returning to the mid 60s for the rest of the week. It's still going to feel fairly humid, but a little bit of a break is better than no break at all. Overnight temperatures will run in the low 70s for the next week. Don't be surprised to see an isolated thunderstorm threat most afternoons, especially Tuesday through Thursday.
If you're thinking about watching the Perseid meteor shower this weekend, Sunday night may be your best bet at the moment. Lingering showers and thunderstorms both tonight and Saturday night are going to clutter up the sky enough that meteor spotting may be a bit of a challenge. Above all else, stay safe this weekend.