On their brief tour in May, Richmond favorite and brass powerhouse No BS! Brass Band took their style to Virginia's southern neighbors. In Part 1 of 2 of the tour recap, we see how a band so big and, well, manly behaves on the road, in strangers' homes, and on the stage.
No BS! Brass Band embarked upon a journey of more than 1,000 miles into the heart of the south, to the land of Dixie. Stops planned in Greensboro and Asheville, North Carolina with the ultimate destination of Birmingham, Alabama, left a long stretch of road on the horizon Saturday afternoon, May 22.
May 22: Beginning at noon, everyone began showing up at Lance Koehler's studio and home, Minimum Wage Studios, with bags packed, eagerly anticipating departure. After a few trips back home, to Fine Foods, and to grab a last minute meal, the bus (appropriately named the "Meat Wagon") departed for its first stop: the VCU Music Department Graduation Ceremony where alto saxophonist David Hood was receiving his degree in Jazz Performance (David concurrently received a degree in Physics, yikes!). David crossed the stage, got his diploma, processed out, and got on the bus.
Gas? Check. Ice? Check. 11 dudes? Check. On the road.

Dillard Watt, Marcus Tenney, Taylor Barnett, and Reginald Chapman cruising in the Meat Wagon.
Now the Meat Wagon, for those who have not driven down Albemarle St. in Oregon Hill sometime within the last two months, is a big, 24 seat, 1989 Ford Econoline Bus. Upon entering the beast, the first row on the right and the last row on the left were both removed for storage. In the back right, a row was taken out and one turned backward so a table could be installed with inward facing seats (this comes in very handy during card tournaments, of which there were many).
Although the bus looks visually perfect (sarcasm), under the hood it houses the little engine that could. After driving about 30 minute south on Interstate 85, Lance hollers from the drivers seat, "We're up to 60!" which in the Meat Wagon is no meager task. The ride into Greensboro, NC, took us up the Appalachian Mountains, a scenic yet treacherous route.

No BS! Brass Live at the Blind Tiger, Greensoboro, NC
The Blind Tiger, a private club in Greensboro, NC has hosted No BS! previously and was anxiously waiting their return as we rolled up shortly after 9pm. The gig went off without a hitch to a more than enthusiastic crowd. The Vertigo Jazz Project, a jazz/funk/jam quartet consisting of keys, guitar, bass, and drums followed with a set of heavy grooves. Reggie Pace, Taylor Barnett, Marcus Tenney, and I sat in on a few tunes.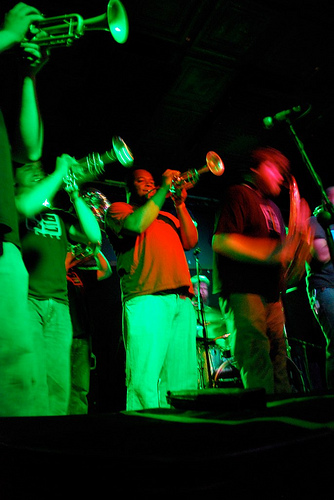 Rock and Roll at The Blind Tiger.
Trying to unwind after a pretty hectic day of packing, traveling, and playing, most of the group heads catty-corner across the intersection to a great local pizza place, Sticks and Stones Pizza — local beers, fresh pizza. Lance was even able to get a gluten-free crust. Sipping beers and filling our empty stomachs, Stefan strolls in 20 minutes after everyone arrived (surprise, surprise) claiming he had a place for us to stay. Our first experience with Southern hospitality.
Sky — a pink haired, voodoo believer with a heart larger than the state of North Carolina — invites the ten of us (Hooten stayed with friends down the street from the club) to spend the night at her house. We arrive to crawfish gumbo, hummus, and various other snacks sprawled out on the table and counter. She shows everyone the sleeping arrangements, informs us that she has to leave for work at 9 am, and then she heads upstairs to bed.*
Taylor Barnett, the most responsible of the gang, sounds the bugle (not actually a bugle) around twenty to 9 in the morning for us to shake a leg and get a move on. Sky greets our groggy moans with a smile, a pot of coffee, and by offering up all of her food before she leaves for work.**

Lances enjoys some breakfast as we all get ready to leave Sky's house.
May 23, 10am: On the road once again.
I-40 West towards Asheville, NC. Straight up the mountains. A scenic highway ride becomes like a picture book when you climb mountains at an average of 30 mph, which is all the power the Meat Wagon would give us going through Pisgah National Forest or up Black Mountain. As Taylor wisely said, "Slow and steady wins the race…Unless the other guy is fast and steady, then you're screwed."
After arriving in Asheville, NC, a small mountain top town in the western part of the state, and scanning the downtown for the perfect busk spot, we decide on a small, amphitheater-style park near a few cafes and local shops.
Marcus Tenney

Everyone stops to hear No BS! on the streets of Asheville, NC.
[youtube]http://www.youtube.com/watch?v=y9JNUiVNSiU[/youtube]
Cinnamon Girl
After a successful busk, merch/CD distribution, and gig promotion, we head towards a friend of Lance's who had graciously offered us his shower for the afternoon. Brandon, our second extremely hospitable southern host, had a house with a wrap around porch on which hung two hammocks. It was a porch sit to rival all porch sits (Sorry, Hootey). Clean bodies, clean clothes, a few beers, hot dogs with avocado and chorizo and everyone is refreshed, refueled and ready for the night.
Prior to No BS! playing the Rocket Club was the venue's weekly Monday night jazz jam session. Many of the guys sat in, myself included, for a few interesting renditions of standard jam session tunes (What? There are chord changes in My Funny Valentine???).
At 10pm, they take the stage for a sweaty set of the favorites; it was quite the visual experience. The combination of jumping down off the stage to play in front and interesting/crazy dancing on stage made for quite the show. Only planning on playing a single set, the rowdy crowd forced the guys into the second late-night/party set that consisted of usual covers such as Thriller and The Ocean but a new, and impromptu performance of Baby Got Back in which Dillard proceeded to rap all the lyrics. Incredible! (Again, sarcasm. Love you, Dilly!) Afterwards, we head back to Brandon's spot*** to hang, porch sit, and crash for the night.
[youtube]http://www.youtube.com/watch?v=K4SGdYEyS4I[/youtube]
Dr. Wiley
[youtube]http://www.youtube.com/watch?v=5jgXpU7bHVE[/youtube]
Brass Scene Kids
Although the original itinerary put us in Athens, Georgia for an afternoon of busking May 24, our late night led to a late sleep which in turn led to a late start. The ride from Asheville to Birmingham was the most enjoyable leg in the bus. We were like a group of elementary schoolers on December 23: anxious, excited, and full of happy thoughts.
9:15pm CT: We arrive at Momma and Poppa Hooten's house to a kitchen full of smiles and a table full of food: hamburgers, bocca burgers, baked beans, potato salad, brownies (one with nuts, one without), oatmeal cookies, and a cooler full of PBR. It was a meal to feed an army on the move.
The night then took different turns for everyone. First, we all had to break up to decide where to sleep. Here's how it went: "I don't want to leave you guys." -Pace. "I want to go where my friends go." -David. Quite an indecisive crew, it was decided by sleeping or not. Taylor, Chapman, Rob, and Lance all decided to turn in and repay some sleep debt. Marcus, Pace, David, Stefan, Dillard, Bryan, and I headed downtown with Claire Hooten**** for some drinks and good times.
To be continued in Part 2…
View the entire photo album on flickr
*Now I'm not sure about anyone else, but it takes a lot of trust to fall asleep with 10 strangers in your house while your daughter is still sleeping upstairs. This is true hospitality. Putting others needs in front of your own. Sky, if you ever read this, you are awesome.
**Yes, two footnotes while at the same place but, really, who in Richmond would allow strangers to stay at your house while you leave for work for the day only to remind them to pull the door shut once they leave?
***At this point in the trip, I just can't believe how wonderful people down south are. Brandon let us all stay there, and just like Sky, got up to go to work and just left us there. We hung on the porch, made coffee, ate breakfast (mostly of corndogs and fruit) before heading out. We ran into his downstairs neighbor on our way out who was also a wonderful person and very hospitable.
****Claire, Kirk, Mom and Dad Hooten, and the Birmingham crew were some of the kindest and most generous people we met on our journey. They made sure everyone was fed, everyone was clean, and that everyone had a bed or air mattress to sleep on. For Taylor, Bryan, and Lance, they received home-cooked, southern-style breakfast and a great chili lunch. We are all so grateful for everything that was offered to us during our stay in Birmingham. All of you are welcome to Richmond anytime!!!