Archives: Jairus Lyles
#0 Jairus Lyles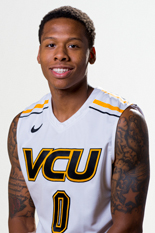 Position: PG/SG
Year: Freshman
Height: 6-2
Weight: 175
Hometown: Washington D.C.
Preview: 2013-14 (Freshman)
Lyles is a combo guard out of the famous DeMatha highschool. While undersized, he's lightning quick and a developed game. His role will likely be limited during his first season, but Lyles has the speed and 3-point shooting to have a successful career at VCU. He surprised many with an 8 point, 6 assist, 3 steal, and 2 turnover performance at the VCU Black & Gold Tip-off.
---
Freshman combo guard Jairus Lyles is set to transfer from VCU at the conclusion of the semester.
February has been tough for VCU, but it's not time to light that page of the calendar on fire. The first half box score of Thursday's game against Fordham? That's an entirely different story.
It's been a crazy year for VCU's personnel. Five players have left the 27 win 2012-13 Rams, but VCU returns many of their key pieces while also adding seven very talented new players.
Wednesday was the first day of the early signing period and all three of VCU's 2013 recruits inked their commitments with letters of intent.
VCU officially leaves the CAA for the A10; Bradford Burgess, Jamie Skeen, and Larry Sanders join NBA Summer Leagues; and VCU adds a talented 2013 SG. VCU basketball is alive and well in July.