HAVOC! happens on the court, but frenzy is what VCU fans bring to the Siegel Center. Add in a dash of the complete Briante Weber and UR-VCU is the most entertaining show in RVA.
Coach Shaka Smart improved his career-best start to 18-4 Saturday morning as the Virginia Commonwealth University Rams topped the Spiders of Richmond 81-70 in the Stuart C. Siegel Center.
Recap
I like it when this place is a frenzy.Coach Smart
With ESPN scouting the Siegel Center for a potential Game Day location, Ram fans delivered big time despite an 11:00 AM start. The blackout looked incredible, and it upped the intensity not only in a game against a rival but during a week when teams at the top of the A-10 standings have been losing. The Rams are now in sole possession of second place, and the home court advantage of the Siegel Center has never felt more important.
Our guys are spoiled. I say it all the time to them. They just don't understand. It's just not like that in too many places.Coach Smart
Think about it. Every player on the Rams' roster not named Juvonte Reddic or Rob Brandenberg has played every single game at home in front of a sell-out crowd–and those two players experienced seven sell-outs during their freshmen year. The Siegel Center is a special place, but as Coach Smart said after the game, "you still have to go out and play the game." And the Rams played quite a game.
Continuing a trend in their conference play, VCU won their latest game while showing off just how many dimensions the HAVOC! machine has developed since a rocky start to the season. Instead of relying on turnovers for defense and offense, the Rams won on Saturday with solid half-court defense and an efficient half-court offense.
The full-court press just wasn't effective. Kendall Anthony's 31 points were only out-shined by his ability to consistently and single-handedly break the press. Richmond only turned the ball over nine times with five of those turnovers coming in the first 6:01 and only two coming in the second half. His brilliance forced Coach Smart to go into a half-court 2-3 zone defense with 5:30 remaining–a move I can't remember seeing since the 2011 Final Four run.
The Rams' defensive turnover percentage has dropped from 26.8% to 23.1% in conference play, and their steal percentage has dropped from 16.3% to 12.5%, but it hasn't mattered. The Rams have evolved so much defensively and offensively since they were relying almost solely on steals for offense and defense earlier in the season.
They held the Spiders to an abysmal 23 points in the first half before the game turned into a whistle-fest and the Rams scored 47 points in the second half against a strong defensive team. Defensively, the Rams were solid in the half-court, tallying a season-high nine blocks while working hard to stop one of the best individual performances ever in the Siegel Center.
Kendall Anthony earned every single one of his 31 points. He hit jump shot after jump shot despite standing 5-foot-8 and having much taller defenders closing out on him the entire game. Cedrick Lindsay also scored 21 points giving Richmond's backcourt, one of the consistently most anti-HAVOC! tandems, 52 of the Spiders' 70 points.
Richmond failed to win with two players. VCU triumphed with one of the most balanced efforts in their history. Six Rams scored in double figures, Mo Alie-Cox added six points, six rebounds, and three blocks in only 13 minutes, and six Rams posted offensive ratings that were higher on the margin than their season averages.
Maybe the players are spoiled by the frenzied environment, but fans are undoubtedly spoiled Coach Smart's ability to consistently improve his teams. No matter how well or poorly the Rams play, he always leaves a genuine sense of hope that the Rams will play better in the next game. The arcs of all three post Final Four seasons have been fairly similar. This season, the biggest improvement has been from the on-court face of HAVOC!, Briante Weber.
Top performer: Briante Weber
14 points (4-8 2PFG, 1-1 3PFG), 3 rebounds, 2 assists, 1 turnover, 1 block, 5 steals
He's really improved as a leader…Darius was the best we had here at leadership and there was a void created here by his graduation. Briante has done a really nice job filling that void. He's the most charismatic guy on our team. He's the most energetic guy on our team, and he's doing a nice job bringing our guys together. Coach Smart
After last game, when asked about the VCU steals record, Weber simply responded, "it's going to happen." He didn't waste any time on Saturday as he picked up three steals in the first 4:45 of the game. With the distraction of the record book out of the way, Weber could focus on what he's been doing best since the start of conference play: being a complete player.
In conference play, Weber is averaging 11.9 PPG, and he has 26 rebounds, 24 assists, 11 turnovers (including only five in the last five games), and 26 steals. On Saturday, his five steals pushed his career total to a VCU record 260 steals, but his poise on offense has been the single biggest improvement for the Rams this year.
He has found the perfect balance between finding his own shot and finding shots for others while turning turnovers into a rarity. Entering conference play, Weber was 1-of-14 (.071) from 3-point range. Now he's hit seven of his last 17 attempts (.412). More importantly, he's found the balance between being a "trip" with his antics and being the leader this team needs.
VCU needs both sides of Briante Weber, the offense and the defense, the antics and the leadership. If he keeps playing like this, the Rams will be one of the scarier basketball teams in the nation.
Defensively, there could not be a better player for our style of play. You could say, pick anyone around the country for your style of defense and I'd say no, we got the one we want. Shaka Smart
5 stats
According to KenPom.com, VCU has the most efficient offense and 2nd most efficient defense in Atlantic 10 play.
VCU games average 31.4 turnovers and the season low was 19. VCU and UR combined for only 16 turnovers on Saturday.
Coach Mooney is now 2-8 against VCU, and Richmond is 1-9 in the Siegel Center.
Spiders other than Anthony and Lindsay combined for 18 points on 7-of-20 shooting.
Richmond only tallied six assists which ties a season low for VCU's opponents.
Looking forward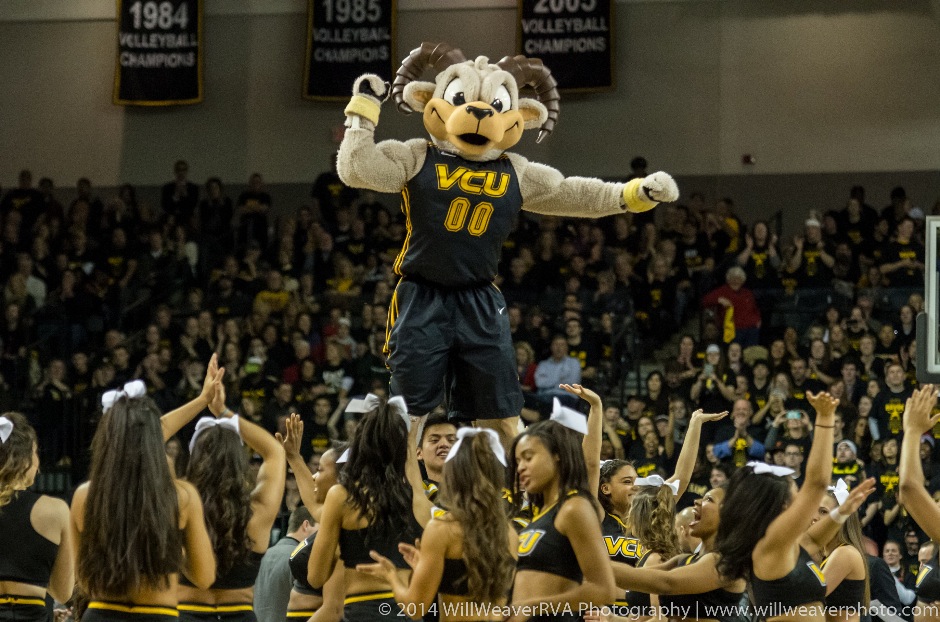 VCU finishes up its three game home stand with a game against Rhode Island on Thursday February 6th at 7:00PM. The game will be on CBS Sports Network.
Photos by: Will Weaver
— ∮∮∮ —
To stay up to date on all things VCU Basketball related, follow @rvaRAMnews on Twitter or Facebook and sign up for our email newsletter.