One more win and it's on to the USL Pro Championship in California.
This Saturday at 7:00 PM the Richmond Kickers face the Harrisburg City Islanders at City Stadium in a Semi-final match for the USL Pro Championship. The winner of this match will fly to California and face either (#3 seed) LA Galaxy II or (#2 seed) Sacramento Republic FC. The Kickers have bounced around in the various leagues and have yet to win a USL Pro Championship. They've won two USL 2nd Division Championships in 2006/2009 and a USISL Premier League Championship in 1995–the same year they won the prestigious Open Cup.
After flirting with first place for most of the season, they Kickers ended up in fourth due to a poor run in August. On the other side of the field, the Islanders finished eighth and squeaked into the playoffs. Historically the Kickers hold a decisive advantage at 15-3-7 over the City Islanders. This trend continued in 2014 as the Kickers defeated the Islanders in all three of their regular season matches. Although victories, the games this year were hardly a cakewalk for the Kickers: Richmond won each game by only one goal. It's also worth noting that to get to this game the Islanders upset heavily favored, MLS-bound, #1-seed Orlando City Soccer Club.
— ∮∮∮ —
A simple chant of "Stand Up For Richmond" by the Red Army (Kickers supporter group) has turned into a rallying cry for the supporters, front office, and players. The banner seen at the top of the page was displayed by supporters during last Saturday's extra time victory over Charleston.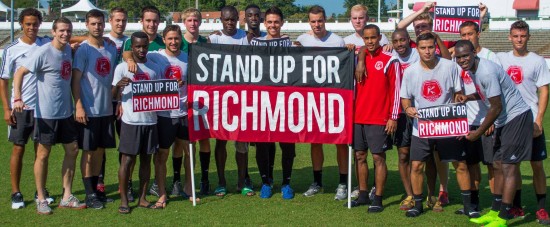 That banner made a reappearance at a recent Kickers' practice, and the Kickers are providing a link for fans to create their own "Stand Up For Richmond" image. The Kickers are asking fans to post their images on this Facebook post. The front office will select one image from the entries as their favorite and present the creator with an official Kickers home jersey. The hashtag #SUFR (Stand Up For Richmond) is also making the rounds on social media.
The Red Army has already gone "all in" creating images and can be seen on their Facebook page.
— ∮∮∮ —
Tickets for the game can be had for $12, but if you're willing to stand up the entire game and be loud you can get specially priced $5 ticket in Section O where the Red Army resides. If you take advantage of the cheap tickets you'll be expected to pull your weight in noise during the game. You'll also be welcomed at the Red Army tailgate that'll start about two hours before kickoff.
Top Image: Suzanne Huffman Velasco