It took a Treveon Graham game-winner with 0.9 seconds remaining in the first meeting for VCU to win, but Tuesday night was much simpler as the Rams cruised to a 74-54 victory against Saint Louis in the Stuart C. Siegel Center.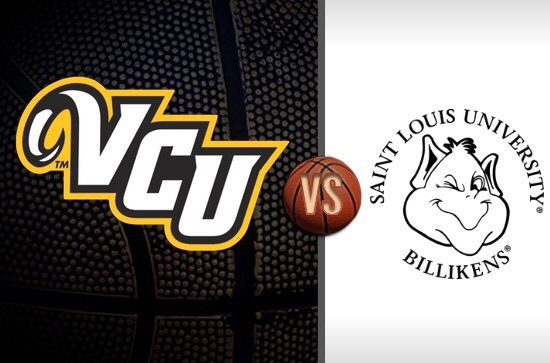 Recap
After a quiet afternoon in VCU's 79-66 win over George Washington, Treveon Graham wasted no time reminding St. Louis why he is VCU's best and most important player. He scored VCU's first eight points and was the driver behind the Rams' 10-2 start.
The Billikens subbed in a quicker set of guards and reeled off ten straight points in 1:22 en route to a 17-14 lead with 10:25 remaining, but VCU responded with a 20-5 run including a 7:30 scoreless stretch for SLU to take a 34-22 halftime lead.
VCU's defense continued suffocating the Billikens early in the second half. SLU scored 4 points in the first 10:39 and was on pace for well under 40 points until a handful of 3-pointers kept them within 20 points.
Freshman Michael Gilmore finished with 10 points (2-3 2PFG, 2-3 3PFG), 4 rebounds, and a steal. Jordan Burgess added 7 points, 6 rebounds, 1 assist, 3 blocks, and a steal. Mo Alie-Cox finished with 5 points, 6 rebounds, 2 assists, 3 blocks, and a steal.
Not a normal night
Whether it was VCU's defense or the seven inches of snow blanketing Broad Street, the Billikens' offense was frozen for most of the game. Between 10:25 in the first half and 10:39 in the second half, SLU scored just 9 points while VCU pieced together a 31-9 run.
It's safe to say that the landslide was driven by defense that will hopefully continue to be typical for the Rams. The offense however was atypical. Michael Gilmore and Torey Burston went 3-of-5 from 3-point range, JeQuan Lewis was limited to 20 minutes with fouls, and Treveon Graham, while dominant, was still reserved.
Most dramatically, VCU's tempo continues to plummet. Tuesday was the Rams' 9th consecutive regulation game with 68 or fewer possessions. Four of their first five games had 74+ possessions. The trend started before the injury to Briante Weber, but without their leading thief, the Rams are less effective at forcing turnovers and therefore they play slower. In the past, slow games usually meant losses for the Rams, so VCU's ability to win at a variety of tempos is a huge positive.
VCU is now entering a brutal stretch of four games: vs. #1 UMass, at Richmond, vs. #1 Dayton, and at Davidson. The Rams will need to continue to be crisp in the half court while continuing to improve on defense in the absence of Briante Weber.
Top performer: Treveon Graham
16 points (4-4 2PFG, 0-2 3PFG, 8-12 FT), 6 rebounds, 0 turnovers
Treveon Graham, who will likely finish 2nd all-time at VCU in scoring, entered Tuesday with only 14 points in February. In case anyone forgot, Treveon Graham is good at scoring. In addition to scoring, rebounding, and defending, Graham drew countless fouls – an area where he has always excelled but VCU needs to improve. While it looked better than on Saturday, his ankle is still far from healthy. Hopefully it will continue to improve with time.
5 stats
Mo Alie-Cox and Jordan Burgess combined for 12 points, 12 rebounds, 3 assists, 6 blocks, and 2 steals.
After tough outs against SBU and La Salle, Jonathan Williams has 14 points, 8 assists, 1 turnover, and 2 steals in his last two games.
JeQuan Lewis (4.1%) ranks 2nd in steal percentage in Atlantic 10 play behind Briante Weber (8.7%).
Going into halftime, VCU was 8-of-51 (.157) from 3-point range over its last 110 minutes of basketball at home.
Mo Alie-Cox passed the century mark for blocks. He has 101 blocks and ranks 8th all-time at VCU after less than two seasons.
Looking forward
VCU will host Massachusetts on Saturday, February 21st at noon. The Minutemen are tied for first place. Bradford Burgess's jersey will be retired before tipoff and the game will be broadcast on ESPN2.
— ∮∮∮ —
Related
— ∮∮∮ —
To stay up to date on all things VCU Basketball related, follow @rvaRAMnews on Twitter or Facebook and sign up for our email newsletter.