Suddenly that not quite perfect iPhone video is looking pretty good.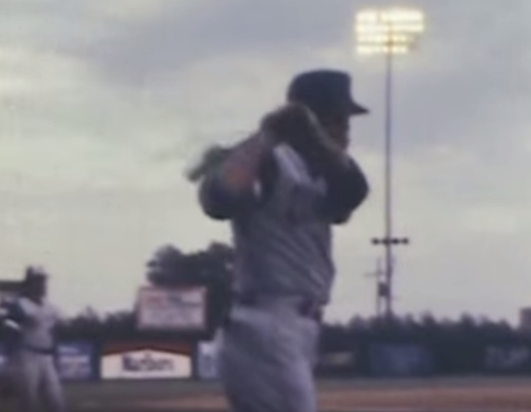 Published on Aug 24, 2012
This video contains portions of the pre-game and game action between the Richmond Braves and the Atlanta Braves. This was an exhibition game featuring Jim Bouton (of "Ball Four" fame) attempting a comeback to the Majors as a knuckleball pitcher. In attendence were recently retired Home Run King Hank Aaron (in golden/brown suit), Brooks Robinson representing Crown Gasoline and featured Atlanta Braves' owner Ted Turner who umpired at thirdbase (@ the 4:31 mark). #3 is Dale Murphy the 1982 and 1983 NL MVP and #7 is the 1974 AL MVP Jeff Burroughs. Chief Knock-A-Homa (@ 3:41 mark) does a war chant on the mound (boy have times changed!). Sorry for the poor quality but this film was just recently re-discovered after 30+ years. Parker Field was a great venue for baseball. The players had to walk through the stands from the dressing room to the dugout/field. A Richmond Police Officer, Richard "Buz" Barton sang the national anthem. College night featured .25 cent beer for students! FYI, Bouton beat Atlanta and he was promoted to the big club in September '78 and won 1 game and lost 3 before retiring for good when the season ended. Enjoy!